Celebs Celebrate Thanksgiving on Twitter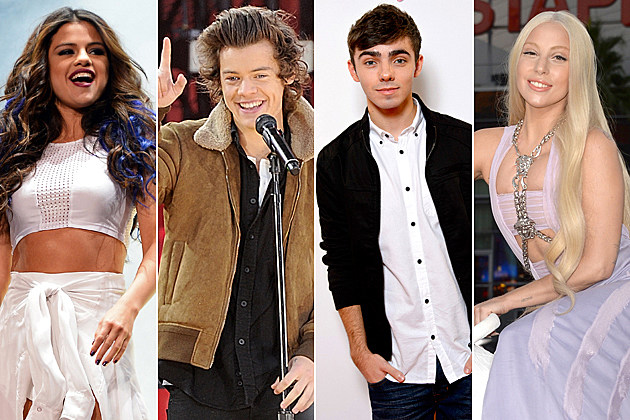 Happy Thanksgiving, PopCrushers! These pop stars and celebs are all gearing up to celebrate with their families and friends — or to bust their butts entertaining us while we recover from our turkey comas! Check our favorite celeb Turkey Day tweets below — then go stuff yourselves on stuffing!
Parade and game performers tweeted excitement, anxiety and chilliness!
I'm on the Sesame Street float in the parade tomorrow! But it'll be awkward when Big Bird asks, "What're you having for dinner?" #fallonmono

— jimmy fallon (@jimmyfallon) November 28, 2013
Honored to be on the @OfficialMacys @sesamestreet float with @theroots! 9am? I need a wake up call please. #MacysParade

— jimmy fallon (@jimmyfallon) November 27, 2013
Happy Thanksgiving! Soo if you're watching the macys parade we are like 3 floats behind the wizard of oz.. Dang it is cold

— Pete Wentz (@petewentz) November 28, 2013
Big day tomorrow. pic.twitter.com/ZZoVkhTLaO

— Selena Gomez (@selenagomez) November 28, 2013
Jimmy Fallon wasn't the only sleepy celeb!
Ok, i'm having 2much fun with y'all! I gotta get rest or i'm gonna be AK the grouch from lack of sleep 4 thanksgiving &that wouldn't b cute!

— Alicia Keys (@aliciakeys) November 27, 2013
Stars tweeted their love of Thanksgiving food and drinks. See? They're just like us!
MMMM, this stuffing tastes like broken treaties.

— Zach Braff (@zachbraff) November 27, 2013
I'm thankful that @teamtyku sake goes well with all #Thanksgiving meals. #TYKUverymuch and happy holidays! http://t.co/D6xdMxeWVt

— CeeLo Green (@CeeLoGreen) November 28, 2013
HAPPY THANKSGIVING TWIT FAM!! Gain a pound or two today!!! Enjoy it!! #WorkItOffNextWeek

— Ne-Yo!! (@NeYoCompound) November 28, 2013
Just in time for #Thanksgiving – Tips on how to avoid the dreaded food blackout we are ALL guilty of doing… http://t.co/LxRSdQwwwP

— Shay Mitchell (@shaymitch) November 27, 2013
pumpkin bread, yes yes.

— the ready set (@thereadyset) November 28, 2013
Celebs love tradition, too.
Nothing like watching #SNLThanksgiving with the fam. So thankful for this time. We're definitely the loud family

— AnnaSophia Robb (@robbannasophia) November 28, 2013
Spending Thanksgiving eve in bed with my beautiful wife and kids watching cartoons! #TheLife #Haterspray

— Nick Cannon (@NickCannon) November 28, 2013
Happy Thanksgivukkah @KevinFrazier! We will be watching u at the parade! Many blessings! Lance and Michael #TDayCBS pic.twitter.com/duyeuR4L0m

— Lance Bass (@LanceBass) November 28, 2013
Can't wait to be with @jimmydee14 and @rahrahQ on thanksgiving all of us #reunitedanditfeelssogood go follow demm

— Becky G. (@iambeckyg) November 27, 2013
More stars used the platform and the holiday to raise awareness of causes.
Picking up food to feed the homeless.. feeling Thankful! http://t.co/8uvXkNBKnl

— Nikki Williams (@nikkiwilliams) November 27, 2013
Wanna remind everyone that's going out this weekend to spend $ 2make sure they support black owned businesses whether local or national

— Nelly_Mo (@Nelly_Mo) November 27, 2013
And others just sent well wishes and gave thanks!
Happy Thanksgiving everyone!!! I'm truly thankful to have you all in my life! Have a great day with your loved ones!

— Jordan Knight (@jordanknight) November 28, 2013
This year I'm thankful for all the hard work and kind hearts of our esteemed crew and production team. Truly the 'unsung' heroes of #glee.

— Darren Criss (@DarrenCriss) November 28, 2013
Happy Thanksgiving everyone!!!

— Phillip Phillips (@Phillips) November 28, 2013
Good morning everyone!! Also … Happy thanksgiving!!!

— Nathan Sykes (@NathanTheWanted) November 28, 2013
*all my heart. &how grateful I am to be a performer in this life, writing you songs and singing to you year after year! #thankful4monsters

— Lady Gaga (@ladygaga) November 28, 2013
What a year to be thankful for. Happy Thanksgiving to you & your families. I'm eternally grateful for y'all!

— Lucy Hale (@lucyhale) November 28, 2013
Happy thanksgiving my friends!!!! I LOVE this holiday!!!

— Blake Shelton (@blakeshelton) November 28, 2013
HAPPY THANKSGIVING everyone out there! hope you are safe and sound with family.

— Rob Thomas (@ThisIsRobThomas) November 28, 2013
A very happy Thanksgiving to all of you in America. Love, Chris, Jonny, Guy, Will & Phil

— Coldplay (@coldplay) November 28, 2013
Happy Thanksgiving US Fans! Hope you guys are enjoying the holiday with friends and family! 1DHQ x

— One Direction (@onedirection) November 28, 2013
Happy thanksgiving pic.twitter.com/B2piNmThND

— Miley Ray Cyrus (@MileyCyrus) November 29, 2013

Source:
Celebs Celebrate Thanksgiving on Twitter