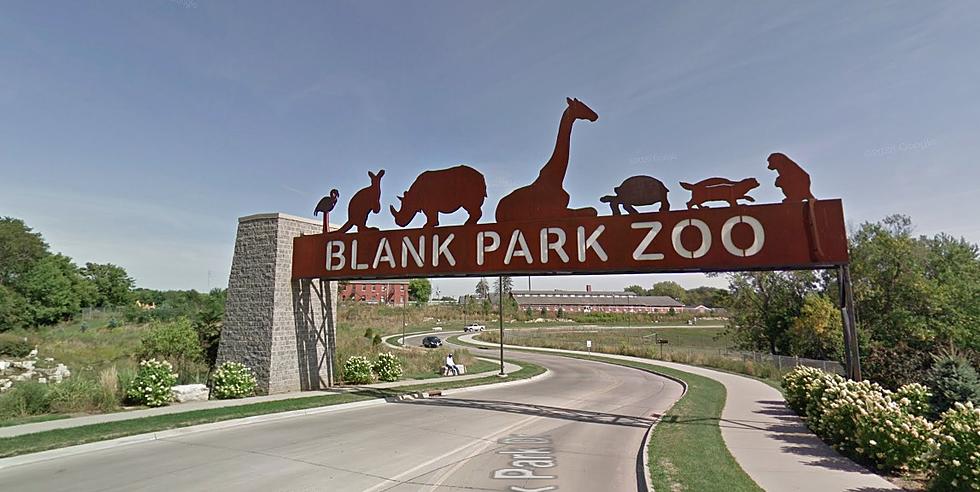 A Giraffe at Blank Park Zoo Has Died
Google Maps
Another member of the Blank Park Zoo family is no longer with us. A new article from the Des Moines Register says that Samburu or "Sam" the giraffe has passed away from age-related conditions.
A new post on Blank Park Zoo's Facebook page says that the median life expectancy for a female giraffe is about 19 years, but Sam lived to be 24-years-old. The Director of Animal Care Shannon McKinney said in the post:
"As an elderly giraffe, we have been monitoring and managing her arthritis and other age-related conditions for many years."
She has basically been in "giraffe hospice," but she seemed to still be in good spirits. The post goes on to say that she loved interacting with her zookeepers and taking part in the 'Feed the Giraffe' experience with zoo-goers.
Sam moved to Blank Park Zoo back in the spring of 1997 from a zoo in Omaha. She was almost 2-years-old at the time. She went on to have five babies during her time in Des Moines, which included three boys and two girls. The zoo still has three remaining giraffes: Jacobi, Skye, and Zola.
Here's the video that Blank Park Zoo posted to honor Samburu:
The Blank Park Zoo official website lists some interesting facts about giraffes, which are my favorite animal EVER. Did you know...
Male giraffes can grow up to 18-feet and can weigh up to 2,300 pounds
In the wild, giraffes hang out in herds of up to 40
Giraffes typically sleep standing up
Giraffes also give birth standing up, which means the calf falls a few feet after it's born
The average gestation period for a giraffe is 455 days, which is nearly 15 months
Giraffe populations have decreased significantly since 1985 because of "poaching, human population growth, habitat loss, habitat fragmentation, and habitat degradation"
Blank Park Zoo also recently lost one of their zebras in a tragic accident. You can read more about that HERE.