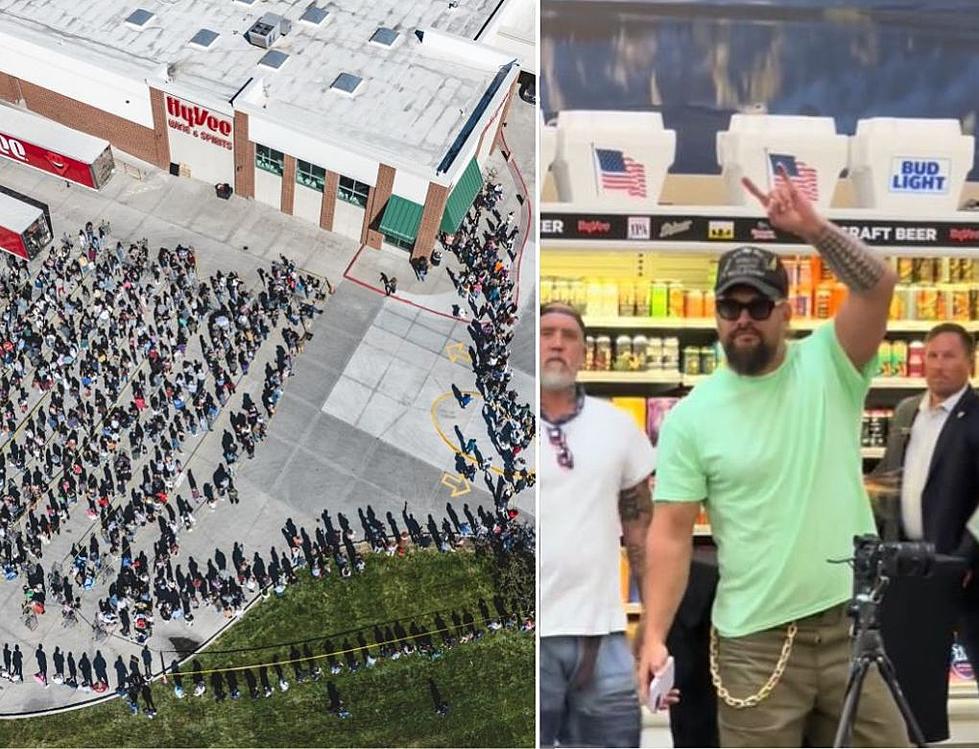 A-List Star Spotted in Iowa Grocery Story [VIDEO]
Courtesy of Prideofgypsies via IG and Iowalovers via Tik Tok
Imagine just strolling along in your local grocery store and spotting one of the biggest actors (both literally and figuratively) in the world...
A whole slew of Iowans experienced this firsthand earlier this week. One of your favorite superheroes with Iowa roots was spotted at TWO local grocery stores in one day.
On Monday, October 16th people reported seeing Jason Momoa and his entourage in towns about twenty minutes from Des Moines. Momoa is known for his role as the superhero Aquaman in the DC Cinematic Universe.
Also, you might know him as Khal Drogo from 'Game of Thrones.'
Fans captured videos of the star in grocery stores in Norwalk and Urbandale.
Aquaman Has Ties to the Hawkeye State?
Momoa is originally from Hawaii, but shortly after he was born his family picked up and moved to Norwalk, Iowa which is about twenty minutes away from Des Moines.
The star has made frequent appearances back here in the Hawkeye State. It seems like after the panic of COVID-19, Aquaman is stopping here a whole lot more. He's made visits to several different businesses by his hometown over the past two years.

Why Was He In Iowa This Time Around?
We shared with you earlier this month that the actor would be coming back to his beloved childhood home state. This visit wasn't necessarily for pleasure, it was meant to promote one of his latest projects; Meili Vodka.
He made two bottle-signing and photo ops stops at grocery stores here in the Hawkeye State. Momoa paid a visit to a Fareway Store in Norwalk and a Hy-Vee in Urbandale. Some eager fans waited in line for hours just to get a selfie and a bottle of vodka from the DC actor.
Stay up to date with everything going on in Eastern Iowa by downloading the free station app from your app store. Also, do not forget to follow the station across all social media platforms for the latest news about other events going on in our neck of the woods.
See Inside Roseanne Barr's Eldon Mansion
Roseanne Barr was set to make a home in Iowa. She and her then-husband Tom Arnold were in the midst of building a mansion in Eldon. It was put on hold when the couple eventually split up. This left a beautiful, unfinished, and kind of spooky mansion behind.
Gallery Credit: Kerri Mac
Snake Alley in Burlington, IA
Burlington, IA is just one hundred and fifty miles away from Waterloo and a hundred miles away from Cedar Rapids is one of the most see attractions for tourists. Ripley's Believe It or Not! voted Snake Alley as the #1 Odd Spot in America.
Gallery Credit: Kerri Mac