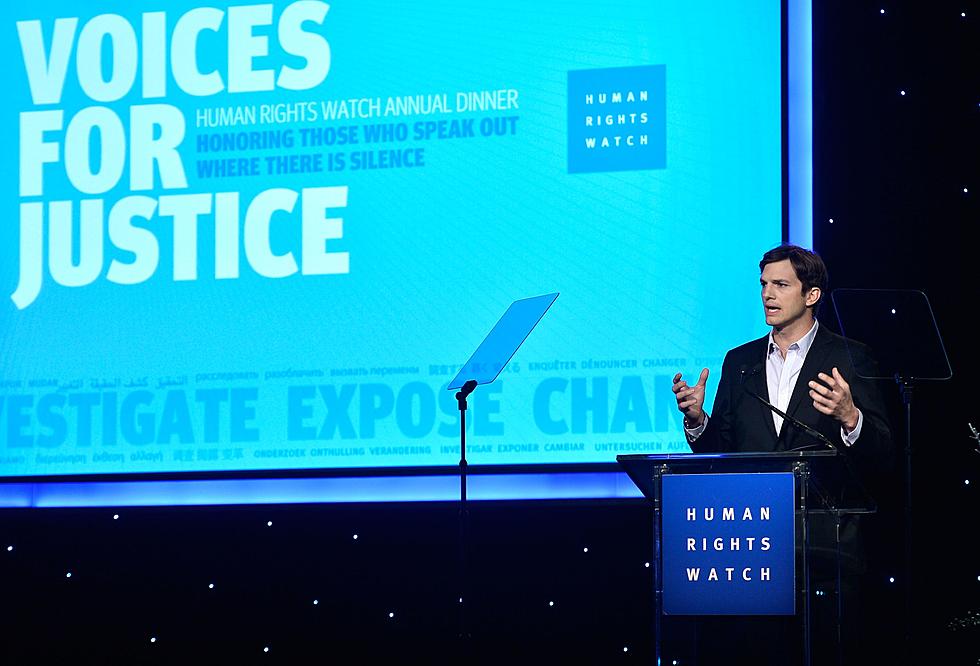 Ashton Kutcher, Human Rights Advocate: The 19 Charities He Supports
Getty Images
Ashton Kutcher is beloved in Iowa, and for so many reasons.
His role in That 70's Show and movies, his consistently kind, genuine, and fun demeanor, and well, the fact that he's from the Hawkeye State.
For most celebrities, that would be enough. Kutcher is so much more than that, though.
He's also heavily involved in philanthropy.
Mostly recognized in this area for his work to fight child sexual abuse (of which is an already a revolutionary cause), the Cedar Rapids native has done even more.
Ashton Kutcher, Human Rights Advocate: The 19 Charities He Supports
Ashton Kutcher is widely recognized (outside of acting) as a philanthropist and a fighter against child trafficking. Already a phenomenal cause, the Cedar Rapids native does so much more.
As mentioned in the beginning of the article, the former Iowa Hawkeye student is an advocate for those suffering in child sex trafficking. At one point in time, he spoke to United States' Congress on the issue, and he proceeded to go viral.
The video:
According to wmagazine.com, Kutcher was often approached by different organizations when he got famous, asking for his support. The young actor wanted to help, but also had a desire to get behind one cause he was truly passionate about.
After watching a Dateline special about sex trafficking in Cambodia, Kutcher knew he found his cause.
The magazine continues with a quote from the former That 70's Show star:
"Those Cambodian kids were 7, 8, 9 years old. I started asking around, and people said to me, 'Oh, no, it's happening right here in Los Angeles.' " Kutcher began to do his own investigating and sought out the expertise of the Clinton Global Initiative. He came to recognize that poverty was invariably a link in the chain that led to exploitation, though poverty itself was too big a problem to try solving. And then he learned that in the U.S., approximately 70 percent of child sex trafficking occurs online. "This was a medium I had a lot of experience with," he explains, "where I knew a lot of folks who could help."
Through corporate partnerships with companies like Google, Microsoft, Pinterest, Twitter, and Amazon, the technology to fight human trafficking online was instituted through the company he co-founded, THORN.
This man is such a freaking good guy. Shout out to Iowa for raising that boy right.
Ashton Kutcher's Childhood Home in Homestead, Iowa
The well-known actor hails from Iowa. Ashton Kutcher was born in Cedar Rapids and spent his formative years in Homestead. The later is where he helped his step-dad build this space nearly 30 years ago. In 2015, Ashton decided to give his mom the surprise of her life when he redid their basement space.
25 UNI Panthers that Went Pro
Northern Iowa has some of the best athletes and athletic programs in all of mid-major sports. With their consistent placement towards the top of the Missouri Valley Conference, it's no surprise they have a few professional athletes to their name -- here's a few.