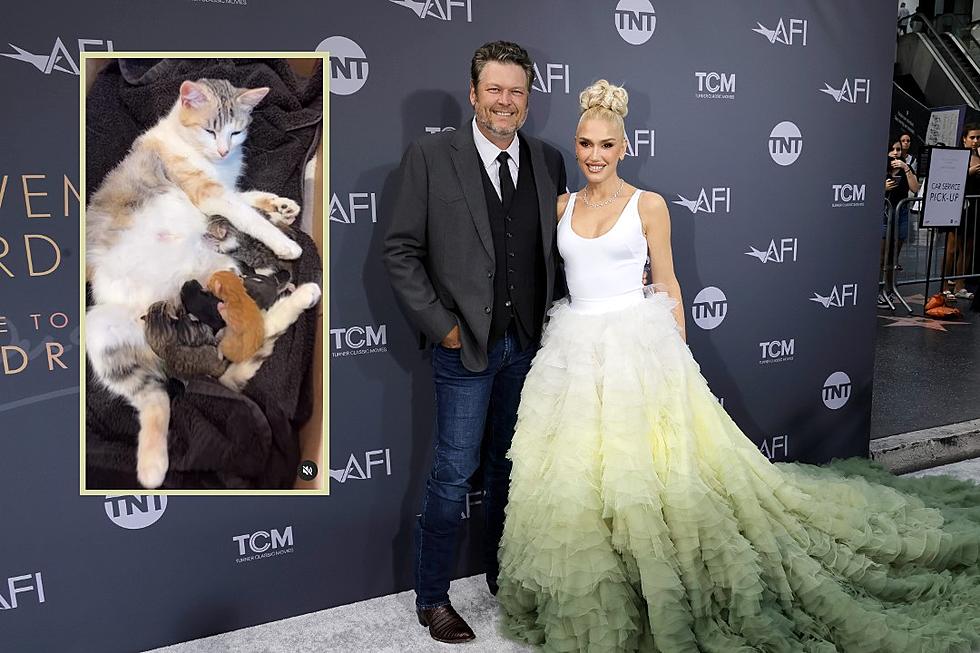 Blake Shelton + Gwen Stefani's Cat Just Had Kittens + They Are So Cute! [Pictures]
Instagram / Kevin Winter, Getty Images
Blake Shelton and Gwen Stefani's family is growing with the addition of six new kittens. Stefani turned to social media to share the happy news that their cat is now a mama ... and as a bonus, the whole family got to be a part of the experience.
The video begins with a clip of their dog, Betty, looking less than enthused about being outnumbered by her feline friends. Stefani included several moments of the kittens climbing all over their mother and nursing. Most of the new additions are colored like tabby cats, but there is one orange and one black kitten in the mix.
"Our cat had 6 sweet kittens this morning and we were all there to watch," she writes. "It was such an incredible experience!! They r sooo cute."
The post is another glimpse into the home life of Shelton and Stefani. Recently, Mrs. Shelton shared a compilation video of the couple driving around their 1,300-acre ranch in Oklahoma. Shelton has also been known to share clips of himself "farmin'" as he plants corn.
By the way, cats are a great addition to a farm, as they can hunt crop-hindering rodents.
Shelton will have more time to herd his now seven cats after he retires from The Voice. The country singer has announced he will be leaving the show after the conclusion of its current Season 23. He's served as a coach on the show since the first season.
It won't be the end of his television career, however. His show Barmageddon was just renewed for a second season on USA Network. Although a premiere date has not been set, season one began Dec. 1, 2022, so it's likely Season 2 will begin around the same time.
'The Voice': Country Singers Who Could Replace Blake Shelton (With Odds)
Blake Shelton
is set to leave
The Voice
after 23 seasons, and a country singer is going to replace him, right? Nashville's greatest export is too important to the show to ignore, which means one of these 11 artists will take his spot in the fall.