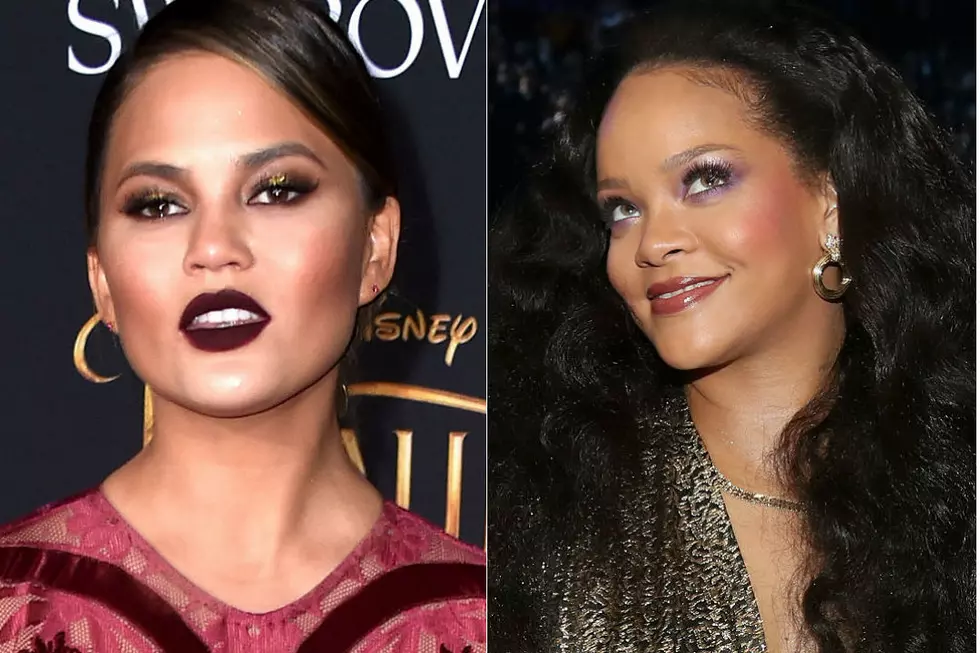 Cardi B Drives Fans Wild With Sexy Shout-Outs to Rihanna + Chrissy Teigen
Frazer Harrison/Christopher Polk, Getty Images
Even the typically unshockable Chrissy Teigen was a bit gobsmacked Friday (April 6) upon the release of Cardi B's debut album Invasion of Privacy — Teigen and Rihanna both found themselves the subjects of particularly sexy verses.
Cardi's long-awaited LP, which includes features from Migos, Chance the Rapper, Bad Bunny, Kehlani and SZA, gets especially provocative on a track called "She Bad," which includes the lyrics "Weed blowin', p---- boss / Suck his d---, through his drawers." But fans have been having an absolute field day a little further into the song, when Teigen and the Anti singer both get mentions.
"Spoil me in Prada, I'm worth every dollar (cash) / The one you made, could keep 'em (yeah) / I need Chrissy Teigen / Know a bad bitch when I see one (yeah, woo) / Tell Rih-Rih I need a threesome."
"Gasp!! *drops biscuits*" was all that Teigen could say after hearing the verse. And followers had similar reactions.
"Cardi B asked Riri for a threesome. She's really living out our dreams," one wrote, while another noted "cardi b, chrissy tiegan and rihanna gonna have a threesome and i'm upset i wasn't invited."
Invasion of Privacy is a long time coming for the Bronx-born rapper.
"I have a lot of pressure on me. I have songs stashed up. I just don't think they qualified for my album, " she tweeted in November. "Sometimes I think it's ready. Sometimes, I think it's not, so I'm going to take my time till it's right."
7 Surprising Things You Didn't Know About Cardi B