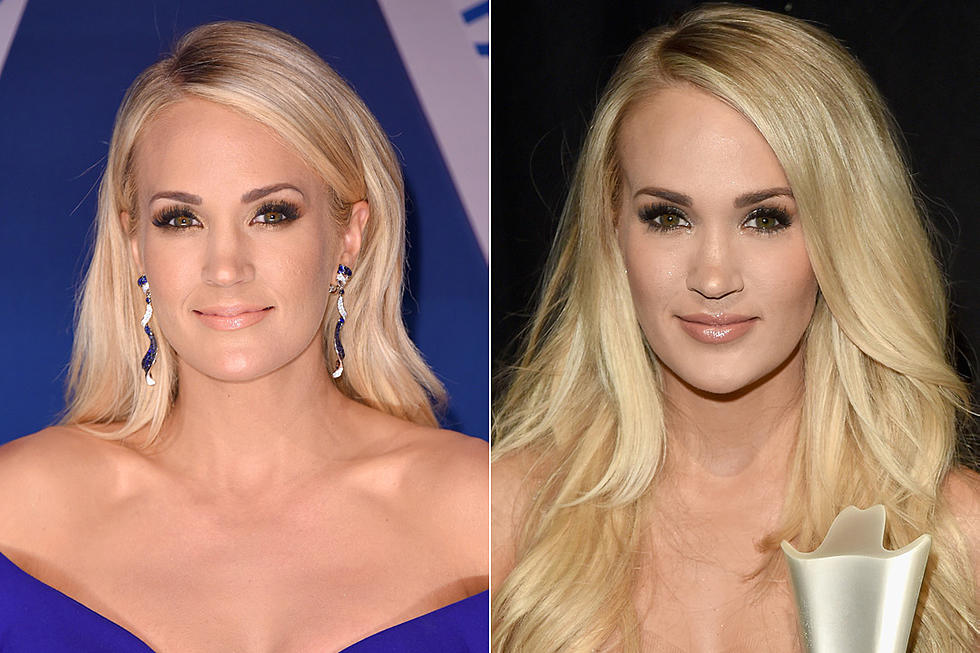 6 Months After Accident, Carrie Underwood Is Still Beautiful
Michael Loccisano / Jason Merritt, Getty Images
Carrie Underwood said she "might look a bit different" the first time she stepped in front of television cameras after a fall last November. So, did she?
The singer's first post-accident appearance was at the 2018 ACM Awards, where she performed "Cry Pretty" to great acclaim and then posed with celebrity fans like Lindsey Vonn backstage, as well as with her ACM Award. What was at first an anxious, vulnerable performance was quickly transformed into the powerhouse vocal moment of the night. Underwood was simply amazing, and her peers let her know it with a lengthy standing ovation.
As for any lasting marks from injuries sustained when she fell at home days after the 2017 CMA Awards? You decide. On the left is a photo taken on the CMA Awards red carpet on November 8, 2017 — two days before her accident — next to one taken on April 15, 2018 at the ACM Awards. There are surely many more similarities than differences.
See the Best Photos From the 2018 ACM Awards
In the weeks and months that followed her accident, the 35-year-old superstar took to covering the lower half of her face in social media pictures, so naturally, eyes are drawn there now that she is exposed. All we know for sure is what she told us: Underwood received 40 to 50 stitches in her head and face, she broke her wrist, and it took her awhile to talk about it.
After Sunday night, it's hard to claim her vocals were affected. Thus far Underwood has not gone into any detail about how she fell or the extent of her injuries. "Cry Pretty" is the first single from an upcoming studio album.
Relive the Top 5 Moments From the 2018 ACM Awards!
Meet ToC RISER Devin Dawson