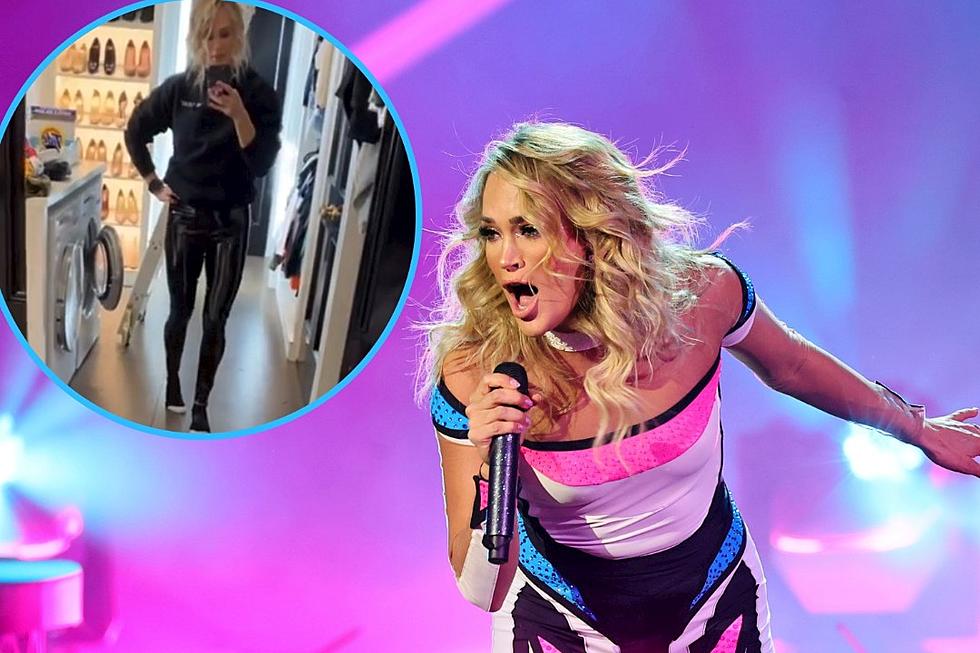 Carrie Underwood Is Living a 'Seinfeld' Episode in These Pants [Watch]
Instagram / Matt Winkelmeyer, Getty Images
Typically when you buy clothes online, your biggest concerns are the fit and the quality — not how they sound. Carrie Underwood took to social media this week to share an unexpected fashion fail regarding some newly-purchased leggings.
"So I bought these super cute patent leather — they're not leather — leggings to wear," she says in a video on Instagram, filming herself in her closet mirror. "Saw them. Thought they'd be cute for something."
"There's just one problem when you walk ..." she adds.
As she steps toward the mirror, the pants begin making unpleasant stretching sounds with each step — it sounds like packing tape being torn from a box.
"Doesn't really sound great," she concludes with a giggle.
Nineties television fans will find this hilarious moment reminiscent of a Seinfeld episode titled "The Pie." In it, George Costanza purchases an expensive suit at an incredibly discounted price. He boasts about his purchase, only to discover the suit makes a swooshing sound when he moves in it.
Fans laughed about Underwood's unfortunate purchase in the comments, but one fan offered up a solution: Oil.
"Carrrieeee put some oil (I've even used olive oil) right where it's hitting and it'll be gone," @caseyhl91 writes.
We'll have to wait to see if Underwood takes them up on the suggestion. For the time being, don't expect the "Hate My Heart" singer to be rocking these pants at an upcoming tour stop. The 2023 leg of her Denim & Rhinestones Tour will continue through March 17.
She's also scheduled to return to Las Vegas for more of her Reflection residency dates later this year.
See Inside Carrie Underwood's Nashville Mansion
Carrie Underwood
and husband Mike Fisher sold their 7,000-square-foot Brentwood, Tenn., home for $1,410,000 in March of 2019, and pictures reveal a spectacular mansion worthy of one of country music's biggest stars.