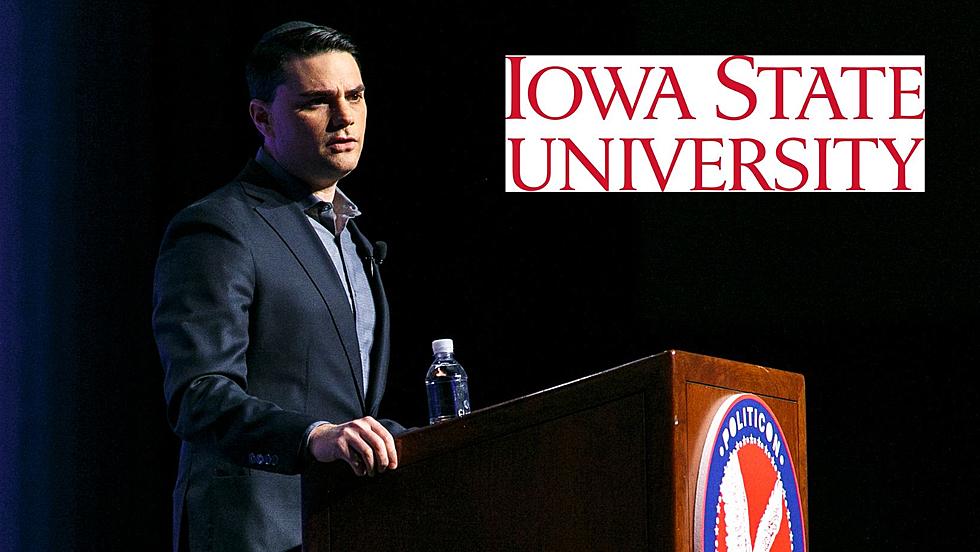 Controversial Conservative Ben Shapiro To Speak at Iowa State
Getty Images / Canva
If you've heard or used the phrase, "Facts don't care about your feelings," you can credit conservative, political analyst and commentator, Ben Shapiro.
The founder of The Daily Wire, an American conservative news site, will be speaking on campus at Iowa State in just over two weeks. The event will be hosted by Young America's Foundation and held at Stephens Auditorium at 7 PM on April 27.
You can register for tickets for free here.
The political commentator has gained fame in a variety of ways, even since his youth. The Los Angeles, California native quickly ascended the academic ranks, graduating high school at the age of 17, finishing his Bachelor's degree at the University of California, Los Angeles at 20, and earning his law degree from Harvard at 23.
Also, according to Wikipedia, "He started a nationally syndicated column when he was 17 and had written two books by age 21."
Over the last decade and a half, Shapiro has continued to gain attention across the country for becoming the editor at large for Breitbart News, starting the aforementioned Daily Wire while also serving as its editor emeritus, hosting the Ben Shapiro Show, making a multitude of appearances on mainstream news networks, working with PragerU, and more.
In 2021, his podcast was ranked the 9th-most listened-to show on Apple Podcasts.
Though like anyone in the public eye, Shapiro has earned his fair share of criticism, he is one of few in political media who does do his best to rationally disagree with the other side of the aisle while remaining civil.
You can see his conversation with well-known democrat, Bill Maher here:
More recently, some of that controversy surrounding Shapiro has come on the back end of Disney embracing the "woke" movement.
Shapiro announced that The Daily Wire will be launching kids' content as an alternative to Disney to combat the ideology they've recently bought into. According to The Wrap, "Eric Branscum and Ethan Nicolle of 'VeggieTales' and The Babylon Bee will lead kids' content development."
In regards to how the company has embraced the "woke" movement, The Hill shares this: "Walt Disney Company is eliminating gender references at all its theme parks, greeting people as friends.'"
The recent decision comes after Florida's "Parental Rights in Education" bill was passed -- dubbed the "Don't Say Gay Bill," by its opposers.
Disney employees took to social media to share their anger with the company for not denouncing the proposed legislation.
CEO of the company, Bob Chapek acknowledged the outrage, saying "Disney leaders were opposed to the bill 'from the outset, but we chose not to take a public position on it,'" according to NPR.
He "announced that Disney has signed the Human Rights Campaign's statement opposing similar legislative efforts. He also said the company will pledge five million dollars to organizations "working to protect" LGBTQ+ rights, including the Human Rights Campaign (HRC)."
The HRC "will not accept this money from Disney until we see them build on their public commitment and work with LGBTQ+ advocates to ensure that dangerous proposals, like Florida's Don't Say Gay or Trans bill, don't become dangerous laws, and if they do, to work to get them off the books," Joni Madison, Interim President of the Human Rights Campaign, said in a statement.
All the while, Disney is expanding finding other ways to make money that contradict their supposed value structure.
According to FoxNews, "As part of its expansion, Disney+ will make its way into Algeria, Egypt, Libya, Morocco, Oman, Palestinian Authority, Qatar, Saudi Arabia, Tunisia, and Yemen – all of which outlaw homosexuality."
The Hill adds this: "Disney offers a Southern Caribbean cruise, which sails this July, to Antigua, Dominica, and St. Maarten. In Antigua, homosexual activities can land you in prison for up to 15 years. In Dominica, same-sex sexual activity carries a penalty of up to 12 years in prison. In St. Maarten, performing same-sex marriages on the island is illegal, and it's against the law to change one's legal gender."
In previous campus appearances, Shapiro has been protested and arrests have ocurred, yet he still travels college campuses to speak.
The Top 10 Colleges and Universities in Iowa Heading into 2022
Second semester is right around the corner, and high school seniors will need to pick where they're headed next fall. Here are the top colleges and universities in the Hawkeye State.
5 More Weirdly Pronounced Iowa Town Names