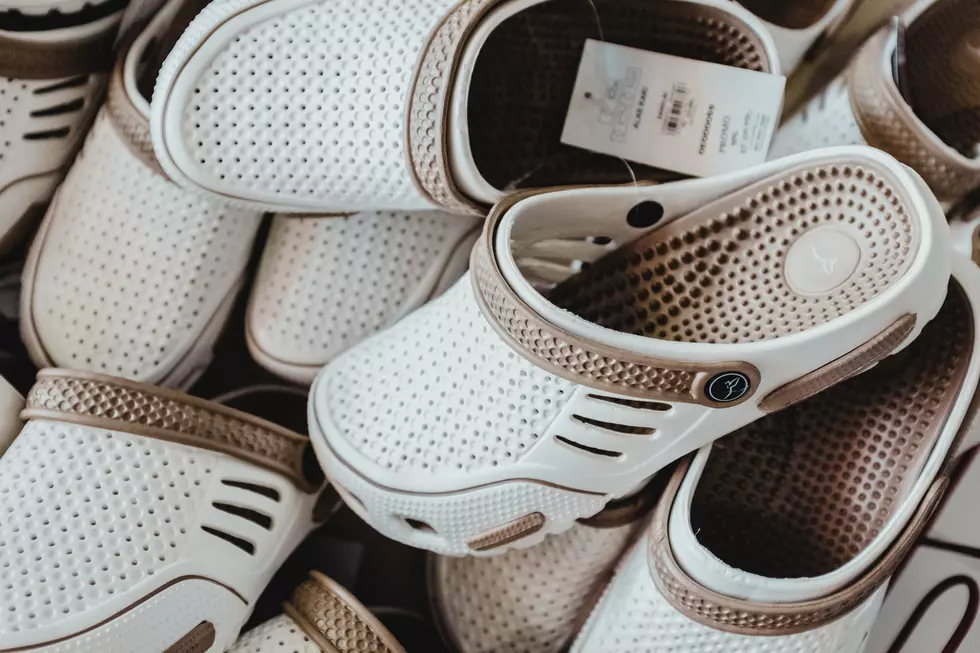 People in Iowa Have a Love Affair with These Shoes
Photo by Bernard Hermant on Unsplash
Okay I'll be honest with you. Only once have I owned a pair of Crocs. I got 'em as a gift from my wife and only wore them around the house as I feared ridicule from friends an peers if I ventured outside in them. Could it be because the plastic footwear looks like a holy plastic bag? Or perhaps because when we wear Crocs we're essentially telling everyone, 'I give up'? I don't know, but one thing is for sure. Iowans and everyone else loves them. A LOT.
Crocs sales skyrocketed to start 2021
According to a report from CNN, the plastic clogs are more popular than ever. In the first quarter of 2021 (that's January - March), sales are up 64%. As a result, the company is predicting now that it will make 40-50% more in 2021 than originally thought. Hm, is it too late to buy stock?
Everyone wants in on the action
There's a lot of celebs who have their own line of licensed Crocs. Country mega-star Luke Combs has had several designs, as has rapper Post Malone. Justine Bieber also has a deal with Crocs, as does fast food chain KFC. For the lil' ones there's officially licensed Disney Crocs that feature Mickey Mouse, or characters from Cars.
There's 'Jibbitz' too. Those are little charms you can pop into the holes on your Crocs to gussy them up. Think Pandora bracelet for your feet. Also it doesn't hurt that celebs wear Crocs when they're out and about. Or, at the Oscars. Musician Questlove went to the Academy Awards in a pair this past Sunday. For a touch of added class, his were gold colored. Nice.
Why do Iowans love 'em?
My wife, an Iowa native, tells me for her and her family, Crocs don't make great workwear (she and her father are farmers). But immediately after a long day, nothing is easier to slip into than Crocs. She told me they're nice because can wear them outside, around the house, the garage etc. Which again, is all I did with mine cuz... ridicule.
So whatever you think about the plastic, hole-bearing shoes, it's impossible to deny their popularity here in Iowa, and everywhere else.
10 Myths About Iowa That Even Some Natives Believe
Iowa is an ag state with more heads of hog than human, but there's a lot more to us than crops and critters. How many people actually know that, however?
LOOK: 50 images of winning moments from sports history
Sometimes images are the best way to honor the figures we've lost. When tragedy swiftly reminds us that sports are far from the most consequential thing in life, we can still look back on an athlete's winning moment that felt larger than life, remaining grateful for their sacrifice on the court and bringing joy to millions.
Read on to explore the full collection of 50 images Stacker compiled showcasing various iconic winning moments in sports history. Covering achievements from a multitude of sports, these images represent stunning personal achievements, team championships, and athletic perseverance.