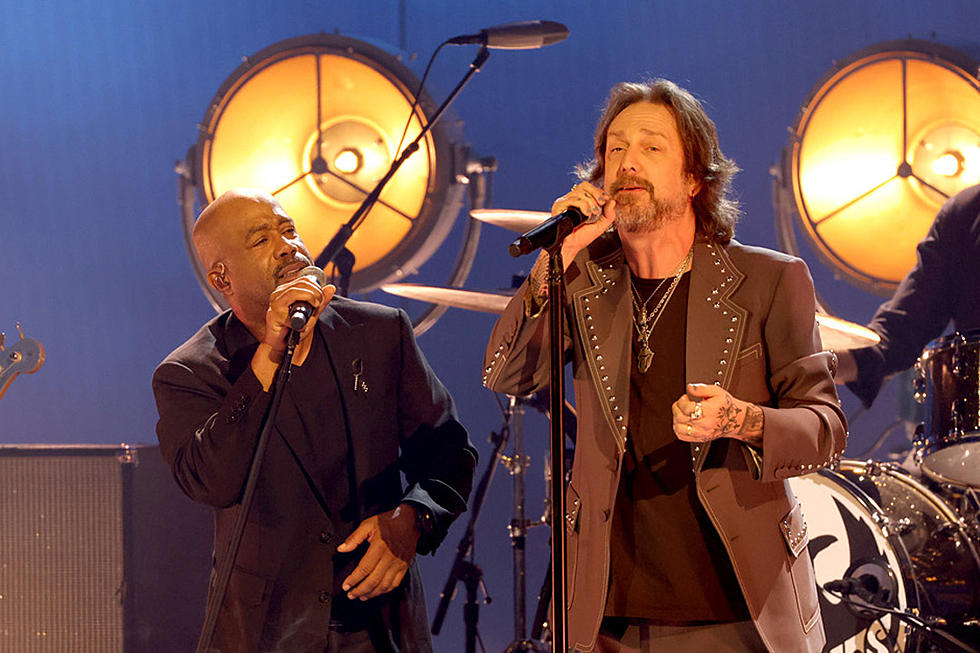 Darius Rucker + The Black Crowes Unite at the 2023 CMT Music Awards [Watch]
Rick Kern, Getty Images for CMT
Darius Rucker joined forces with one of the most legendary rock groups of the '90s -- the Black Crowes -- onstage at the 2023 CMT Music Awards on Sunday (Apr. 2) night. Together, the two acts performed "She Talks to Angels," the Crowes' No. 1 rock hit from 1991.
After being welcomed by Carrie Underwood, the two artists, who recently filmed for an upcoming May 2023 edition of CMT Crossroads, appeared onstage.
Rucker, 56, looking dapper in a black suit, showed off his deep South Carolina vocals on the first few lines before the Crowes' lead singer Chris Robinson channeled the next few words of the well-known track. Rucker and Robinson traded vocals throughout the song, matching each other's energy, and filling the room with excitement as they brought down the house with the classic rock tune.
For Rucker, this performance is something of a throwback to his rock roots. Prior to becoming a successful solo country act, he held a position of front man for once uber-popular band Hootie & the Blowfish, a soft rock group whose heyday was in the '90s. Hootie & the Blowfish reunited in 2019, and they put out their most recent album, Imperfect Circle, the first release to come from the band since 2006.
As previously shared, Rucker's CMTs team-up with the Black Crowes is a preview of their upcoming episode of CMT Crossroads, a series that pairs acts from different genres for a televised live show of duet renditions of each other's biggest hits. The upcoming CMT Crossroads episode taped in Austin, Texas during CMT Music Awards week. Their installment of the show is expected to air this summer.
The 2023 CMT Music Awards aired live from Austin's Moody Center on CBS. Kane Brown and Kelsea Ballerini were this year's co-hosts.
2023 CMT Music Awards Performance Pictures
Pictures show the best performances from the 2023
CMT Music Awards
features cross-genre and in-genre collaborations. Carly and Gwen, Wynonna and Ashley, Kane and Katelyn and the massive Lynyrd Skynyrd tribute were just a few highlight performances from Sunday night's (April 2) show in Austin, Texas.
2023 CMT Music Awards Red Carpet
The best dressed at the
2023 CMT Music Awards
took a slight risk on an established personal style. Country singers and their significant others walked the red carpet prior to the Sunday (April 2) show in Austin, Texas. See pictures of the hottest country fashions as worn by the biggest hitmakers, most-talked-about newcomers and more.
Who gets your vote for best and worst dressed at the 2023 CMT Music Awards?