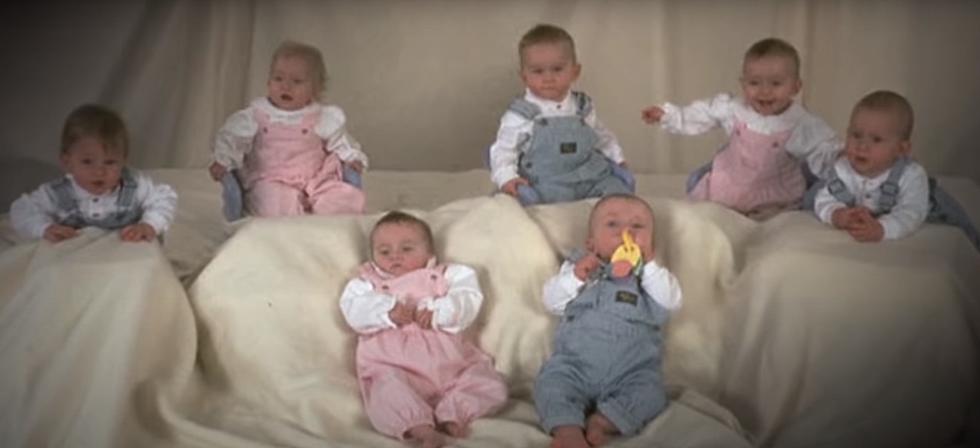 Today in Iowa History: The First Surviving Septuplets Are Born
McCaughey Septuplets via OWN on YouTube
Today, November 19th is a historic day for Iowa, and really for the world. It was on this day that the world's first surviving septuplets were born. Fast forward to 2021, and they're now 24 years old. All alive, all healthy, but not all still in the Hawkeye State.
1997: the Iowa septuplets make history
So before you run to Google it as I did, with septuplets there are 7 babies. Since 1997, we've had Octomom and others surpass the seven-baby mark, but for 1997 it was historic. The world had never seen seven babies, all born healthy. Now, there's obviously a back story here as you don't just have seven babies. That's... odd to say the least.
The septuplets were born to Carlisle, Iowa residents Kenny McCaughey and Bobbi McCaughey. The McCaughey's had a healthy baby girl in 1996. But, they wanted more children. The couple had been struggling with fertility and, according to an NBC News story from 2006, Bobbi began ovulation-stimulating using Metrodin for infertility. The results, seven bundles of joy:
Kenny Robert
Alexis May
Natalie Sue
Kelsey Ann
Nathan Roy
Brandon James
Joel Steven
Kenny was the heaviest baby, born 3 lb 4 oz. Kelsey Ann the lightest, born 2 lb 5 oz.
The public shows interest... and criticism
When the babies were born in 1997, the family became a massive media sensation. Most of the feedback was positive and people offered support. Others... not so much. In a Time Magazine article from 1997, the couple got a lot of kind letters, but also criticism from some who said they were exploiting their children.
The couple received tons of donations after the babies were born including a new house, a van two years' worth of diapers, nanny services, and the state of Iowa offering full college scholarships to any state university.
24 years later, the kids are all grown-up
So where are the McCaughey twins today? According to a story from the Marabi Post, they graduated high school in 2016. Three left home for Hannibal-LaGrange University, two stayed in Des Moines, and one enlisted in the United States Army. Natalie was the first of the bunch to marry when she got hitched in May 2019. Brandon also got married that same summer.
Iowa School Bus Airbnb Features Amazing Scenery [PHOTOS]
This fully renovated Skoolie sits along the banks of the Upper Iowa River.
This Adult Treehouse is the Perfect Road Trip Getaway [GALLERY]
How about reliving a bit of childhood nostalgia by spending a few days/nights in an (adult) treehouse?