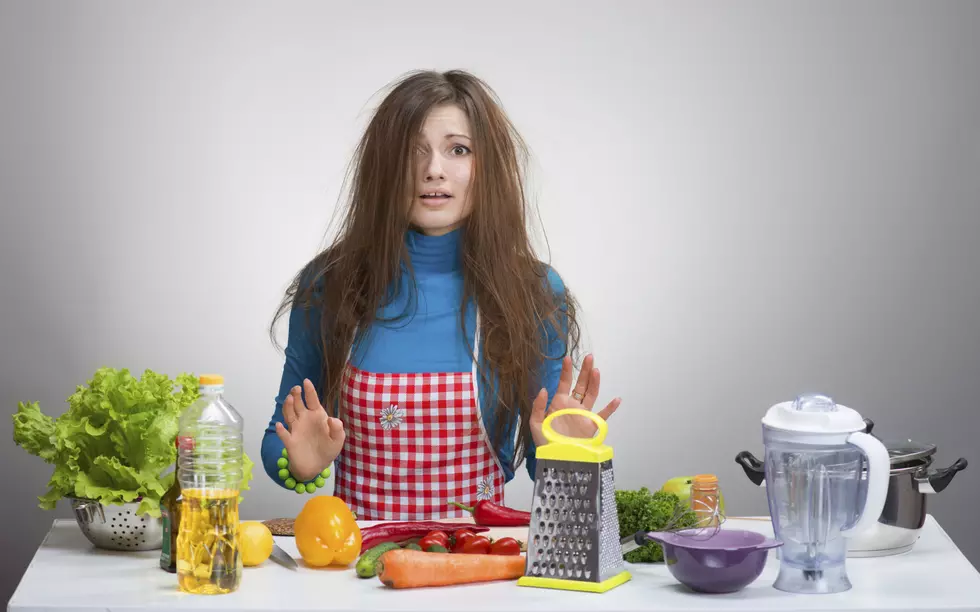 Iowans Share Their Funniest Cooking Distasters
Getty Images/iStockphoto
We've all made a mistake or two in the kitchen!
Thanksgiving dinner is going to be a bit of a challenge for some people this year! With COVID-19 restrictions preventing families from gathering together in large groups, a lot of folks are stuck cooking their entire Thanksgiving meal at home. In 2020, you'll have to a little more than just show up at grandma's house with your one designated side!
PR Newswire recently published the findings of a new survey from the Campbell Soup Company, and it revealed that 65% of people are planning to spend Thanksgiving at home this year. The survey also says that 22% of people will be hosting for the first time ever and 66% of those people are worried about a potential epic fail.
In honor of this survey, we decided to ask Iowans about their hilarious cooking fails! Here are some of our favorite responses from Facebook:
Amber Smith - "I was cooking my first Thanksgiving dinner for my family back in 2013. At the time I didn't have cable, so I threw in the first Twilight movie and started peeling potatoes. Well, I stopped paying attention to the potatoes and peeled my thumbnail right off! I freaked out because it wouldn't stop bleeding and I called my mom panicked saying we wouldn't have potatoes and that my finger was gushing."

Kristen Westpheling - "While using a gas stove, I had spaghetti noodles sticking out the side since they were too long for the pot... they caught on fire."

Kimberly Kaye - "Last year I was making a corn casserole, and APPARENTLY didn't follow the directions properly because it EXPLODED in my oven. All I'm saying is that my house smelled like burned corn for about a week afterward."

Lori Jean Knockle - "My first turkey got cooked with the giblets still in the package in the turkey!!! LOL"

Shirley Girard - "In middle school, a friend and I decided to make puppy chow after school since my mom had bought the ingredients. It looked and smelled so good... until we tasted it. I had mistakenly used flour instead of powdered sugar. Straight to the garbage it went."

Jodie Bailey - "We were making sugar cookies for X-Mas, and the kids were yelling, 'mom, I think they are done' as they watched through the glass, full of excitement. As I leaned over to get them out, my tank top was low and my boob popped out and landed on the glass door. Needless to say, I have a lightning bolt scar... luckily over the years it has faded. The cookies were great..."

Melanie Harrison - "In elementary school, a friend of mine told me that I could boil eggs in the microwave, so one day I decided to give it a try. I put my egg in a bowl in the microwave, and all I remember after that was a loud pop and bang... the front of the microwave blew off. Never lived that one down. P.S., I'm not sure if you actually can boil eggs in the microwave but it was not successful for me."

Tracey Schmidt - "I made pumpkin pie one year and it was late at night. I forgot to put egg in it and remembered after it was in the oven. I tried to mix it in real quick, but there were still egg white chunks in it."
Do you have a funny cooking disaster you want to share? Tell us about it in the comments below!
According to a new survey, 22% will cook Thanksgiving dinner for the first time this year, and 2/3 of them are worried about messing it up! Have you ever made a huge cooking error?

Posted by 98.1 KHAK on Tuesday, November 17, 2020
Weird Things You'll See in Iowa