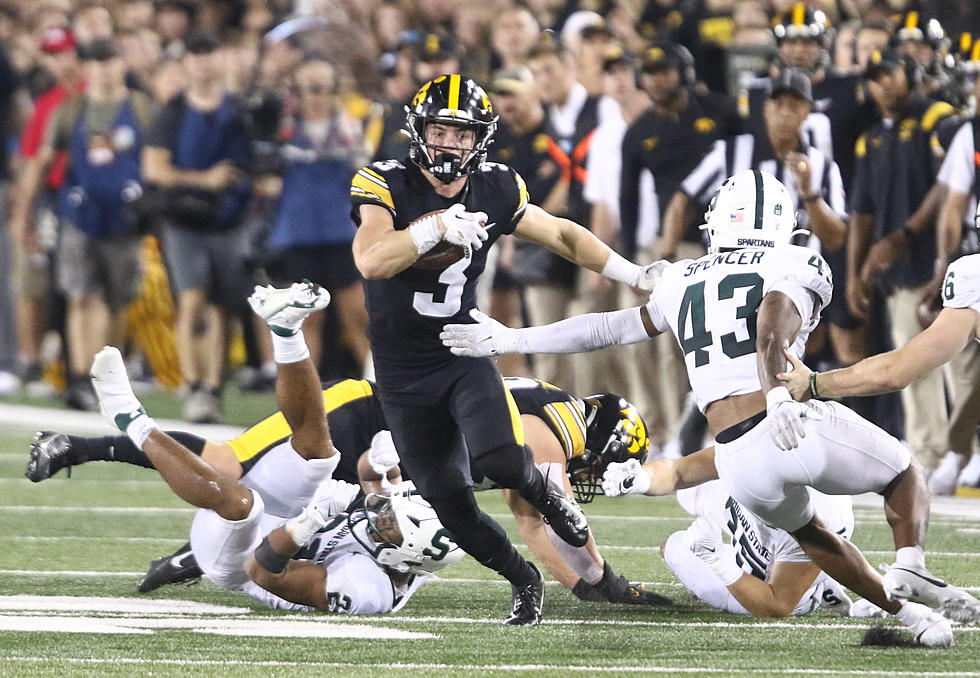 Iowa's Cooper Dejean Out for Season with Injury
Getty Images
The Iowa Hawkeyes are 8-2 on the season, with a 2-game lead in the Big Ten West with two games to play. A 10-2 mark and an appearance in the Big Ten Championship and January bowl game are right there for the taking. Now this.
The timing of the injury couldn't be any more cruel for standout Iowa defensive back Cooper Dejean. Early this afternoon, Dejean was named one of five finalists for the Bronco Nagurski Trophy. The trophy is awarded to college football's top defensive player by the Football Writers Association of America.
Here are the other finalists for the award:
Illinois defensive tackle Jer'Zhan Newton
Georgia safety Malaki Starks
Notre Dame safety Xavier Watts
North Carolina State linebacker Payton Wilson
According to the University of Iowa Sports Information Department, Dejean has played almost 400 snaps on the defensive side of the ball this season. He has not surrendered a touchdown through the air. He's tops on the team in pass break-ups with five. Dejean has two interceptions, good for second among Hawkeyes this season. He also is seventh on the team with 41 tackles.
Sadly, Dejean's season is over. Sportswriters Scott Dochterman and David Eickholt both confirm what have been rampant rumors early Wednesday afternoon.
According to both Dochterman and Eickholt, Dejean was injured in practice. Dochterman reports he is "probably out until the bowl game. (Unofficial as of right now)." Dochterman went on to say "Lower leg, fibula. A 6-week healing process."
Eickholt said his "status (is) unclear about potential bowl game. (This has not been made official by KF (Kirk Ferentz) or Iowa.)"
Unfortunately, the news is even worse. Wednesday evening, the University of Iowa confirmed the news, saying Dejean will miss the remainder of the season due to a lower leg injury.
In the Iowa media release, Hawkeye head coach Kirk Ferentz said, "This is truly heartbreaking for Cooper. He has played extremely well and is a real playmaker on our team. We will all support Cooper during his recovery, which will continue into the new year.
Ferentz continued, "This has been a season filled with challenges for our team. I am proud of how our players have responded with tremendous grit and determination. We are focused on Saturday."
No Cooper Dejean for any of what could be four remaining games for Iowa, including a bowl game. Brutal news for Iowa fans, but more so for Dejean, who does have one year of eligibility remaining.
If you're a Hawkeye fan, you feel like someone just punched you in the gut. I know, because that's exactly how I feel. One of the most talented and dynamic Iowa players we've ever watched won't be on the field for the rest of the season. You don't need to be an expert to know that is horrible news for the Hawkeyes.
We wish Cooper Dejean all the best in his recovery.
LOOK: These Are the Richest NFL players
To uncover the richest NFL players,
Stacker
consulted
Celebrity Net Worth
and ranked them by their 2022 net worth, calculated using a proprietary formula.
Gallery Credit: Katrina Sirotta
TACKLE THESE: Check Out the Best Uniforms In Each NFL Team's History