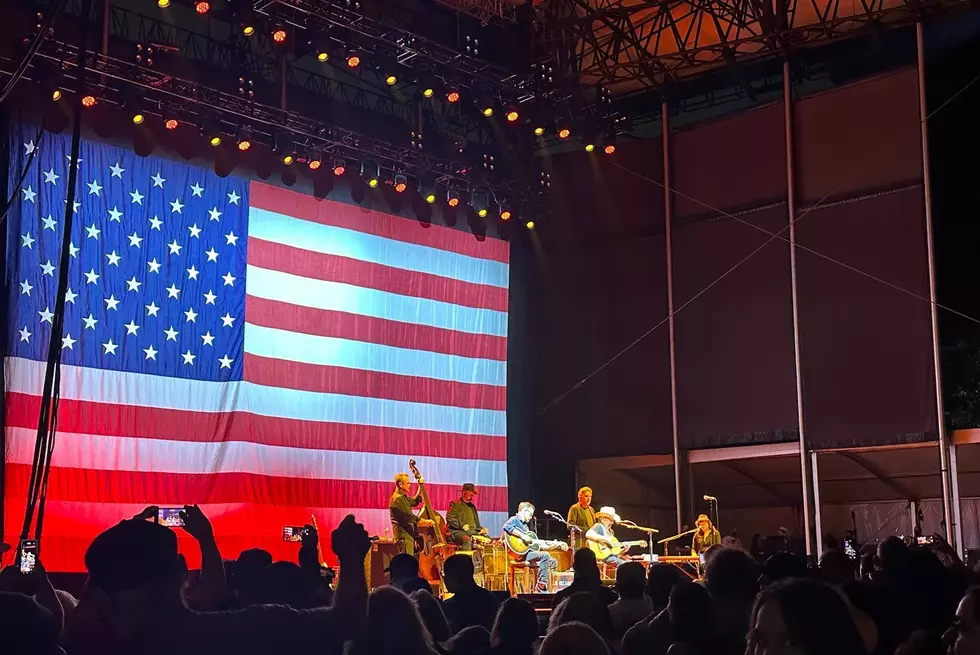 Willie Nelson Shines at Outlaw Festival in New York: Set List
Allison Rapp, UCR
Willie Nelson appeared in New York City this afternoon on his Outlaw Music Festival tour, along with guests Bobby Weir & Wolf Bros., the String Cheese Incident, Los Lobos and Waylon Payne.
Nelson, donning his signature red bandana and a t-shirt with the word "MAUI" on the front, swiftly moved through a set that included classics like "On the Road Again," "Always on My Mind" and "Mama Don't Let Your Babies Grow Up to Be Cowboys."
You can view a complete set list below.
"How y'all doing?" the singer-songwriter, who turned 90 earlier this year, said at the start. In addition to Nelson's usually Family Band, special guest Norah Jones appeared on keys and vocals.
Nelson was joined by members of Los Lobos and String Cheese Incident, plus Weir for the set's last couple of songs: a mashup of "Will the Cricle Be Unbroken" and "I'll Fly Away," followed by the closing number, "It's Hard to Be Humble." Before leaving the stage, Nelson waved and threw an armful of red bandanas into the crowd.
The Outlaw Music Festival began in 2016 and has been running annually ever since. Over the years, guests have included Neil Young, Bob Dylan, Van Morrison, ZZ Top, Bonnie Raitt, Sheryl Crow and many more.
READ MORE: 35 Important Moments in Country-Rock History
A Brief History of the Outlaw Festival Tour
This year's tour has featured a rotating cast of guests, like Robert Plant and Alison Krauss, Margo Price, John Fogerty, Gov't Mule and Tedeschi Trucks Band, among others.
"I can't wait to be on the road with the amazing group of artists joining us on this year's Outlaw Music Festival Tour," Nelson said in a previous statement. "It is always a great day of music and fun with family, friends and the incredible fans, and even more special this year in celebration of my 90th birthday."
The tour will last until Oct. 15, with the final show set to take place in Pelham, Alabama. Nelson is also slated to release a new book, Energy Follows Thought: The Stories Behind My Songs, on Oct. 31.
Willie Nelson, 9/17/23, Forest Hills, NY, Set List
1. "Whiskey River" (Johnny Bush cover)
2. "Stay a Little Longer" (Bob Wills and His Texas Playboys cover)
3. "Still Is Still Moving to Me"
4. "Down Yonder" (L. Wolfe Gilbert cover)
5. "Bloody Mary Morning"
6. "I Never Cared for You"
7. "Help Me Make It Through the Night" (Kris Kristofferson cover) (Waylon Payne and Norah Jones on vocals)
8. "Mamas Don't Let Your Babies Grow Up to Be Cowboys"
9. "Angel Flying Too Close to the Ground"
10. "On the Road Again"
11. "Always On My Mind"
12. "Good Hearted Woman" (Waylon Jennings cover)
13. "Roll Me Up and Smoke Me When I Die"
14. "Georgia (On My Mind)" (Hoagy Carmichael and His Orchestra cover)
15. "I Been to Georgia on a Fast Train" (Billy Joe Shaver cover)
16. "I Gotta Get Drunk"
17. "Write Your Own Songs" (Willie Nelson & Kris Kristofferson cover)
18. "Move It on Over" (Hank Williams With His Drifting Cowboys cover)
19. "Me and Bobby McGee" (Kris Kristofferson cover)
20. "Will the Circle Be Unbroken?" (William MacEwan cover)
21. "It's Hard to Be Humble" (Mac Davis cover)
22. "I Saw the Light" (Hank Williams With His Drifting Cowboys cover) (Family Band Instrumental)
2023 Rock Tour Preview
Reunions, farewells and long-awaited shows are on the horizon.