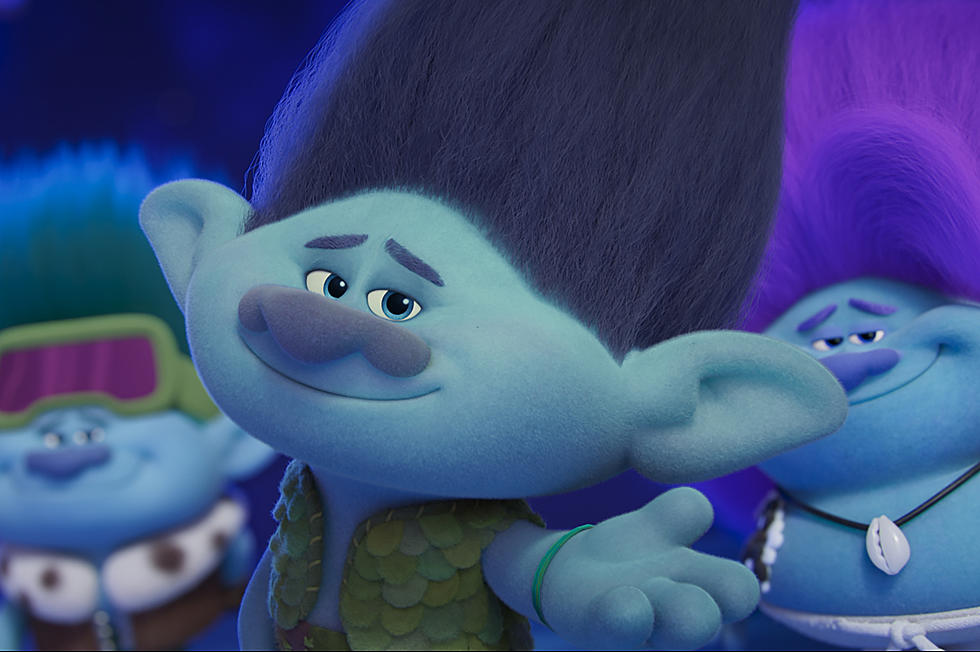 NSYNC Reunites in the 'Trolls Band Together' Trailer
DreamWorks Animation
While it feels like the sort of information that probably should have come up at some point before in the previous two Trolls movies, or any of the five Trolls shorts, two Trolls TV specials, and two Trolls television series, the new Trolls Band Together reveals that Branch (voiced by Justin Timberlake) was once a member of a boy band with his brothers called "BroZone." I mean he was beyond a boy at the time; he was a baby when this all happened.
The band broke up and the family went their separate ways. Their reunion drives the plot of Trolls Band Together. Which is fitting, since Timberlake is a famous alumnus of the boy band NSYNC — and because the group has recorded their first new song in 20 years for the movie's soundtrack. (NSYNC just appeared together at the MTV VMAs, fueling rumors of a reunion project which were, clearly, correct.)
You can hear a little of it in the trailer below. Although NSYNC's song appears, the other members of the group didn't voice Timberlake's brothers/band members in the film — their speaking voices are provided by Eric Andre, Kid Cudi, Troye Sivan, and Daveed Diggs.
READ MORE: The Best Disney+ Movies and Shows to Watch With Kids
Here is the film's official synopsis:
After two films of true friendship and relentless flirting, Poppy (Anna Kendrick) and Branch (Justin Timberlake) are now officially, finally, a couple (<#broppy)! As they grow closer, Poppy discovers that Branch has a secret past. He was once part of her favorite boyband phenomenon, BroZone, with his four brothers: Floyd (Golden Globe nominated electropop sensation Troye Sivan), John Dory (Eric André; Sing 2), Spruce (Grammy winner Daveed Diggs; Hamilton) and Clay (Grammy winner Kid Cudi; Don't Look Up). BroZone disbanded when Branch was still a baby, as did the family, and Branch hasn't seen his brothers since. But when Branch's bro Floyd is kidnapped for his musical talents by a pair of nefarious pop-star villains—Velvet (Emmy winner Amy Schumer; Trainwreck) and Veneer (Grammy winner and Tony nominee Andrew Rannells; The Book of Mormon)—Branch and Poppy embark on a harrowing and emotional journey to reunite the other brothers and rescue Floyd from a fate even worse than pop-culture obscurity.
Trolls Band Together is scheduled to open in theaters on November 17.
VHS Tapes That Sold For Shocking Amounts of Money
These VHS tapes recently sold for hundreds of even thousands of dollars.