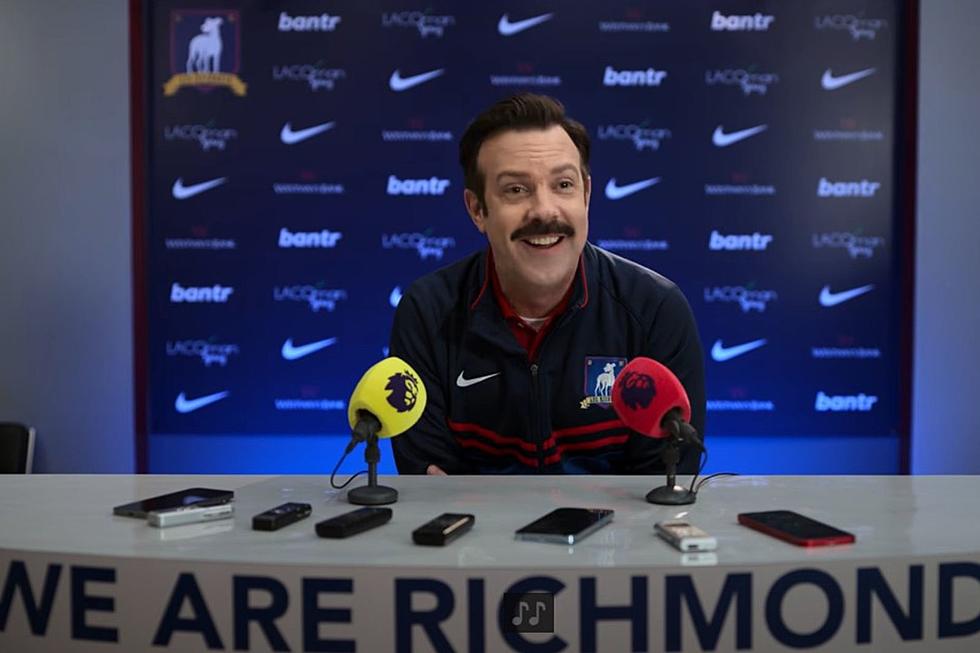 Season 3 Of Ted Lasso Has A Reference Only Iowans Will Catch
Apple TV via YouTube
Fans of the Apple TV show "Ted Lasso" have eagerly been waiting for season 3 and yesterday fans got their wish. The first two episodes of season 3 are now available on the streaming platform. The show stars actor Jason Sudeikis and his character Ted Lasso is possibly the most likable character in television history.
Ted Lasso is an American college football coach from Kansas, who gets a job coaching an English soccer team. When Lasso is hired he openly admits to having zero knowledge about the game of soccer. Fans ridicule him and the media trashes him every chance they get. The problem is...fans and the media aren't aware they're about to have the most kind, compassionate, and hopeful coach to ever exist.
Fast forward to season 3, Ted is once again finding ways to make you laugh, cry, and fall in love with a soccer team that only exists on television. If you don't have Apple TV, do yourself a favor and subscribe to the free trial and watch as many episodes of Ted Lasso as you can.
It truly is one of the funniest and most wholesome shows I've seen in my 32 years of life. The show's writing is witty, the characters are all phenomenal, and it's one of the most binge-worthy shows you'll ever watch.
In the first episode of the long-awaited season 3, the two-time Emmy-winning show has a reference every Iowan would recognize immediately.
*SPOILER WARNING*
In the show, Ted relies on an equipment manager, who knows a lot more about soccer than he does for help. The character's name is Nate. Nate goes from a loveable sidekick, who is helpful to Ted and wants nothing but for the team to succeed. Sadly he eventually turns into a full-blown jerk.
He wants more credit for the team's success and wants to see his name in the papers and on the internet. Nate is hired to coach for AFC Richmond's rival team "West Ham" and in his introductory press conference, he bashes Ted using colorful language about him being a bad coach.
One of the many reasons fans have fallen in love with the character Ted Lasso is how he handles these press conferences. He's funny, self-deprecating, always takes the high route, and chooses to always act with class. When he finds out Nate has bashed him in a press conference, he responds in the most Ted Lasso way he can.
Reporter: "Do you have any responses to the comments made earlier today by your former assistant coach Nate?"
Ted - "Yes I do. I thought it was hilarious. He came and got us, didn't he? No doubt about that. That's Nate the Great for you. He's the same way on the pitch. He'll find the tiniest, little weakness in a team and just want to attack that. He's a junkyard dog man, and smart. They're really lucky to have him over at West Ham. I wish him the best of luck.
Instantly, Ted flips this entire narrative, and Nate looks like a total jerk. Ted likes to have fun in these press conferences and he starts joking about how dumb he is in this scene. He even references Iowa's field of dreams! For most fans of the show, this joke might've gone over their heads. Not Iowans, we know exactly what Ted is referencing in this scene. As Ted makes reporters laugh with his self-deprecating jokes, they didn't quite understand this reference.
Ted - "I'm so dumb, whenever I text someone in England about money, I still spell pounds, lbs. What about this mustache? I look like Ned Flanders is doing cosplay as Ned Flanders. When I talk it, sounds like Dr. Phil hasn't gone through puberty yet. I'm more corny than Kevin Costner's outfield." 
The room goes silent as this joke doesn't quite land with the British media. One of the biggest shows in the world referenced a baseball field in Iowa. Pretty dang cool if you ask me. Check out Ted Lasso on apple tv if you get the chance. It's truly fantastic television.
Funny Field Of Dream Reviews
The Field of Dreams movie site is a popular midwest tourist destination... but some people didn't think the site lived up to the hype.
Field of Dreams Game Featuring the Cedar Rapids Kernels
Cedar Rapids was the Bunnies for the day as they played the Quad Cities River Bandits, who were the Davenport Blue Sox. Both were an ode to team names of the individual cities nearly a century ago. Played on Tuesday, August 9, 2022, it was the first minor league baseball game ever played at the Field of Dreams in Dyersville, Iowa.