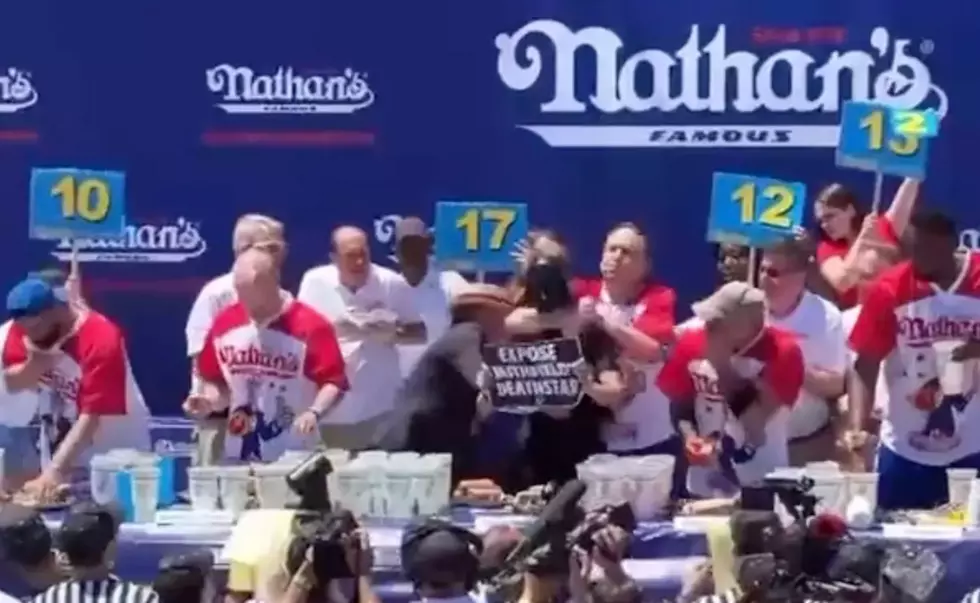 Joey Chestnut Chokes Out Hot Dog Contest Protestor, Continues On To Win
jonah block via Twitter
Surely you've heard by now that once again, to nobody's surprise, Joey Chestnut won another year's July 4th Nathan's Hot Dog Eating Contest.
What you may not have heard, was that he didn't just win the contest, but possibly saved it some trouble as well.
As the contest was underway, Chestnut and the other competitors were throwing back hot dogs like they do it for a living.
Just after the 10 hot dog mark for most of the contestants, some guy in a Darth Vader mask appears on stage with a sign that reads "EXPOSE SMITHFIELD DEATHSTAR."
Not only did he crash the event, but he also bumped into Chestnut and about knocked him over, obviously pissing him off.
Not waiting for security, Chestnut just handled the situation himself, putting the protestor in a chokehold and throwing him backward to the ground... before finishing the hotdog that was in his hand.
The guy was in no way prepared for what was about to happen to him, but that's a good thing. He was later arrested, according to the group he was associated with.
Oh, and on top of singlehandedly stopping the protestor and still winning the contest, he did it all with a cast on his leg due to a ruptured tendon. He finished the contest with a total of 63 hot dogs - 20 more than any other competitor on the stage.
Bettendorf's Newest Tavern Has a Drink For Everyone in Your Crew
Oak Grove Tavern is now open in Bettendorf!