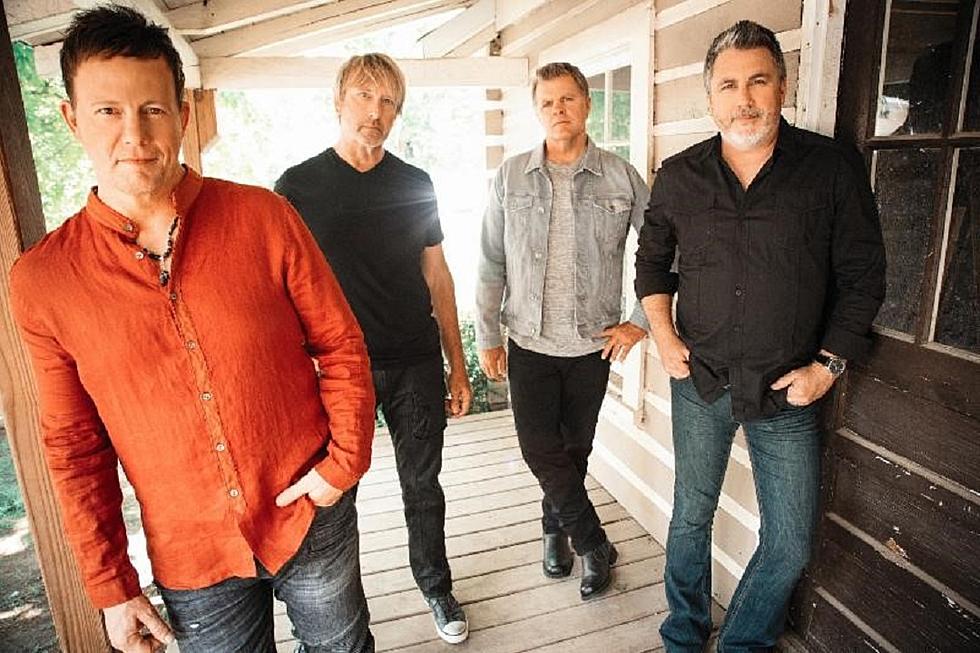 Lonestar Hitting the Road for 2019 Hits & More Hits Tour
Courtesy of Reckoning PR
Lonestar have a busy 2019 planned: The country band will hit the road for their Hits & More Hits Tour beginning on March 2.
Lonestar's 2019 Hits & More Hits Tour kicks off in Panama City Beach, Fla., at the Aaron Bessant Amphitheatre. Dozens of shows — in Winston-Salem, N.C.; Duchesne, Utah; Frederick, Md.; and more — will follow, before the trek wraps up late in 2019. A complete list of currently scheduled tour stops is below, and more are to be announced, according to a press release. Visit LonestarNow.com for more details.
Lonestar's 2019 Hits & More Hits Tour celebrates the 20th anniversary of Lonely Grill, the band's most successful album to date. The triple-platinum project features for No. 1 country songs: "Smile," "What About Now," "Tell Her" and "Amazed," also a No. 1 song on the all-genre Billboard Hot 100. Lonestar's setlist will feature many of the songs from that hit album.
"We are celebrating another milestone in 2019," says Dean Sams, Lonestar's keyboard player and backing vocalist, in a press release. "Hope to see everyone out to celebrate with us on our Hits & More Hits Tour in a city near you! After all, it's you, the fans, that made it happen!!!"
Lonestar's Richie McDonald (lead vocalist), Michael Britt (guitarist and backing vocalist), Keech Rainwater (drummer) and Sams have been in the studio recently, recording new music. The band, the release reports, is also contemplating re-recording acoustic versions of some of their biggest hits this year.
Lonestar's 2019 Hits & More Hits Tour Dates:
March 2 -- Panama City Beach, Fla. @ Aaron Bessant Amphitheatre
March 8 -- Kent, Ohio @ The Kent Stage
March 9 -- Manistee, Mich. @ Little River Casino Resort
March 15 -- Fort Pierce, Fla. @ Sunrise Theatre
March 16 -- Pinellas Park, Fla. @ England Brothers Park
March 17 -- Immokalee, Fla. @ Seminole Casino Hotel
April 13 -- Florence, Ariz. @ Country Thunder USA
April 24-26 -- Lake Buena Vista, Fla. @ American Gardens at Epcot (Disney World)
May 31 -- Dayton, Ohio @ Hollywood Gaming at Dayton Raceway
June 9 -- Norfolk, Va. @ Town Point Park
June 11 -- Belleville, Ontario, Canada @ The Empire Theatre
June 13 -- Burlington, Ontario, Canada @ Sound of Music Festival
June 14 -- London, Ontario, Canada @ London Music Hall
June 15 -- Rama, Ontario, Canada @ Casino Rama
June 17 -- Halifax, Nova Scotia, Canada @ Rebecca Cohn Auditorium
June 18 -- Moncton, New Brunswick, Canada @ The Centre at Casino New Brunswick
June 20 -- Ridgefield, Conn. @ Ridgefield Playhouse
June 21 -- Lincoln, R.I. @ Twin River Casino
June 22 -- Winston-Salem, N.C. @ The Winston-Salem Fairgrounds Annex
June 23 -- Myrtle Beach, S.C. @ Calvin Gilmore Theater
July 6 -- Roundup, Mont. @ Roundup City Park
July 11 -- Tee PeeCreek, Alberta, Canada @ TeePee Creek Stampede
July 12 -- Craven, Saskatchewan, Canada @ Country Thunder Saskatchewan
July 18 -- Port Huron, Mich. @ Port Huron to Mackinaw WSAQ Radio Show
July 19 -- Twin Lakes, Wisc. @ Country Thunder USA
July 20 -- Oskaloosa, Iowa @ Southern Iowa Fair
July 25 -- Calgary, Alberta, Canada @ Grey Eagle Resort & Casino
July 26 -- Mattawa, Ontario, Canada @ Mattawa Voyageur Days 2019
July 27 -- Winnipeg, Manitoba, Canada @ Howl at the Moon Music Festival
Aug. 1 -- Spokane, Wash. @ First Interstate Center for the Arts
Aug. 2 -- Whitefish, Mont. @ Glacier Twins Baseball Fundraiser
Aug. 3 -- Klamath Falls, Ore. @ Klamath County Fair & Carnival
Aug. 5 -- Santa Rosa, Calif. @ Sonoma County Fair
Aug. 7 -- Duchesne, Utah @ Duchesne County Fair
Aug. 8 -- Nephi, Utah @ Juab County Fair
Aug. 10 -- Henderson, Nev. @ Sunset Station Hotel & Casino
Aug. 14 -- Bath, N.Y. @ Steuben County Fair
Aug. 16 -- Richmond, R.I. @ Washington County Fair
Aug. 23 -- Meridian, Miss. @ MSU Riley Center for the Performing Arts
Aug. 24 -- Mount Vernon, Ky. @ Renfro Valley Entertainment
Aug. 30 -- Lexington, Mich. @ Village Theatre
Sept. 1 -- Matthews, N.C. @ Stumptown Park
Sept. 6 -- Bonner Springs, Kan. @ Providence Medical Center Amphitheater
Sept. 13 -- Frederick, Md. @ The Great Frederick Fair
Sept. 21 -- Franklin, N.C. @ Smoky Mountain Center for the Performing Arts
Unbelievable '90s Country Facts You Definitely Didn't Know: