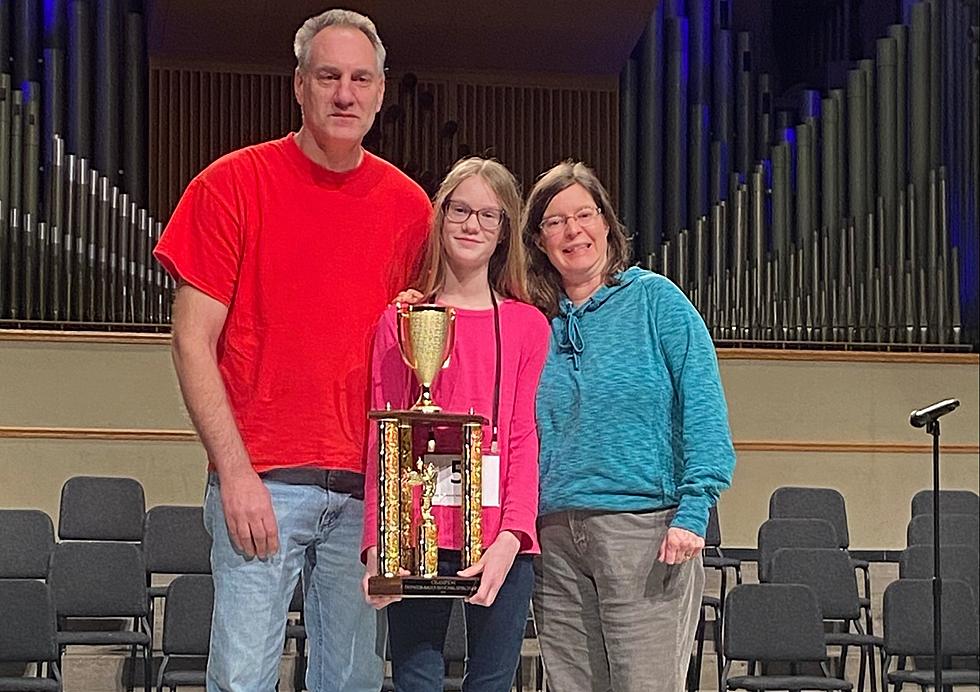 Marion Student Headed to Scripps National Spelling Bee
Facebook via Marion Independent School Foundation and Alumni Association
A sixth-grade student from Marion out-spelled all the other competitors and has earned a spot in the Scripps National Spelling Bee in Washington D.C.
The Cedar Rapids Gazette reports that Lindsay Jessen outlasted 39 other competitors at the 42nd annual Dispatch-Argus Regional Spelling Bee. The event was held Saturday on the campus of Augustana College in Rock Island. Her winning word? Holstein. I'll go ahead and let you use it in a sentence. The win earned Jessen an all-expense paid trip to our nation's capital to compete in the Scripps National Spelling Bee May 28th through June 2nd.
The Gazette reports that spelling isn't even Lindsay's favorite subject in school! She is an even bigger fan of math. She is set to compete this March in Iowa's MathCounts state competition in Ankeny. Jessen is currently home-schooled by her mother, Carla, who has a degree in elementary education from the University of Iowa, according to the Gazette. 
So how do you practice for the pressure of a spelling bee? Lindsay told the Gazette that she and her mom would "read through the list of words, and then she would call them out to me. Any ones I missed I would practice them until I got it right." Jessen also said that her love of reading helped in preparation too. Jessen, who has been home-schooled since she was 3, says that she hopes to become an engineer.
How Well Do You Know Cedar Rapids?
The ABCs of Iowa
I know Iowa may not be the most popular state to visit, but we still have plenty to offer! Using countless article, websites, lists, and maps, we put together a list of some of Iowa's best and biggest events, venues, and attractions using every letter of the alphabet (which wasn't easy)! Unfortunately, we couldn't include EVERY awesome place in the state (there aren't enough letters!), but here are our Iowa ABCs: