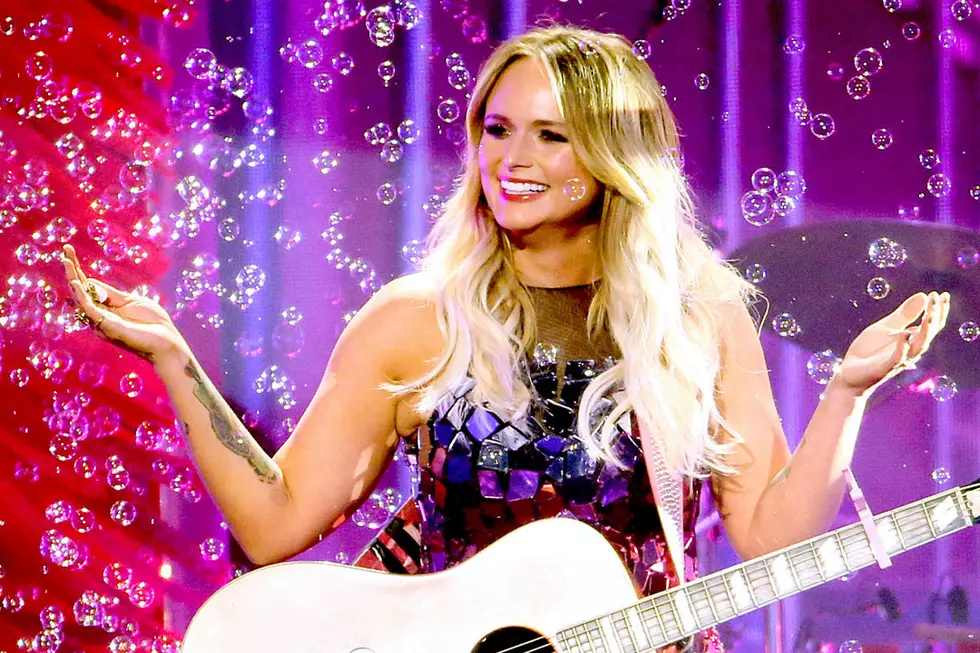 Interview: Miranda Lambert's Words Paint a Clear Picture of Where She Is in Life and Love
Terry Wyatt, Getty Images
Miranda Lambert's words paint a picture, literally. Give her a chance to share the stories of her new Wildcard album and she'll talk for days ... or at least until another interview pulls her away.
The "It All Comes Out in the Wash" hitmaker released Wildcard on Nov. 1 and recently had the chance to go deep on a few hidden gems from her seventh studio album. She also explains why working with producer Jay Joyce is intimidating and how the most recent Pistol Annies album freed her heart to create a more playful soundscape.
Speaking with Taste of Country on the way to a tour stop in Florida, the sometimes mercurial country singer used the word "happy" no fewer than seven times. "Love" topped that at 11 uses, but the reason she's here came in at No. 1, with 15 uses. It's all positive, as you can see in the word cloud illustration above.
The response to Wildcard has been really positive. How does that feel?
Kind of relief in a way, because you have anxiety leading up to it. Every time I release a record I get a level of nervousness and excitement but … when it goes out there in the world and there's no control anymore it's like, "Okay, it does what it does."
Do you read the reviews?
My mom and my manager will send me like one or two that are great, usually, but I try not to wrap myself up in it.
Are you surprised by the songs that fans have gravitated toward?
You know, it's been kind of a mixture. Besides "Bluebird" I feel like people have been telling me their favorite songs are all different. There hasn't been like one, besides "Bluebird," that has been common. Everybody is all over the map, which I love because that's the kind of record it is.
"He would just sit there with headphones and just stare at you, so it's kind of intimidating."
I think of "Dark Bars" because it's such a deep song and it's the last song on the album. It just takes a little bit to really soak that song in, but almost instantly fans started celebrating that one.
That's one of my babies on the record, too. It's kind of my roots — just the sound of it and what it says. I also love "Tequila Does" and the fact that people are talking about those two songs in particular, because they're the most throwback country on the record, really makes me happy.
Did the process of creating this album begin after the Pistol Annies released Interstate Gospel last November?
Yeah, pretty much. I probably wrote a few before that, but I really started hunkering down on it as soon as the other Annies record was done.
They're very different albums. Did writing those kind of songs for Interstate Gospel free your heart up to write for this album? 
Yeah, I kind of think that with the Annies we sort of dug really deep and got a lot of points across. It did free me up to get to not feel so, "I have so much to say still."
I kind of got out of that mentality and it gave me freedom to put songs — like this record, I didn't really have a running storyline theme. I just had a, "If I love it, it's going on the record." I didn't have to worry about "Did I say everything I wanted to say?" because I kind of got the rest of it out. With The Weight of These Wings (2016) being a double album and then the Annies record, I kind of got it all out.
Wildcard feels less introspective, but that may not be the case. I'm sure this album is just as personal, but maybe in a different way?
It is. It is. It's just a side of me that I didn't bring out in a couple of records, you know what I mean? It's kind of a side of me that built my career. A little bit of sarcasm, a little bit of kitschiness and scorned woman-type emotions is how I even started this whole journey, so I kind of had to get back to that.
One song that has gotten lost in conversation that I think is a jewel is "How Dare You Love."
Thank you. That's a special one. I haven't written a lot of love songs in my career, maybe one on each album, maybe? So I feel like that one is definitely a stand out on this record because it is a pretty good ode to love.
Did you bring the inspiration to that co-write?
I brought wine, so yeah, I guess (laughs). We were drinking white that day, but it was one of those lines that just kind of came out. We were talking about life and love and what everybody is doing — getting to know each other, really — and I just kind of started out "How dare you love" and it happened. I love writes like that where nobody comes in with a full vision.
To the extent that you're comfortable, can you share how this goes back to your personal life?
I think it's just all of us. Ashley (co-writer Ashley Monroe) has a happy marriage and has a 2-year-old now. We were talking about, I was telling Jamie (Jamie Kinney) I just got married. I think us talking about finally getting happy and everybody in the room was sharing their own experience, so we all put in our own personal piece of it.
To what degree did falling in love again help shape this album?
I didn't put too much emphasis on that. I usually write from my life so yeah, being happy and writing from a happy perspective was different than I had in a couple of records, but I don't think it was the only reason. I didn't change my sound. This isn't a happy record, per se. I don't like when people say The Weight of These Wings was a "divorce" album because that's everything it wasn't. It's a singer-songwriter album because I actually got to hone in on my craft. The same as this one, it's just writing from an emotional place, but it's not changing my sound or my position.
Is there a specific point on Wildcard where you can point to something (Wildcard producer) Jay Joyce brought that was totally new for you? 
I'd say the biggest surprise was probably "Locomotive" because it was written like, very folky. It wasn't finding its spot and I loved what it said … but it wasn't landing for me. And he texted me one day when I was headed to the studio and he said, "Let's try a flaming red vibe — let's do it punk and see what happens." And I never would have thought No. 1 I could pull it off, but No. 2 thought of that.
Everyone who works with Jay has a Jay Joyce story. John Osborne (of Brothers Osborne) talks about how Jay was relentless pushing him on guitar. Other have talked about how he won't let them do another take on vocals. Do you have a Jay Joyce story?
Yeah, he kind of just takes control. That was what was good for me for this record, because I needed to not be in control. When Jay is on a train — like a train of thought or playing a melody that he's really feeling — you kind of just have to sit there and let it happen, and if you don't like it it's like, "I let you go down this road for 15 minutes, Jay, but now I'm telling you I don't like it." (Laughs) But 99 percent of the time, you do like it.
He is the opposite with me, and I think this is with females ... he was hard on me about the vocals. He was pretty opinionated about it, and he would just sit there with headphones and just stare at you so it's kind of intimidating doing a vocal performance.
If you had your way, which song on the album would be next to make it into heavy rotation across America (as a single)?
Well, heavy rotation on anything would be great! (Laughs) It's been a long time since I had heavy rotation on anything, but I would say "Tequila Does," and the reason is because I feel like it's the most home that I've gotten in a long time on a record. It just feels like Texas to me. And I love it and I love singing it every night.
WATCH: Miranda Lambert Invites Remi Onstage in Kansas:
This month we spoke to the mother of the little girl you brought on stage with you in Kansas. You pretty much changed that girl's life for the better. I wonder what stuck out to you about that girl, and if that happens on the regular.
That's cool, I didn't realize y'all did that.
No, I don't usually bring people on stage ... For one they're pretty far away at this point, in the arenas, so I can't reach a lot of people. And I just kind of get in my routine and sometimes it can go awry if you bring people onstage if it's not planned. And I don't really plan much, I just kind of go out there and play. It can get weird sometimes.
With kids I don't usually ever worry, but this little girl, she just kind of grabbed my attention from the minute I walked on the stage. I couldn't stop staring at her. Something about her, she had a light around her. And she had fringe on her sleeves, for one thing!
I just felt she was so ... she reminded me of me. Like my first concert was Garth Brooks at Texas Stadium in '92 and I was 10. I felt like that was probably the same look I had on my face, the one I could see in her eyes. This just light around her and these eyes full of dreams and I just wanted to meet her. Then she came up there and I could see she was moved by the music and then we all started crying. It was a really special moment. It was one of those moments where — you can't plan that. It was just organic and really cool.
Her mom said she asked for a guitar the next day.
That makes me so happy.