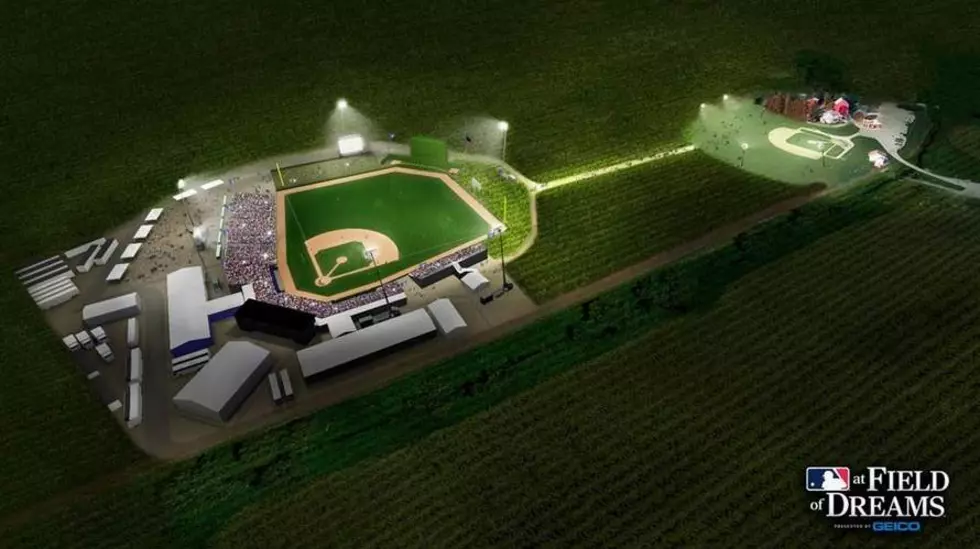 MLB 'Field of Dreams' Game Only A Month Away
Field of Dreams / Roman Weinberg
The first ever regular season Major League Baseball Game to ever take place in Iowa is only a month away.
On August 12, 2021, the Chicago White Sox will take on the New York Yankees at the iconic 'Field of Dreams' in a matchup that was postponed because of the pandemic.
A new stadium was built behind the field at the movie site in Dyersville, with a much higher capacity
So far, there's no word on when tickets will be available, or how much they'll cost. Here's what is known, according to a previous interview we did with Director of Operations Roman Weinberg last year.
Who is playing? White Sox vs Yankees- White Sox are "Home" and are even surrendering one of their home dates to get it.
Yes, this is a regular season game.
Yes, the game will be broadcasted. 
No, ticket info isn't available at this time, other than there are 8,000 seats in the stadium. 
What will the field look like? It's been designed to look like Comiskey Park, the home of the White Sox from 1910-1990.
The field won't be destroyed, so what happens next? The owners of the movie site will have to determine what they want to host there now.
Is this the smallest MLB facility? No, Bowman Field in Williamsport, PA. only has 2,366 seats.
This is the first MLB regular-season game in Iowa. In Fort Dodge, IA an exhibition game was played between the White Sox and the Cubs back in 1942.
Will people come? They built it. We will come.
Listen to the interview from February 7th, 2020 here:
It's an exciting for Iowa to finally host an MLB game, and honestly, there's no better place for it.
KEEP READING: Here are the most popular baby names in every state
Using March 2019 data from the
Social Security Administration
,
Stacker
compiled a list of the most popular names in each of the 50 states and Washington D.C., according to their 2018 SSA rankings. The top five boy names and top five girl names are listed for each state, as well as the number of babies born in 2018 with that name. Historically common names like Michael only made the top five in three states, while the less common name Harper ranks in the top five for 22 states.
Curious what names are trending in your home state? Keep reading to see if your name made the top five -- or to find inspiration for naming your baby.