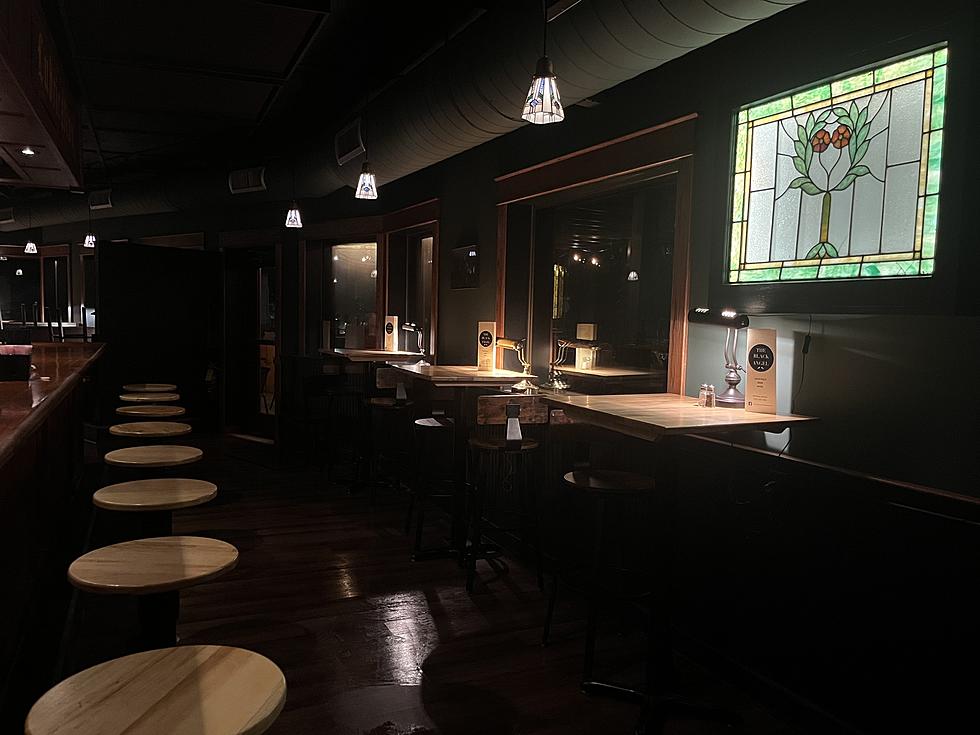 New Iowa City Restaurant is Named After a 'Cursed' Local Statue
The Black Angel - Restaurant and Bar, Facebook
A new bar, restaurant, and music venue has opened its doors in Iowa City! The Daily Iowan reports that The Black Angel began welcoming customers in July.
According to the Daily Iowan, The Black Angel is named after a famous statue located in a nearby cemetery. Oakland Cemetery, Iowa City's main cemetery, is home to a statue called The Black Angel that's rumored to be cursed. The 8.5-foot bronze statue memorializes Edward Dolezal, the son of a Czech immigrant named Teresa Feldevert. Edward passed away in 1981, and Teresa had the statue constructed in Chicago and transported to Iowa City in 1915. The outdoor statue has since oxidized, giving it an eerie, blackish-green color, which has lead many to speculate that it is evil. According to Wikipedia, "It is said that if one touches or kisses the statue they will be struck dead unless that person is a virgin. It is also rumored that if a pregnant woman walks beneath the statue's stretched wings that she will miscarry."
The Black Angel restaurant is located at 630 Iowa Ave, formerly the home of Sunny's, Billy's High Hat Diner, and Lou Henri's. The menu is fairly small, but also features daily and seasonal specials. Some of the items you can order include Pork Vindaloo, Blackened Chicken, Po Boys, Perez Family Tacos, Farm Ratatouille, and the Double Double Burger. The restaurant mentioned on Facebook that a lot of their produce comes right from their farm that's located east of Iowa City. The Daily Iowan reports that the craft cocktail menu has also been very popular so far.
In addition to food and drinks, The Black Angel is also a music venue! They already have acts scheduled on Fridays and Saturdays throughout September and October. You can check out the full schedule HERE.
If you're looking for a bar & restaurant that's "super cozy" and "welcoming" with a "classic" feel, check out The Black Angel in Iowa City! It's open Tuesday through Thursday from 4 p.m. to 11 p.m. and Friday & Saturday from 4 p.m. to midnight. You can visit the official Facebook page for more information HERE.
10 of the Best Airbnbs to Stay At in Iowa City
Looking for a nice place to stay in Iowa City? Here you go! All 10 Airbnbs on this list are "superhosts," they all have at least 30 reviews, and they all have a 4.97-star rating or higher. Based on that information, here are 10 of the best properties you can stay at in the Iowa City area:
Majestic 133-Year-Old Iowa Home Built by Father of Famous Author [PHOTOS]
This home at 900 West 3rd Street in Dubuque was built in 1890. The 5,000+ square-foot house has 5 bedrooms. It was built for Lester C. Bissell, one of the original board members of what would become the Dubuque Chamber of Commerce.
Lester's grandson, Richard Bissell, lived in the home beginning in 1975. His 1953 novel
'7 1/2 Cents'
would eventually become 'The Pajama Game', a Broadway musical that won the Tony Award for Best Musical in 1955. A movie of the same name, featuring Doris Day, would be released in
1957
.
The Bissell Family owned the home from 1890 until 1977 when it was purchased by the Mozena family, which still owns it today.
Angela Mozena of
Mozena Realty Group
is the realtor for the property, which is listed at $895,000.