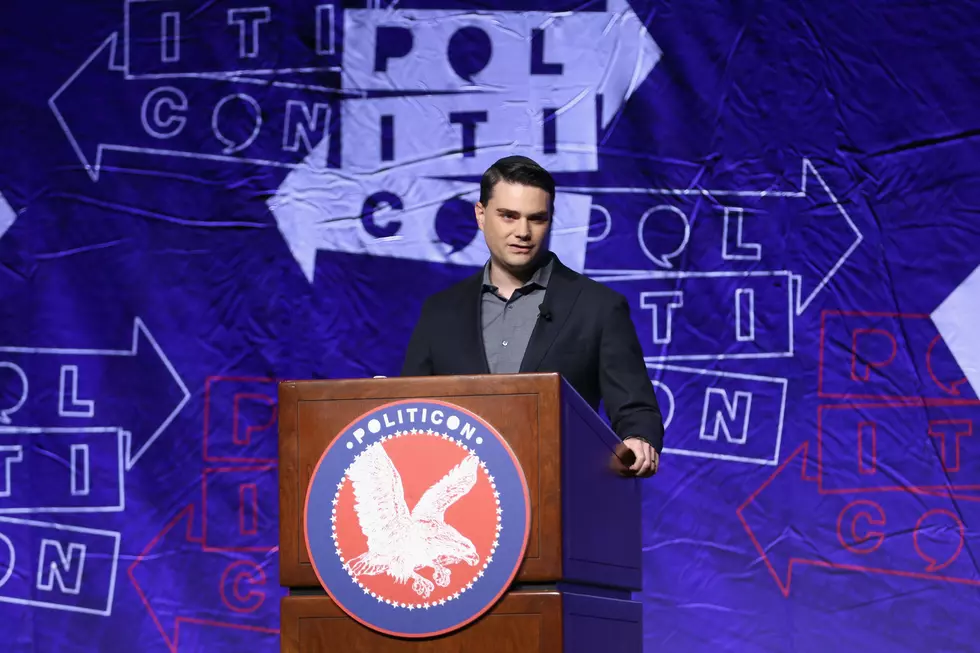 No, An Iowa State Student Didn't "Roast" Ben Shapiro, I Was There
Getty Images for Politicon
I went to see Ben Shapiro last week in Stephens Auditorium on Iowa State University's campus. The event, put on by Young Americans for Freedom, was packed -- from the front row to the third balcony. The line for the event was out the door and around the auditorium -- several hundred people who wanted to enter were turned away due to the capacity of the venue.
The event had free admission, and Shapiro is quite a polarizing political figure, so it's not surprising so many people wanted to attend.
Before starting the night with a lecture entitled "To Save America, Wokeness Must Be Destroyed,"  Shapiro walked out onto the stage to a standing ovation that was louder and longer than any other I've been a part of.
Along with many of the men and women (of all races, ethnicities, and languages) who attended, I agreed with the sentiment Shaprio put forth in his speech. Here's a lengthy quote from the speech he gave that particularly stood out to me in wrapping up the lecture he gave:
Wokeism is wrong because it forecloses discussion, and that's what we need! If we're going to have a functioning republic in the United States we actually have to have discussions between one another where we're not so insulted that we go off to our 'safe space, crying corners' and weep about it, and where we have student activities where we just have kumbaya sessions to get away from the possibility that someone might disagree with you -- and yes, you're free to do that, it's a free country.

 

But, if you wish to see the United States thrive in the future it's going to have to stick to the principles that brought us here. Namely things like individual freedom, things like objective truth, things like strong social institutions that reinforce important social rules. These are important things. If we can do all of that we'll preserve the United States. If we can't and we fall to wokeness, we're in real trouble, which is why wokeness has to be destroyed. I think, with the help of God, it will be.
And here's the full video and audio from the event:
Here's the specific clip people have retweeted and shared in outrageous amounts that doesn't provide the full context or back-and-forth between Shapiro and an Iowa State student who claims to know more about wokeism than the Harvard law graduate. His argument came by saying the movement is on the basis of intergenerational trauma only, and he did nothing but continue to talk over Shapiro:
And here's the full clip:
As you can tell from the thumbnail of this video, the student made an ass of himself within the first few moments of his time at the mic, by saying verbatim "F*** you, I'm talking!" when the audience responded to his mischaracterization of wokeness and of Shapiro's thoughts.
After boos were showered on him by the audience, Shapiro said outright that he wanted to hear the student's argument, quieting down the crowd.
Seemingly understanding where the student was coming from, the editor of the Daily Wire did his best to respond to the thoughts that were laid out.
With the microphone in front of him, this student refused to acknowledge what Shapiro had to offer, shouting over him into the mic and mischaracterizing every bit of information that was put forth. He continued to interject until moderators were forced to remove him from the mic, and the next question would be asked.
Once he was allowed to finish, Shapiro had this to say:
If the idea is that traumas of the past invariably bleed down into the present, this does not explain why certain groups that have been historically not only marginalized but slaughtered in mass genocide, are some of the most successful groups in our society. So, if the idea is that past trauma always equals current inequality or that my actions in, say, robbing a convenience store are attributable to bad actions that happened in Alabama in 1930, the answer to that is 'No. Don't rob the convenience store.'
The quote continues:
No, woke radical-leftists of Twitter, this ignorant student did not "roast" Ben Shapiro. Maybe look into the situation more than watching a two-minute clip on the platform you now claim to hate.
What Twitter Thinks Living in Iowa is Like
Twitter is a strange, (and can be a) dark place. What it has to say about the Hawkeye State is pretty accurate, though. Let's see what tweeters out there have to say about Iowa in 280 characters or less.
Midwest Home Looks Like It Was Designed for Royalty
The property description from Sotheby's International Realty is "Iconic Lakefront Estate." The 9-bedroom home with 6 full baths is nearly 14,000 square feet. It sits on 3.13 acres. Take a look inside this gorgeous property in Whitefish Bay, Wisconsin below. It's listed at
$6.95 million
and backs up to Lake Michigan. It was built in the late 1910s by Herman Uihlein, the son of the president of Schlitz. According to
On Milwaukee
, Herman created the plans to accommodate the vision of his wife, Claudia.