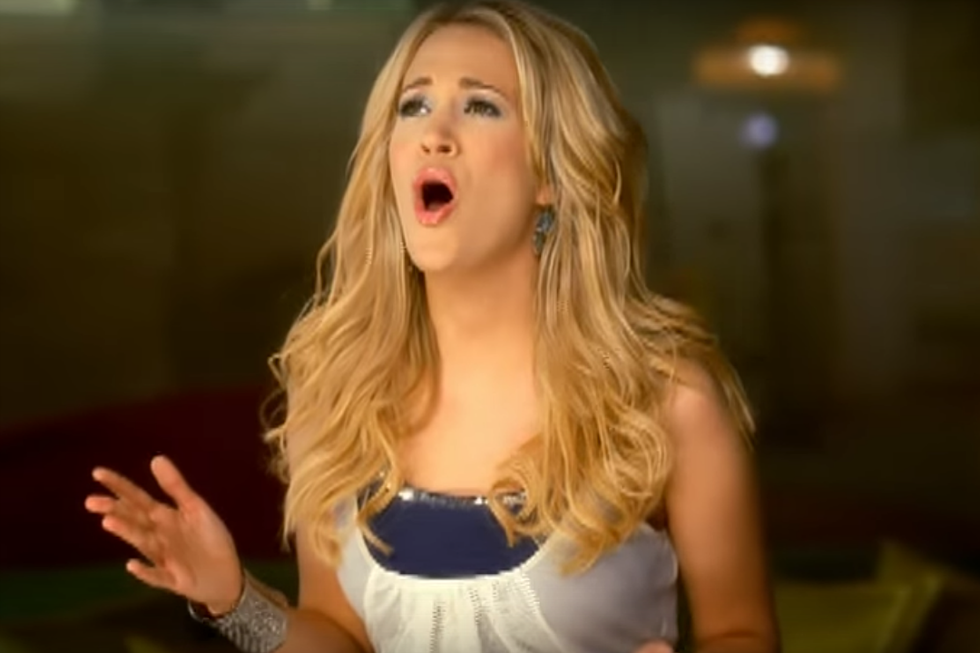 25 Songs About God + Faith
YouTube
Sick of tired church hymnals and processions? Turns out, you can get your fix of religious conviction straight from radio.
Between some obvious allusions to faith ("Jesus Take the Wheel" and "What If God Was One of Us" are certainly stark) to more abstract faith-related imagery ("Fix You" and "Nobody"), pop stars have proven their biggest hits are sometimes not so much about the party as they are about paradise, and what comes after we shed our human form. Yes, they might be masters of breakup anthems and love letters, but sometimes, they can't get away from the big guy upstairs.
We've arranged a list of 25 songs that either directly address god or more subtly nod to faith. Check 'em all out (the list features lyrics by artists that range from Katy Perry to Selena Gomez to Coldplay) and tell us if there are other faith-related tracks we should have included on the list.
1

"Jesus Take the Wheel," Carrie Underwood

Carrie Underwood's 2005 smash hit, "Jesus Take the Wheel," was originally written by Brett James, Hillary Lindsey and Gordie Sampson. It was featured on her debut album, Some Hearts. The lyrics all have some personal meaning to the three writers noting a family member that walked away from a horrible car crash. Overall, the song's lyrics focus on the miracle of surviving a tragedy. Notable lyrics: "Jesus, take the wheel / Take it from my hands / 'Cause I can't do this on my own / I'm letting go / So give me one more chance / And save me from this road I'm on / Jesus, take the wheel."

2

The Fray's 2009 track, "You Found Me," was featured on the band's second self-titled album. It focuses on finding God after a feeling of being lost. Notable lyrics: "I found God on the corner of First in Amistad / Where the west was all but won / All alone / Smoking his last cigarette / I said where you been? / He said, ask anything."

3

"What If God Was One of Us," Joan Osbourne

Joan Osbourne released her track, "What If God Was One of Us," as part of her 1995 debut album, Relish. The lyrics make you think about who and what God would be like. Notable lyrics: "What if God was one of us? / Just a slob like one of us / Just a stranger on the bus / Tryin' to make his way home?"

4

"All In It," Justin Bieber

Justin Bieber focuses on his faith in God with the lyrics in the 2015 track, "All In It." The track appeared on Bieber's fourth studio album, Purpose. Notable lyrics: "By not being perfect you, you sometimes can disappoint people / And with God, it's like He's perfect and He never disappoints / So I, I just get my recognition from Him / And give Him recognition."

5

Selena Gomez has never been shy about her faith. Her 2015 song, "Nobody," focuses on her relationship with God and feeling the love from him. It appeared on her second studio album, Revival. Notable lyrics: "I don't know what it is, but you've pulled me in / No one compares, could ever begin / To love me like you do / I wouldn't want them to."

6

Nick Jonas is another singer that has been known for his strong faith. Jonas released his 2005 track, "Dear God," and the lyrics are reminiscent of a prayer. The song was featured on his first self-titled album, Nicholas Jonas. Notable lyrics: "Oh, Dear God / Just the other night I heard somebody say / What's the use believin' in you anyway / I guess it was just heartache talkin' through the pain / It's a cryin' shame."

7

Kesha debuted her 2017 track, "Praying," as part of her third studio album, Rainbow. The title of the track says it all as the lyrics focus on finding peace through prayer. Notable lyrics: "I hope you're somewhere prayin', prayin' / I hope your soul is changin', changin' / I hope you find your peace / Falling on your knees, prayin."

8

Pink's 2003 track, "God is a DJ," focuses on how he influences our daily lives. The single appeared on her third full-length record, Try This. Notable lyrics: "If God is a DJ, life is a dance floor / Love is the rhythm, you are the music / If God is a DJ, life is a dance floor / You get what you're given it's all how you use it."

9

"You Raise Me Up," Josh Groban

Josh Groban's 2003 single, "Your Raise Me Up," has themes about having faith in God to overcome tough times. It was featured on the singer's second studio album, Closer. Notable lyrics: "When I am down, and, oh, my soul, so weary / When troubles come, and my heart burdened be / Then, I am still and wait here in the silence / Until you come and sit awhile with me."

10

"Pocketful of Sunshine," Natasha Bedingfield

Natasha Bedingfield has themes of faith in her 2007 single, "Pocketful of Sunshine." The track debuted on her second studio album, N.B. Notable lyrics: "And there's no more lies / In the darkness, there's light / And nobody cries / There's only butterflies."

11

"Laughing With," Regina Spektor

Regina Spektor talks about the humor God can bring to our lives with her 2009 track, "Laughing With." It was featured on Spektor's fifth studio album, Far. Notable lyrics: "But God can be funny / At a cocktail party when listening to a good God-themed joke, or / Or when the crazies say He hates us / And they get so red in the head you think they're 'bout to choke / God can be funny."

12

Coldplay's 2005 song, "Fix You," has subtle references to God and faith within the lyrics. While nothing is called out in an obvious matter, it can be interpreted that God is the light that will help heal you in a troubling situation. The song appeared on the band's third full-length record, X&Y. Notable lyrics: "Lights will guide you home  / And ignite your bones / And I will try to fix you."

13

"By the Grace of God," Katy Perry

The lyrics in Katy Perry's 2013 single, "By the Grace of God," focuses on being able to bounce back thanks to some faith. It appeared on Perry's fourth studio album, Prism. Notable lyrics: "By the grace of God (there was no other way) / I picked myself back up (I knew I had to stay) / I put one foot in front of the other and I / Looked in the mirror and decided to stay."

14

"What I've Done," Linkin Park

Linkin Park focuses on how faith can help you start over with the 2007 track, "What I've Done." The single appeared on LP's third studio album, Minutes to Midnight. Notable lyrics: "Put to rest what you thought of me / While I clean this slate / With the hands of uncertainty / So let mercy come and wash away / What I've done."

15

"Bittersweet Symphony," The Verve

The Verve's most iconic track, "Bittersweet Symphony" has subtle themes of faith by mentioning prayer in the lyrics. It debuted on the band's third studio album, Urban Hymns, in 1997. Plus, it was part of the end sequence in the film, Cruel Intentions. Notable lyrics: "Well I never pray / But tonight I'm on my knees, yeah / I need to hear some sounds that recognize the pain in me, yeah / I let the melody shine, let it cleanse my mind, I feel free now."

16

"All These Things That I've Done," The Killers

The Killers have a subtle mention of sin in the 2004 track, "All These Things That I've Done." It was made famous when it appeared on the band's debut album, Hot Fuss. Notable lyrics: "Over and again, last call for sin / While everyone's lost, the battle is won / With all these things that I've done / All these things that I've done."

17

"Lord Give Me a Sign," DMX

DMX focused on his faith and prayer with the 2006 single, "Lord Give Me a Sign." The song appeared on his sixth studio album, Year of the Dog...Again. Notable lyrics: "Lord give me a sign / I really need to talk to you Lord / Since the last time we talked the work has been hard / Now I know you haven't left me."

18

"Call the Man," Celine Dion

Celine Dion calls on God and her faith with the 1996 song, "Call the Man." It was featured on Dion's fourth full-length record, Falling into You. Notable lyrics: "Call the man / Who deals in love beyond repair / He can heal the world / Of hearts in need of care / (Shine) shine a light ahead / When the next step is unclear / Call the man / He's needed here."

19

"Savior's Shadow," Blake Shelton

Country singer Blake Shelton made his 2016 track, "Savior's Shadow," all about faith and having God in his corner. The track appeared on his tenth studio album, If I'm Honest. Notable lyrics: "I'm standing in my Savior's shadow / Grace will lead to where I'm free / I take his hand, we walk together / And his light shines on me."

20

Lifehouse is famously known for their love songs. While the lyrics in "Everything" are ambiguous as to whether it's about God or another loved one, it could work for either cases since it talks about strength, light and purpose. The song was featured on the band's debut album, No Name Face, which was released in 2000. Notable lyrics: "You are the strength that keeps me walking / You are the hope that keeps me trusting / You are the light to my soul / You are my purpose / You're everything."

21

"Jesus Walks," Kanye West

Kanye West focuses on following the lead of God with his 2004 track, "Jesus Walks." It appeared on the rapper's debut album, The College Dropout. Notable lyrics: "God show me the way because the Devil's tryin' to break me down / The only thing that I pray is that my feet don't fail me now / And I don't think there is nothing I can do now to right my wrongs / I want to talk to God, but I'm afraid because we ain't spoke in so long, so long."

22

"Unanswered Prayers," Garth Brooks

Garth Brooks made faith the focus of his 1998 track, "Unanswered Prayers." The lyrics discuss why unanswered prayers can sometimes be what's best in a given situation. The song was featured on Double Live, which was recorded during Brooks' 1996 to 1998 world tour. Notable lyrics: "Sometimes I thank God for unanswered prayers / Remember when you're talkin' to the man upstairs / That just because he doesn't answer doesn't mean he don't care / Some of God's greatest gifts are unanswered prayers."

23

"Personal Jesus," Depeche Mode

Depeche Mode made faith, prayer and God key themes in their lyrics for the 1990 track, "Personal Jesus." The memorable single was featured on the band's seventh studio album, Violator. Notable lyrics: "Reach out and touch faith / Your own personal Jesus / Someone to hear your prayers / Someone who cares."

24

"Learn to Fly," Foo Fighters

Foo Fighters are looking to finding faith in life with their lyrics in the 1999 single, "Learn to Fly." The song appeared on the band's third full-length record, There is Nothing Left to Lose. Notable lyrics: "I'm looking to the sky to save me / Looking for a sign of life / Looking for something help me burn out bright."

25

From going to church to reading the Bible, Kendrick Lamar had strong religious themes in his lyrics for "Faith." It was featured on the rapper's debut release, The Kendrick Lamar EP. Notable lyrics: "I found myself losing focus at a Sunday service / Embarrassed so I start questioning God, 'What is my purpose?' / He said to live the way he did, that's all he want from me / Spread the word and witness, he rose on the first Sunday / I said alright, enthused that my Lord gave a listen / I opened my Bible in search to be a better Christian."