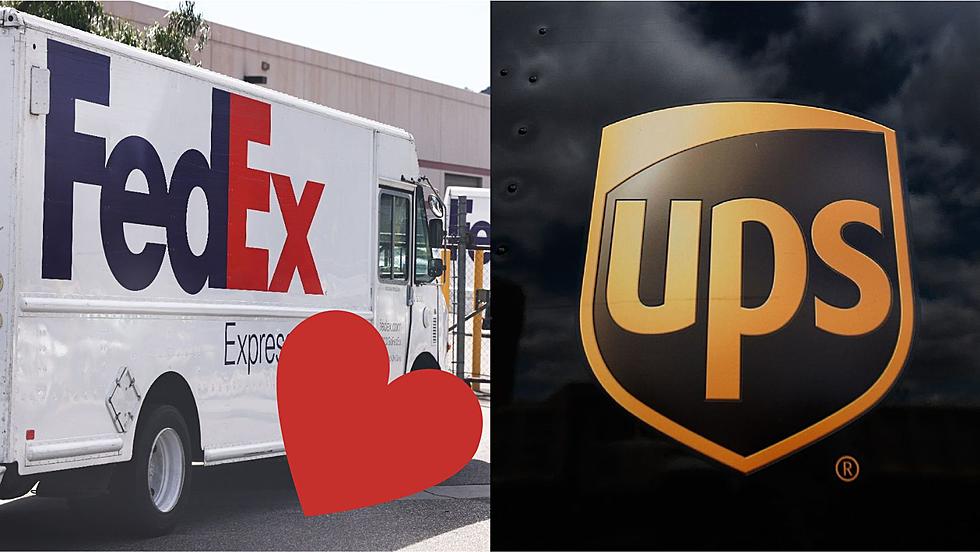 Star Boxed Lovers: UPS and FedEx Drivers Marry in Western Iowa
Getty Images / Canva
This package deal isn't your average, everyday Romeo and Juliet story. And yes, I also hate myself for making that terrible pun.
Seth and Jen Johnson of Spencer, Iowa are more or less a running joke around the city of just over 11,000. Though they each work for competing delivery services, the pair has been married for 14 years and have known one another for 17.
Jen said this to NWestIowa.com about one of their recent interactions in town, where one of the other locals took part in the joke:
Seth was parked on Ninth Street during peak time. I was in town and driving by and rolled up next to him and parked and talked to him. Sergeant Todd Wood took a Snapchat and posted it saying something like 'FedEx just thinks they can park wherever they want.' He was giving me a hard time because he knows about us.
The couple likes to have fun with it, too. Recently, Seth played a prank on another Spencer resident.
After pulling up to Sheldon Auto Supply and speaking with one of the workers, he made quite the bet -- he said he would put $100 on his ability to get a kiss from the FedEx delivery woman who had just pulled up. The autoworker made the easy choice to take him up on it.
Of course, Jen shared a peck with Seth with no hesitation.
I called her up and said 'Babe, I need you to give me a kiss,' and she jumped out and gave me a kiss,
Seth said.
He threw his hands up. 'You gotta know her. She's gotta be your girlfriend!'
So far, Seth hasn't been paid a dime of that $100.
The two don't broadcast it when out and about, but when the conversation comes up, they'll share with a laugh. Seth says this:
The novelty has made it more intriguing — just for the simple fact for the reactions we get when we are out in public working and then they find out. That's when I get a kick out of it.
Jen adds the following:
It's actually quite entertaining to see them respond. They laugh about it. They think it's this big rivalry and it's very entertaining. I give them a hard time. They will say he's such a nice guy and I will say they don't have to live with him. I love people's reactions after that. He tells everyone, and I tell no one.
A Renovated Theatre Rejuvenates Small Iowa Community
The Ida Grove Foundation had enough of watching the building crumble. Put together by a group of passionate people, The KING Theatre has returned to its glory days.
The Top 11 Employers in Iowa
Doing your best to find a job in Iowa? Look no further. These 11 companies employ the most Iowans statewide and prove Iowa has a variety of opportunities for folks of all different sizes, shapes, and backgrounds.