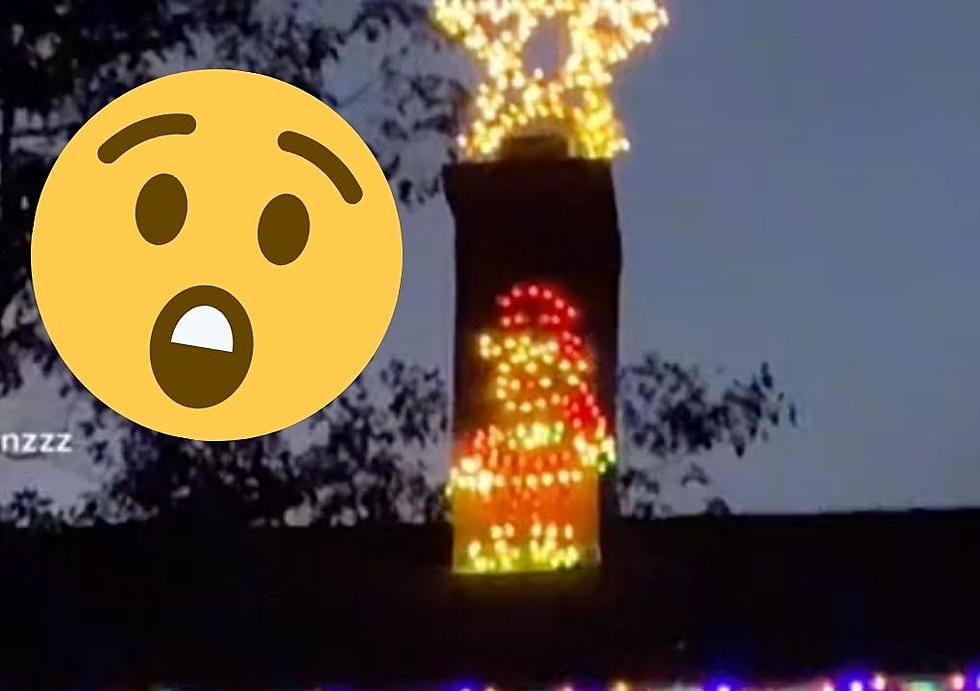 [WATCH] Naughty Santa Goes Viral After Iowa Man's Hilarious Error
Courtesy of Amber Ann Ziks via Tik Tok + CANVA
Let's be honest...it's not easy putting up holiday decorations, let alone Christmas lights on your house. One Iowa man did his very best to help his family get into the holiday spirit, but it didn't turn out quite right.
*WARNING SOME OF THESE VIDEOS MIGHT NOT BE SAFE FOR WORK*
I was scrolling through Tik Tok earlier this week when I came across a hilarious couple who have embraced their hilarious holiday mishap with grace.
This video has gone viral on social media. I first came across it on Tik Tok. So, one Iowa woman shared the video of her Christmas light decorations on her roof. In this short clip, she mentions that her husband was put in charge of dealing with those lights.
Amber Ann Zink, the woman who put up the video showed off her intense holiday decor. One piece stood out to her more than the rest of the illuminated Christmas pieces. Zink's husband put a lit up Santa Claus up on their roof.
However, the husband forgot one key part of the set-up. Zink's hubby Ryan forgot to put an additional zip tie on Santa's hand so he could wave. So now it just looks like Santa is acting a bit...obscene.
Zink has lovingly deemed this guy obscene Santa. After the initial video went viral many people were curious if this Iowa couple fixed this hilarious mistake or not. The initial video went viral in November, and this light display has been up and remained untouched ever since.
Apparently, the husband still is holding onto the fact that he MEANT to do it, but we're not too sure if we believe him. In another video posted to their social media channel, Zink's husband Ryan can't seem to keep a straight face when asked if this was an accident or not.
The video spread so quickly on the internet that Jimmy Fallon from the Tonight Show even talked about it!
Check Out A Hidden Speakeasy In Iowa Man's Home
One Iowa man has been going viral for his exceptional bar. He doesn't have to travel that far if he's in the mood for a nightcap; he just has to go through one single door. His houseguests are transported to a classic speakeasy with the push of a secret door in his home.
Ashton Kutcher's Childhood Home in Homestead, Iowa
The well-known actor hails from Iowa. Ashton Kutcher was born in Cedar Rapids and spent his formative years in Homestead. The later is where he helped his step-dad build this space nearly 30 years ago. In 2015, Ashton decided to give his mom the surprise of her life when he redid their basement space.