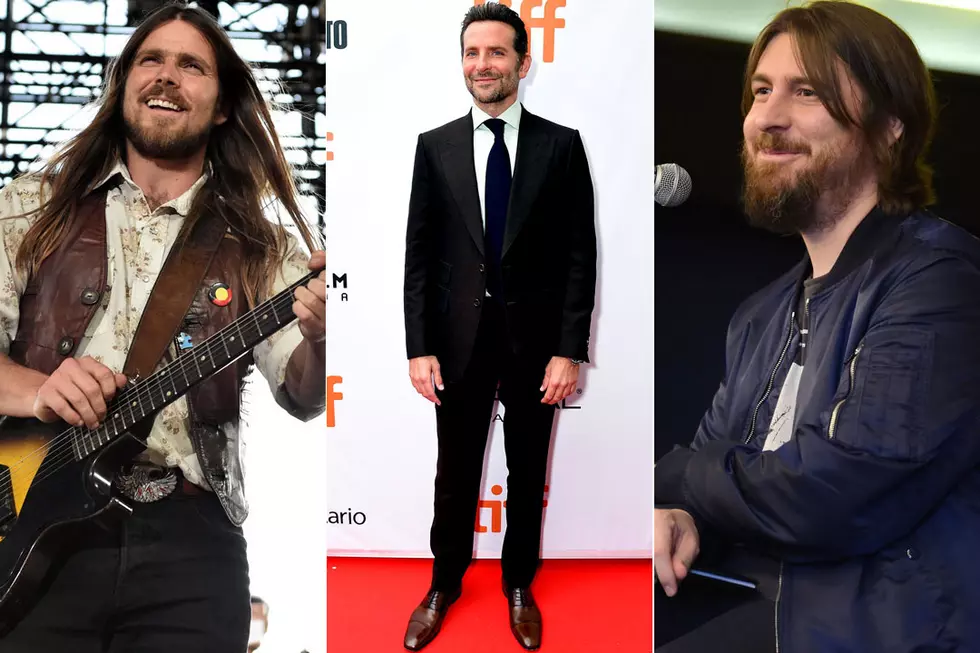 7 Things We Learned About 'A Star Is Born' From Bradley Cooper, Lukas Nelson and Dave Cobb
Matt Cowan / Michael Loccisano / Jason Kempin, Getty Images
Bradley Cooper and Lady Gaga star in the 2018 remake of A Star is Born, which tells the love story of troubled musician Jackson Maine (Cooper) and gifted artist Ally (Gaga). It's Cooper's directorial debut, in addition to serving as producer and co-screenplay writer. But the backbone of the film is supported by some of Nashville's most sought-after talent, with Jason Isbell, Lukas Nelson, Dave Cobb and a host of revered songwriters working alongside the Hollywood A-listers to create the music and sound of the film.
Taste of Country was on hand when Cooper made a stop in Franklin, Tenn., just outside Nashville for a screening of the film that's already earning Oscar buzz after premieres at the Venice Film Festival and Toronto Film Festival. The Hollywood A-lister sat down for Q&A alongside Nelson and Cobb, with CMT's Cody Alan moderating.
Here are some things we learned about how Nashville influenced A Star is Born: 
1. Dave Cobb and Jason Isbell helped develop Jackson's character.
Cobb is one of Nashville's most acclaimed producers — he's the man behind on the board on respected projects like Chris Stapleton's Traveller, From A Room: Volume 1 and Something More Than Free, in addition to albums from Zac Brown Band, Kris Kristofferson and more.
Cooper admits that he's "always been a fan" of Cobb's work. Cobb produced one of the film's notable tracks (and Cooper's favorite) "Always Remember Us This Way," but also served as a sounding board for Cooper about his character and backstory. The two created the concept of a musician whose early fame turns him into a "punch-drunk boxer" later in life. "We talked about the character, where he could be from. He was invaluable in terms of the genesis of that character and that world," Cooper explains. Jason Isbell also penned one of the film's penultimate songs, "Maybe It's Time," the song that Cooper says "really was the anchor for Jackson's sound."
2. Cooper was "terrified" to send his demo to Jason Isbell!
After Cooper received Isbell's demo of "Maybe It's Time," he and his producer Ben Rice recorded an acoustic version of the song in one take — at 4AM — to send to Isbell for feedback. It was a moment that was particularly intimidating for the Oscar-nominated actor. "I remember I pushed send to Jason Isbell, and then I was just waiting for him and then I got back, 'Yeah, it's good,'" Cooper recalls, laughing. "But that was terrifying that he was going to be like, 'Bro, you just totally screwed up my song.'"
3. Lukas Nelson also helped drive the character.
In addition to co-writing and producing nine songs with both Cooper and Gaga, Nelson assisted with the character's artistic sound. Nelson explains that the character, Jackson, went through several changes — he started off country, then becoming a rock star before landing on a combination of both genres.
"We kind of pulled from our heroes, Neil [Young], Waylon [Jennings] and Willie [Nelson] and Jim Morrison. Everybody that Bradley loved and that I happened to love," he says. Nelson also shares that he and Gaga had a true creative connection while writing and creating songs for the movie. "We had a sort of telepathy when we were writing together," he reveals. "We were writing songs that we loved for ourselves that happened to apply to the movie and to Jackson Maine and Ally."
4. Nelson's band, Promise of the Real, appear in the film.
Fans who have attended one of Lukas' shows will probably recognize the band on stage behind Jackson Maine. Cooper actually saw them perform with Neil Young and later connected with Lukas, who agreed to let him use the band in the film. Both refer to to it as a "full-circle moment."
5. Cooper recreated the first time he saw Gaga perform in the movie.
Cooper was at a cancer benefit show in Los Angeles when he met Lady Gaga for the first time. She was the evening's headlining act and "decimated the whole place" with her cover of French song "La Vie en Rose," according to Cooper. On the drive home that night, Cooper thought that would make for the "perfect scene" for Jackson to see Ally perform for the first time, with Gaga singing that same song in the film. Later, Cooper asked Gaga to sing the folk song "Midnight Special" with him to see if they clicked musically — that solidified her as the character. "There was some sort of connection that really worked," he says.
6. "Nashville has the best songwriters in the world."
Cobb and a team of Nashville's elite songwriters flew to Nashville for a writers retreat with Cooper and Gaga when the superstar herself dubbed Music City as the "songwriting Mecca."
"I remember Gaga looking to me, she's like, 'Nashville has the best writers in the world,'" Cobb recalls, which garnered supportive applause from a packed theater there to see the film. Cobb, Gaga, Lori McKenna, Hillary Lindsey and Natalie Hemby are behind "Always Remember Us This Way," with the three trailblazing writers also serving as Gaga's background singers in the studio. The moment they recorded the song was so powerful that everyone ended up in tears. "It was amazing to see the best writers in Nashville come and sit with Bradley, Gaga and Lukas and literally create magic on the spot. I don't think I've ever seen something come out of nothing like that," Cobb admits.
7. "We need each other, period."
That's the main message of the film, and Cooper drove it home during the Q&A. He shared that his favorite aspect of promoting the Academy Award-nominated Silver Linings Playbook was engaging with fans across the country, citing it as the "most gratifying" part of the process. "I thought about this when I was writing the movie," he says of fan interaction. "It's such a personal movie, I was always working from that place ...This is what it's about and hopefully that's part of what you get from the movie is that we need each other, period."
A Star is Born opens in theaters on Oct. 5.
Did You Know? These Country Stars Have Acted, Too