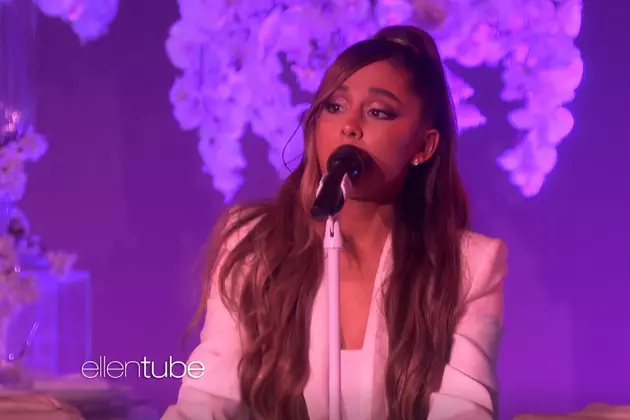 Ariana Grande Breaks Down During Wedding Verse of 'thank u, next' Performance
EllenTube
Ariana Grande delivered all the drama of a '90s rom-com during her debut performance of new breakup anthem "thank u, next" on Wednesday's episode of The Ellen Show. (The performance was, after all, inspired by 1996 film The First Wives Club.)
Dressed in all white alongside her friends and collaborators Tayla Parx and Victoria Monet, and featuring a backdrop set up to look like a wedding reception behind her, the pop star powered through the chart-topping post-Sweetener single—though, not without a few literal and emotional stumbles.
At one point, the performer stood up on a chair, dancing and singing along to the track. When she stepped down, she stumbled and nearly fell over, exclaiming "Oh my God!" before moving into the next verse in a fit of giggles.
Things took a more somber turn, however, when Grande began singing the song's verse about getting married. "One day I'll walk down the aisle, holding hands with my mama," she sang, her voice quivering. By the time she got to the next line, she had choked up.
Ultimately, she made it through the empowering R&B-pop song about learning from past failed relationships, exiting the stage in a manner similar to Diane Keaton, Goldie Hawn and Bette Midler do in the film the performance was inspired by. Iconic.
Ariana Grande's Dating History