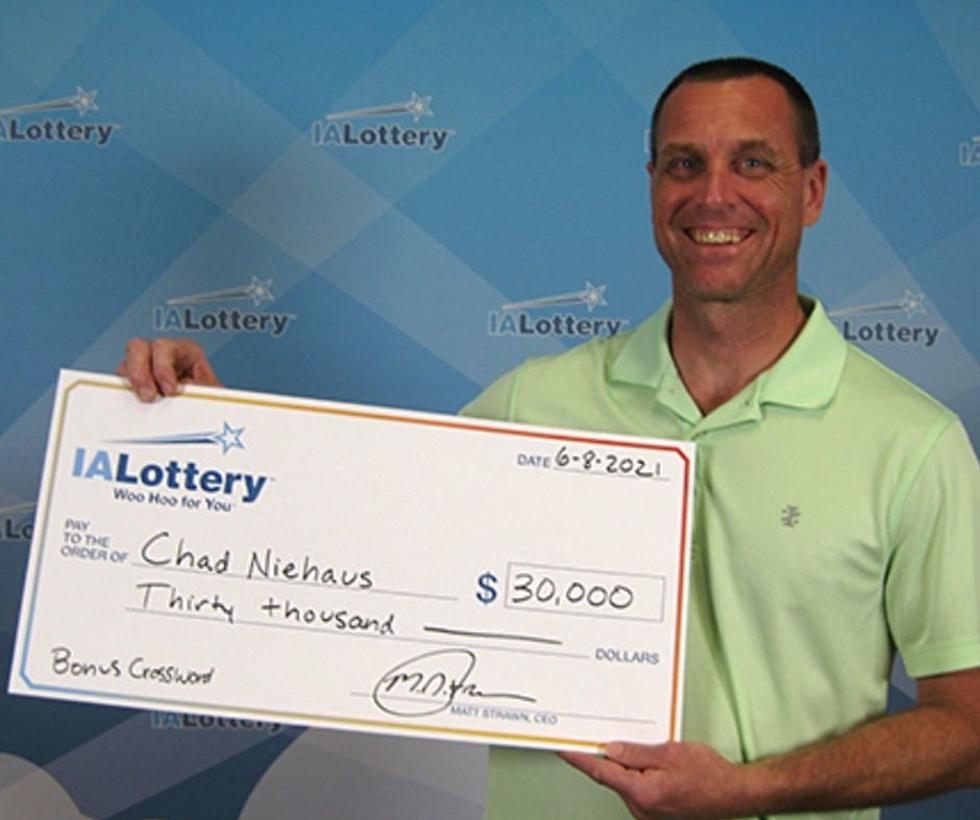 Cedar Falls Man Wins Big With Iowa Lottery
IA Lottery
Okay Cedar Valley...I don't know how many shamrocks you have or how many lucky rabbits' feet you've been rubbing, but it's honestly unfair how lucky many people in this neck of the woods are.
The past few months have been a great and incredibly lucky time for many people here in Northeast Iowa. First, we had not one...not two...but three Waterloo residents win some dough through the Iowa Lottery.
In early April, a Waterloo woman won $100,000 playing a scratch-off lottery game. Not even a full week later, yet another woman in Waterloo took home the big cash prize of $30,000. By the end of April, a third Waterloo woman had claimed a $20,000 payout. In total, $150,000 went directly into the pockets of several Cedar Valley residents.
Now Cedar Falls residents are starting to bring home some of that bacon.
Chad Niehaus, who is pictured above smiling from ear to ear, brought home a good chunk of change this week. This Cedar Falls man won $30,000 from playing the Iowa Lottery, specifically the 'Bonus Crossword' Game. Niehaus won the 88th top prize for this game.
He purchased his winning ticket from Thunder Ridge Ampride, 2425 White Tail Drive in Cedar Falls, and eagerly claimed it in Clive.
The next estimated jackpot to be drawn on June 9 will be worth about $20 million. Niehaus isn't the only recent lottery winner. A $1 million ticket has been sold in Northeast Iowa in the most recent Mega Millions drawing. Two tickets matched all but one of the numbers early in the week. 
Hilarious Iowa DOT Signs
Anyone else share a sense of humor with a state's Department of Transportation? Just me? Well, every Monday the Iowa Department of Transportation puts up a sometimes hilarious, sometimes straightforward message on their road signs across the state. This is called "message Monday" and Iowa DOT tries to entertain and educate drivers through these signs. Here are just a few of our favorites.
Roseanne Barr Abandoned Iowa Mansion in Eldon, IA
I fell into a rabbit hole when I found out that
Roseanne Barr almost had a mansion in Iowa
. After seeing the current state of the property on Facebook, I was amazed that such an extravagant project could be so quickly overtaken by nature. Only two hours away from Waterloo, this abandoned field could have hosted some of the coolest and elite Hollywood parties in the Midwest. The current photos were taken by Gable Fry on a recent trip he took.