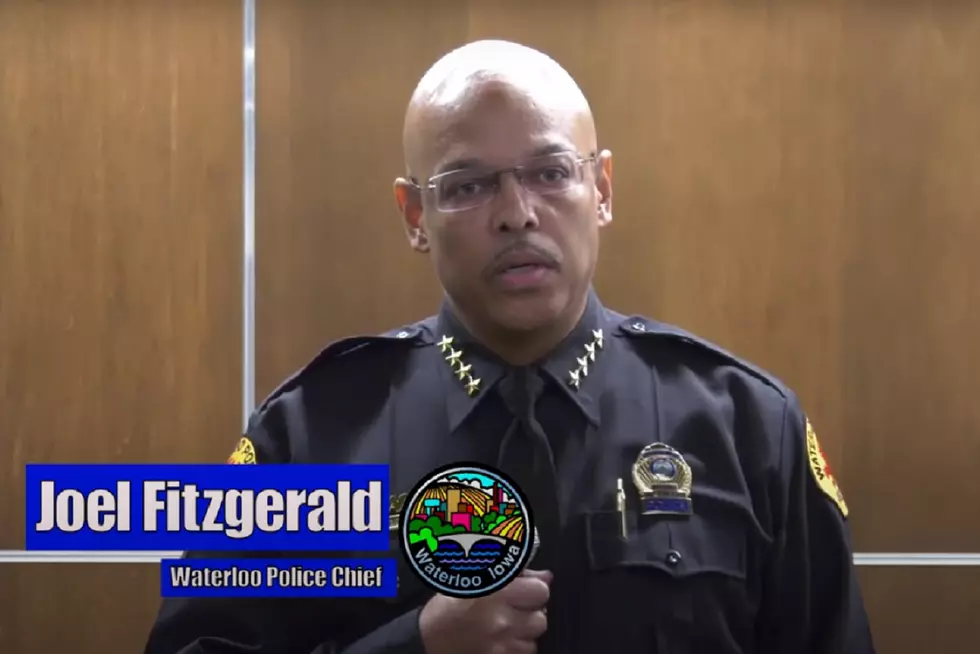 Waterloo Chief of Police Up For A New Job AGAIN
Courtesy: WaterlooCommunityTV via YouTube
The Waterloo chief of police is a finalist for another law enforcement job.
News broke earlier this week that Waterloo Chief of Police Joel Fitzgerald is a finalist for a different law enforcement position. Reports claim that Chief Fitzgerald is one of the five final candidates for the Vancouver, Washington chief of police.
The Waterloo City Council are currently considering a proposal to give the Chief of Police a pay raise where he will end up making $165,000 a year, according to the Waterloo-Cedar Falls Courier.
The minimum pay rate for this Washington state position would be $178,000. The final call will come in June.
This comes after a tumultuous two years in Chief Fitzgerald's current position.
Fitzgerald made history as the city's very first black police chief. Reports say that Mayor Hart sought out the Pennsylvania native back in 2020 because of his,
"level of education, professional experience, and success in implementing community problem solving, the use of intelligence-led policing, and enacting evidence-based strategies to abate crime."
A little over two years out and there have been multiple instances of the man trying to leave the Cedar Valley with a new job. He was sworn in in June of 2020 after being let go from his last job.
It all started in late 2020, the then newly minted police chief had applied for a position in Miami, according to various Miami news outlets. Fitzgerald was apparently one of 36 applicants for the chief of police position.
Then a month later in early January, news came out that he was also in the running for a position in New Mexico.
Just last summer, Fitzgerald was one of 25 candidates considered for the Chief of Police position in Austin Texas, according to KWWL.
The Police Chief was fired from his position as the Chief of Police in Fort Worth, Texas after            an incident in Washinton D.C. that had city officials reportedly questioning his "judgment and leadership" according to a report from the Baltimore Sun.
Fitzgerald has held four police chief positions since 2009 in the following cities:
Missouri City, Texas (2009)
Allentown, Pennsylvania (2013)
Fort Worth, Texas (2015)
Waterloo, Iowa (2020)
Homes for Sale in Cedar Falls/Waterloo Under $150,000K
If you're looking to buy your first home, buy a house to rent out, or want to fix up a place and turn it into your dream home, these houses are all under $150,000
Bridegerton-Esque Cabin Mansion In Waterloo
You can live like you're living in your own English regency drama in this Waterloo Cabin Mansion. This is the diamond of the season in the real estate world.