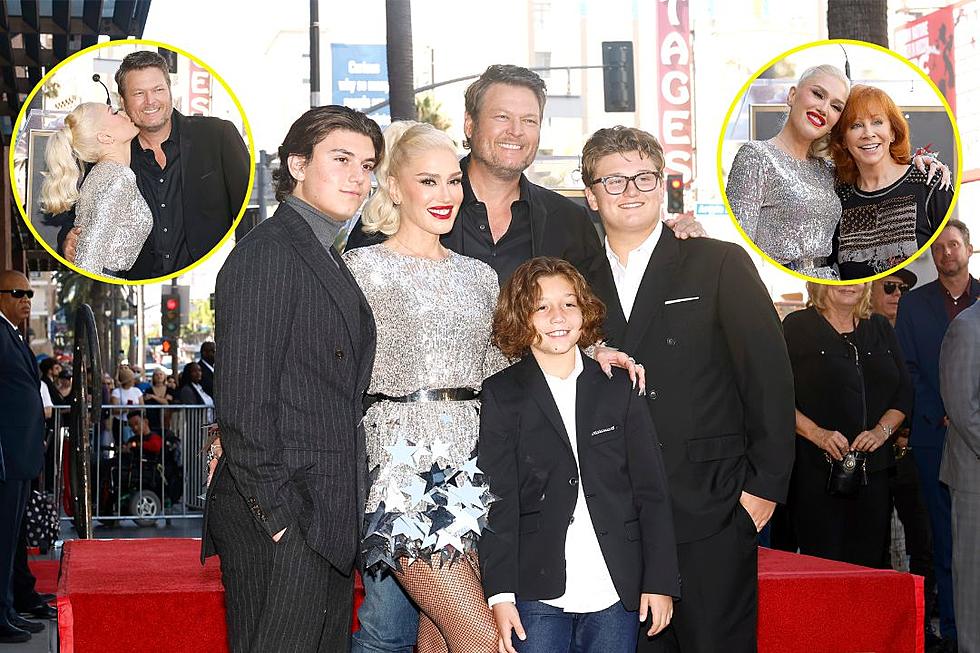 Gwen Stefani Gets Her Star on the Hollywood Walk of Fame — See Pictures!
Emma McIntyre, Getty Images
Gwen Stefani is a star with a star. The singer was enshrined on the Hollywood Walk of Fame during a ceremony on Thursday (Oct. 19).
Stefani's name is proudly displayed in the sidewalk, on star No. 2,764 on Hollywood Boulevard.
"Never in my wildest dreams did I ever think, this girl right here from Orange County, would have a star on the Hollywood Walk of Fame," Stefani said excitedly in her acceptance speech. "It just doesn't make sense to me."
Her husband — fellow star-holder Blake Shelton — was there to support his wife. The country superstar also served as a guest speaker during the event and reflected on the first time he met Stefani in 2014 on the set of The Voice.
"It was clear to me that she was a mother, first and foremost, over anything else in the world. That was her number one job," he recounted.
"But today, it's nice to see her honored for her side project, which is being one of the biggest stars in the world," he added.
Others in attendance were Stefani's sons Kingston, 17, Zuma, 15, and Apollo, 9, as well as fellow Voice coach and country singer Reba McEntire.
Stefani found out she was going to receive the honor in July and shared the news on social media. She resurrected an old photo of herself as a child and paired it with a recent photo to ell fans.
"Who's gonna tell her she's receiving a Hollywood Walk of Fame Star?!" she wrote in the caption, referring to her younger self. "This feels like a dream!! Thank u to everyone who made this possible."
It was deja vu for the blended family, who were just on Hollywood Boulevard for Shelton's star ceremony in May. Both singers' stars are located on the same stretch of concrete near the Amoeba Music Building.
Gwen Stefani Gets a Star on the Hollywood Walk of Fame