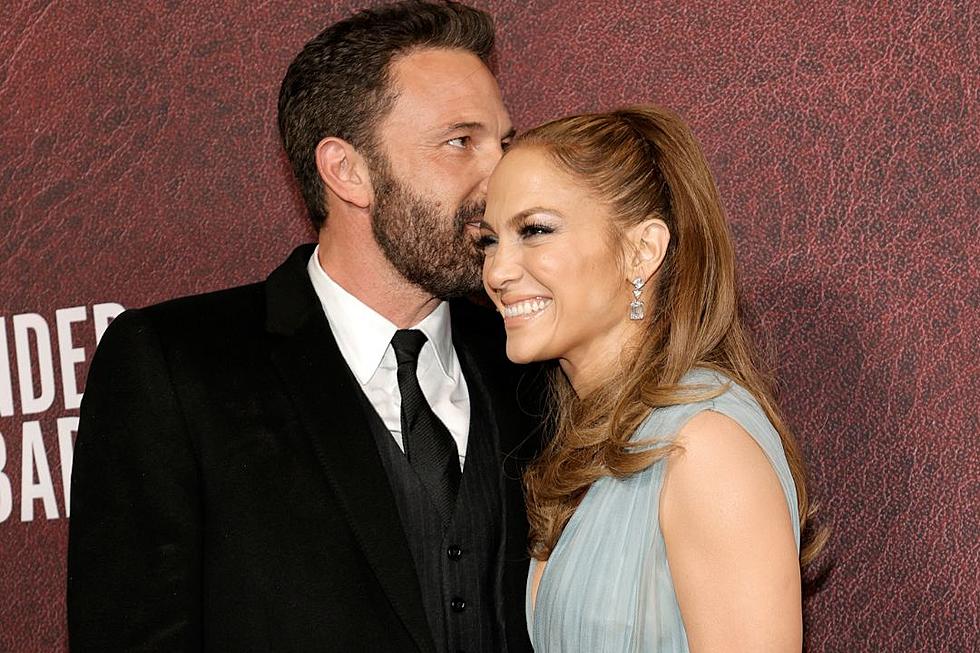 Jennifer Lopez Unveils New Tattoo Celebrating Relationship With Ben Affleck: PHOTO
Amy Sussman, Getty Images
Jennifer Lopez and Ben Affleck celebrated Valentine's Day in a big way — with matching tattoos!
On Tuesday (Feb. 14), Lopez unveiled her new ink on Instagram.
J.Lo's tattoo features an infinity symbol with an arrow through it, along with "Jennifer" and "Ben" written in cursive.
She also shared what appears to be Affleck's own tattoo of two crossed arrows featuring "J" and "B" initials.
Plus, the post features throwback photos of the couple alongside hashtags #ThisIsUsThen and #ThisIsUsNow.
"Commitment. Happy Valentine's Day my love," Lopez captioned the post, adding the hashtag #CommitmentIsSexy.
See below:
This year marked Bennifer's first Valentine's Day as a married couple. The pair tied the knot on July 16, 2022, in Las Vegas. They held a second wedding celebration for family and friends in Georgia in August 2022, according to Page Six.
The stars' epic romance has spanned over two decades since they first began dating in the early 2000s and got engaged in November 2002.
The two first met on the set of Gigli, and Affleck even made a cameo in Lopez's iconic music video for "Jenny From the Block." They starred in another rom-com together, Jersey Girl, in 2003 before breaking things off in 2004.
The couple got back together in 2021, nearly 17 years later.
The hashtags Lopez shared on her Valentine's Day post reference her two albums that tell the story of Bennifer's journey: 2002's This Is Me... Then and the forthcoming This Is Me... Now.
"That album, This Is Me… Then, really captured a moment in time where I fell in love with the love of my life," she told Zane Lowe in an interview for Apple Music, according to Harper's Bazaar.
"When I listen to the lyrics now, I didn't even realize that I was writing some of our story that would happen, which was sick … I didn't even realize it was kind of prophetic in a way," she continued.
Lopez said Affleck inspired her musically for her forthcoming album, too.
"When he came back into my life, again the same thing happened where I felt so inspired and so overtaken with emotion that it was just pouring out of me. When I feel good, I write music. And I wrote music, and I got in the studio in, I think May, and by August, when we got married, it was done," she shared.
The Quickest Celebrity Engagements