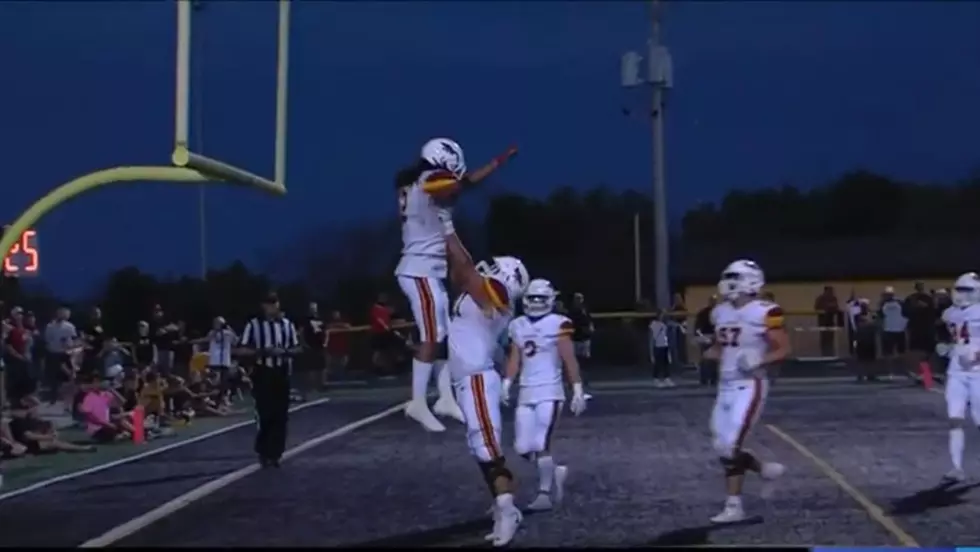 Postgame Celebration of Iowa HS Football Game Under Investigation
We Are Iowa Local 5 News YouTube Channel
The No. 4 Ankeny Hawks handed the No. 1 Southeast Polk Rams the first loss of the 2022 season on Friday of last week.
In a 31-14 throttling upset, the Hawks had quite a bit to celebrate. This was a win that avenged a 24-7 loss in the 5A State Championship last season, and Ankeny was coming off a 17-10 loss to Dowling Catholic from the previous week.
The game was also a battle between two of the top recruits in the state for the 2023 class, quarterback JJ Kohl for Ankeny and left tackle Kadyn Proctor for SEP. Kohl has committed to play for Iowa State while Proctor chose the Hawkeyes.
By the sounds of it, that well-deserved postgame celebration by the Hawks may have gotten a little out of hand.
According to KCCI, following the victory, "videos surfaced online afterward showing a rowdy Ankeny celebration and possible damage to the visitors' locker room."
Both school districts are now aware of the videos that have come forth, though no exact details on the damage have been released. The two schools are working together to find a resolution on the matter.
KCCI added that "A locker vendor will be at Southeast Polk on Tuesday to assess any damage."
Kohl isn't the only high-profile recruit from these two schools to have committed to play for the Cyclones. His teammate Jamison Patton, a three-star athlete who plays wide receiver and safety at Ankeny has decided to continue his football career in Ames. Additionally, Abu Sama -- running back for Southeast Polk -- will play at Iowa State.
Sama didn't play in the second half of SEP's win over Waukee Northwest last week and showed up to the game on Friday in street clothes. His absence likely affected the outcome of the game.
13 Players from Iowa, ISU, and UNI on 2022 Senior Bowl Watchlist
The Reese's Senior Bowl is an opportunity for players from all over the country to show their talent to scouts before the NFL Draft takes place in April. Here are the players from each of Iowa's three state schools that are on the watchlist heading into the 2022 football season.
E.J. Warner's First Time Starting as QB For Temple
E.J. Warner started his collegiate career on September 17th, 2022 as starting Quarterback for Temple against Rutgers.