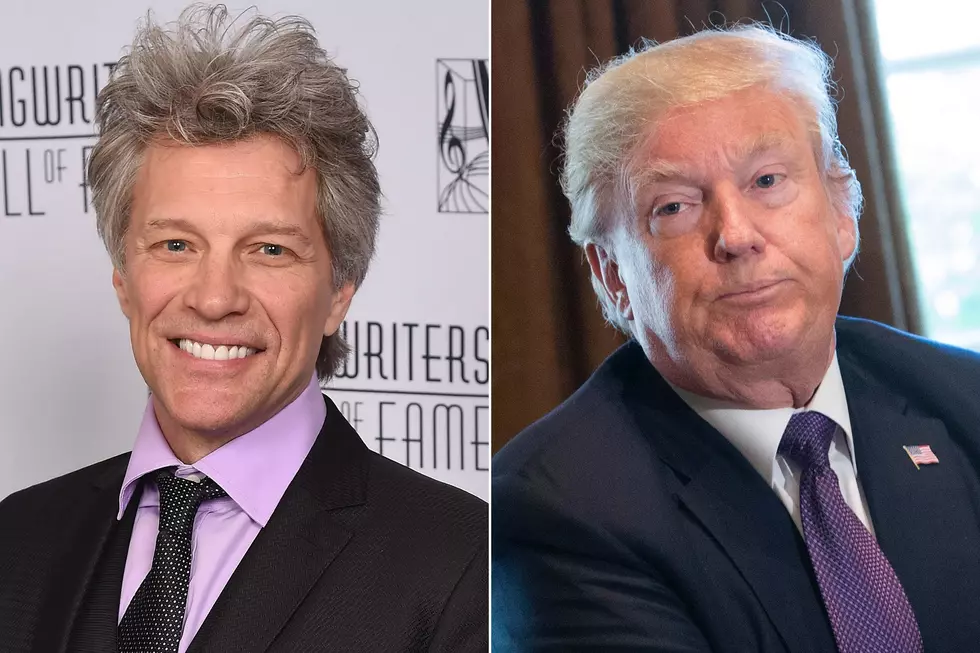 How Jon Bon Jovi's Buffalo Bills Bid Was Thwarted by Donald Trump
Gary Gershoff / Pool, Getty Images
Jon Bon Jovi's efforts to join a group of investors and purchase the NFL's Buffalo Bills franchise unraveled into a public relations nightmare in 2014 — and according to a new report, the campaign to block his bid all started with an idea from Donald Trump.
Trump's involvement in the race to buy the Bills is public knowledge — as is his long love-hate relationship with the league, which includes his involvement with the NFL's short-lived rival, the USFL. In investigating Bon Jovi's failed Bills bid, GQ's recently published report suggests that Trump's current public feud with the NFL is at least partly motivated by anger over his inability to penetrate the ranks of ownership during his years as a private citizen — and while that's still speculation, it seems pretty clear that Trump was initially directly responsible for undermining Bon Jovi's investor group.
GQ traces the scheme to the spring of 2014, when Trump hired political strategist and media consultant Michael Caputo to collapse the Bon Jovi bid — partly by turning public sentiment against the investor group by insinuating that they planned to move the team to Canada.
Because Caputo was already publicly tied to Trump through their previous political work together, Caputo enlisted a man named Chuck Sonntag as the public face of the anti-Bon Jovi organization they concocted — a decision the article describes as "a stroke of cunning" because Sonntag is "a double amputee cancer survivor" whose condition would prove useful to the seemingly grassroots group on more than one occasion.
As it turned out, Trump's involvement with this effort came to a relatively quick end; once he officially entered his own bid for the team, he reportedly backed off. "I can't talk to you anymore because of the NDA I signed," Caputo quotes Trump as saying. "Have a good time."
With Trump officially out of the picture, Caputo said he "immediately made it far more aggressive and anti-Toronto," a tactic that quickly proved so successful that Bon Jovi was prompted to write an open letter trying to convince fans there weren't any plans to move the team. It ultimately worked, although not to Trump's advantage; the team was eventually sold to Terry and Kim Pegula, whose holdings already included the Buffalo Sabres hockey team.
Whatever the final outcome, the story remains a fascinating footnote for anyone interested in the dirty and occasionally downright bizarre shenanigans businessmen get into when they have a pet project to pursue — and while Trump's involvement is just now being reported nationally, it was evidently something of an open secret among the people who followed his lead. "It was all behind the scenes and we weren't even allowed to mention his name because of the agreement that he signed," said one of the group's co-founders. "I was bursting at the seams to tell people, 'Hey, this was Donald Trump's idea.'"