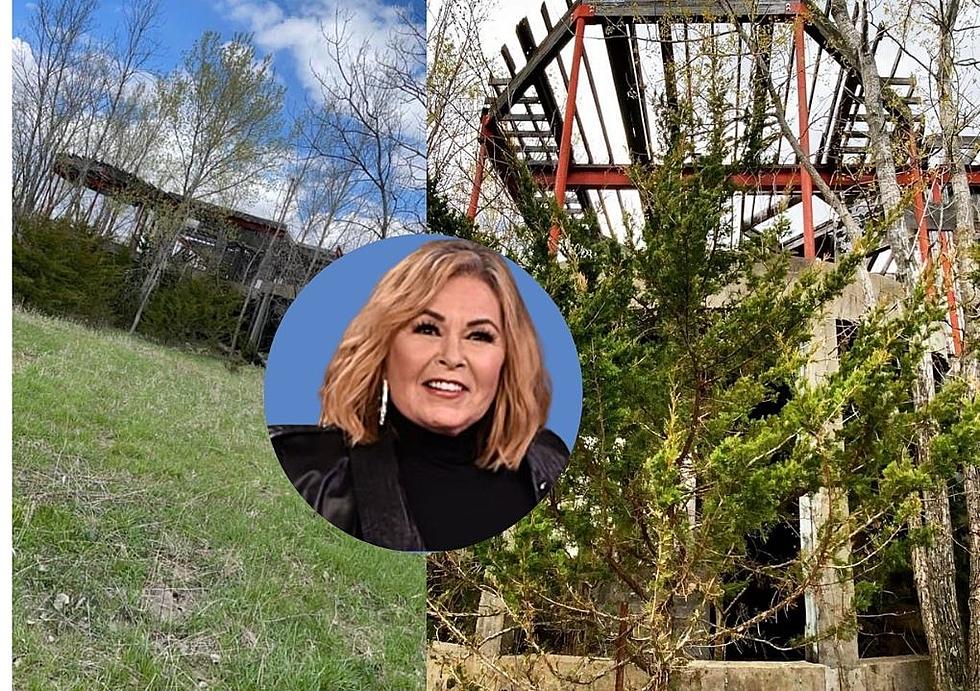 See Roseanne Barr Iowa Mansion Overtaken By Nature [Photos]
KM
You often hear about celebrities who come from Iowa...like Ashton Kutcher or Johnny Carson and leave so they can make it big in Hollywood. Something you never hear is celebrities settling down here in Iowa.
That's what Roseanne Barr and Tom Arnold tried to do in the 1990s.
Roseanne Barr and her husband at the time Tom Arnold bought the property in Iowa in the 90s. The couple attempted to build a 25,000 square foot mansion in Eldon, IA, but this project was ultimately abandoned when Barr and Arnold got divorced.
Arnold apparently donated the property to a local college.
It's been several decades and seemingly no one has done any work on the property in Eldon, IA. One Iowa resident happened across the property and saw the state that it currently is in.
The completed project, according to the Des Moines Register, was meant to be 28,000-square-feet and have a swimming-pool-in-the-basement. If you look closely you can see the differences that just nine years can have. The property looked sketchy years back, but now the property has been taken over by the forest surrounding it.
Roseanne Barr Abandoned Iowa Mansion in Eldon, IA
I fell into a rabbit hole when I found out that
Roseanne Barr almost had a mansion in Iowa
. After seeing the current state of the property on Facebook, I was amazed that such an extravagant project could be so quickly overtaken by nature. Only two hours away from Waterloo, this abandoned field could have hosted some of the coolest and elite Hollywood parties in the Midwest. The current photos were taken by Gable Fry on a recent trip he took.
Twister House Is In Eldora, IA
The 90s was an exciting time for Iowans. Multiple movies were filmed right here in the Hawkeye State; Field of Dreams, the Bridges of Madison County, and Twister. The latter is celebrating it's 25th anniversary since it was released in theaters. The majority of the final scenes in the movie were actually filmed in Iowa. The most haunting shot of the movie was the shot of