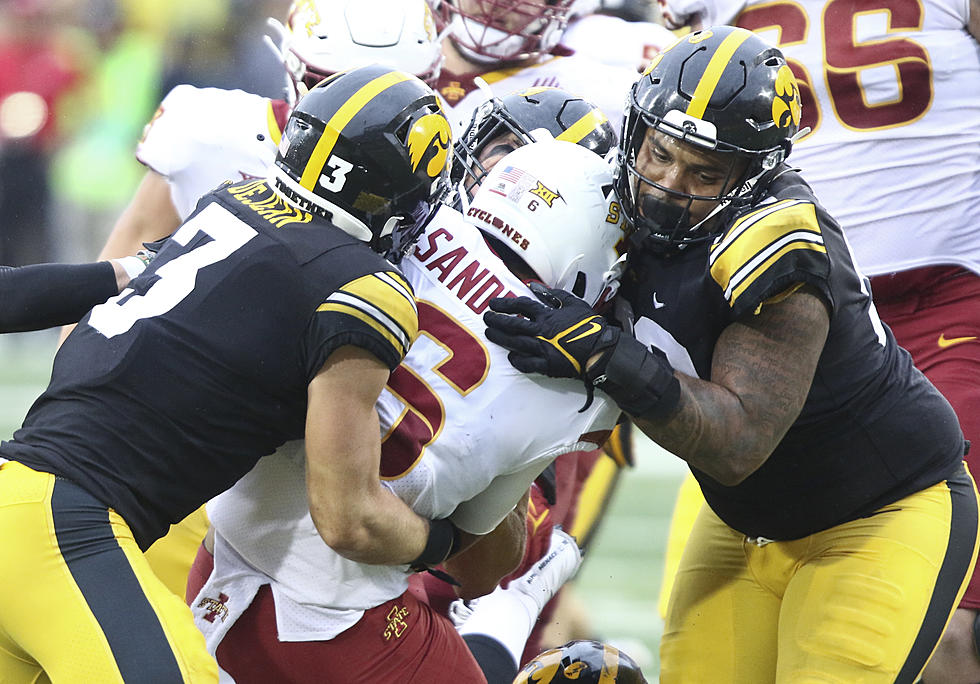 University of Iowa Announces Surprising Honorary Captain for Senior Day
Getty Images
The University of Iowa has announced who the honorary captain will be before this Saturday's Senior Day game at Kinnick Stadium. It's a definite surprise. I swear I can already hear the roar of the crowd.
The Hawkeyes will host the Fighting Illini of Illinois in the 2:35 p.m. kickoff Saturday on FS1. Senior Day means the final home game for many Hawkeye players and one member of the team will hear the roar of the crowd more than once.
Iowa defensive tackle Noah Shannon hasn't been allowed on the gridiron this season after being found to have bet on a different University of Iowa sport. He withdrew from Big Ten Media Days this summer, due to the NCAA investigation. Shannon said at the time, "Being selected to represent the Iowa Hawkeye football team at Big Ten Media Day is a tremendous honor and privilege. I am grateful for the opportunity. However, given the circumstances, I told Coach Ferentz it would be best for him to select another player. Since the NCAA review is not yet complete, I don't feel it is right for me to represent the team."
While I don't condone what he did, a full season of lost eligibility for Shannon and others seems exorbitant, especially when you consider Iowa is the only state in the union penalizing players for gambling. Other athletes from Iowa and Iowa State have also suffered the consequences, and not just football players. The state of Iowa is the example for the NCAA, and this is one time you didn't want to be the example.
Shannon returned to Iowa City for what was to be a fifth season in the black and gold. Before being kept off the field this fall, Shannon had an outstanding Iowa career. He started 27 of the 42 games he competed in and was responsible for 107 tackles (11 of them for loss), as well as 4.5 sacks, a pair of pass break-ups, and one forced fumble. He was honorable mention All-Big Ten twice, won Iowa's Hustle Award two years ago, and the Hayden Fry Award for defense for his "exemplary leadership and dedication throughout the year" last season.
This Saturday afternoon, Shannon will be part of the Senior Day festivities before kickoff. Even closer to the game's start, he'll take to the field again as the honorary captain. Shannon, who is a two-time Player Council representative for the Hawkeyes, will join Iowa's captains for the pregame coin flip.
Prepare for a roar that I imagine will be comparable to a fourth down play for the Iowa defense with their backs against the end zone. Yes, I think it will be that loud.
The Highest-Rated Restaurants in Iowa City on Yelp (September 2023)
The next time you're looking for a good meal in Johnson County, you may want to check out one of these awesome restaurants! Here are 15 of the top-rated restaurants in the Iowa City/Coralville area according to Yelp in September of 2023:
Gallery Credit: Courtlin
10 of the Best Airbnbs to Stay At in Iowa City
Looking for a nice place to stay in Iowa City? Here you go! All 10 Airbnbs on this list are "superhosts," they all have at least 30 reviews, and they all have a 4.97-star rating or higher. Based on that information, here are 10 of the best properties you can stay at in the Iowa City area:
Gallery Credit: Courtlin
A Look Inside Iowa City's New Hotel Across from Kinnick Stadium