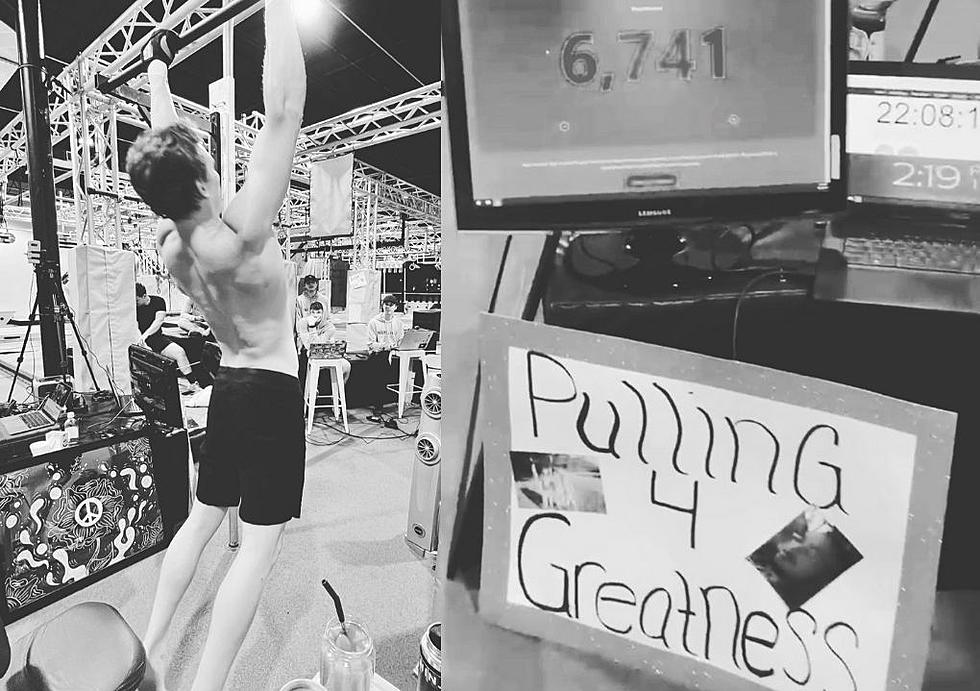 Waverly Man Taken To Hospital After Trying To Break World Record
Courtesy of Ninja U in Cedar Falls via Facebook
You need a huge amount of focus and determination to break any sort of world record. One Waverly man who had the drive was incredibly close to being a world record holder in late October.
Levi Enright of Waverly is a coach at Ninja U, an Obstacle Training Gym in Cedar Falls, Iowa. At the gym, customers can train just like the pros do in the hit show 'America Ninja Warrior.'
The current record and the number for the coach to beat was 7,715 pull ups. Enright's goal ended up being 8,000 pull ups.
Levi Enright began this huge task at 4 PM on October 30th and was prepared to stay at the gym until 4 PM Halloween evening.
Enright concluded his first attempt at breaking the world record at around 2:20 PM. This is more than twenty-two hours and twenty minutes after beginning this near-record-breaking journey. Medical professionals advised him to stop at this point so he could be taken to the hospital.
He ended up completing 6,741 pull ups over this period of time. The way that he was operating, he could have easily beat this record if he continued.

Enright is recovering well, according to posts from various social media accounts. He listened to the advice of the medical professionals.
There is no word if he's going to be giving this another go. From the looks of his and NinjaU's social media accounts, it looks like this might just be the first touchstone for an exciting record-breaking experience.
In a social media statement from Cedar Falls Ninja U,
"This is not the last of Levi - his mental & physical toughness is something we will all be talking about for ages - a world record to all of us that hold Levi close!"
See Inside Roseanne Barr's Eldon Mansion
Roseanne Barr was set to make a home in Iowa. She and her then-husband Tom Arnold were in the midst of building a mansion in Eldon. It was put on hold when the couple eventually split up. This left a beautiful, unfinished, and kind of spooky mansion behind.
Hilarious Iowa DOT Signs
Anyone else share a sense of humor with a state's Department of Transportation? Just me? Well, every Monday the Iowa Department of Transportation puts up a sometimes hilarious, sometimes straightforward message on their road signs across the state. This is called "message Monday" and Iowa DOT tries to entertain and educate drivers through these signs. Here are just a few of our favorites.