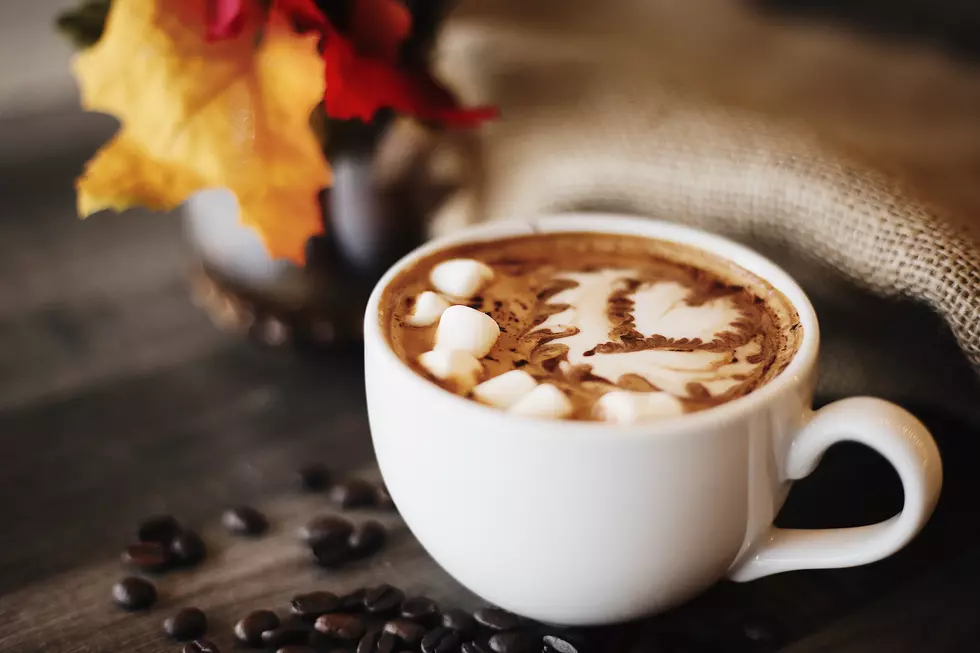 Where to Get a Taste of Fall in the Corridor [PHOTOS]
Fallon Michael, Unsplash
In the mood for some apple or pumpkin spice flavors? Here you go!
Now that September is here, fall flavors are going to start popping up EVERYWHERE. We put together a list of special fall menu items available at places you can find here in the Corridor. In addition to various local apple orchards, here are the items that we know of so far:
Pumpkin Bars
Apple Crisp
Pumpkin Spice Mules
Apple Cider Mules
Apple Crisp Latte
Iced Caramel Chai + Caramel Apple Cold Foam
Apple Cider Float
Pumpkin Spice & Everything Nice Cocktail
Cinnamon Roll Centers Blizzard
Pumpkin Pie Blizzard
Oreo Hot Cocoa Blizzard
Snickers Brownie Blizzard
Reeses Take 5 Blizzard
Very Cherry Chip Blizzard
Pumpkin Cream Cold Brew
Pumpkin Spice Signature Latte
Nutty Pumpkin Coffee
Blood Orange Dunkin' Refresher
Glazed Pumpkin Cake Donut
Pumpkin Munchkins Donut Hole Treats
Pumpkin Muffin
Maple Sugar Bacon Breakfast Sandwich
Maple Sugar Snackin' Bacon
Red Bull Butterscotch Infusion
Latte Butterfinger
Frappe Butterfinger
Nirvana Butterfinger
Pumpkin Pie Latte
Pumpkin Pie Frappe
Nirvana Pumpkin Pie
Pumpkin Vanilla Spice Bowl & Smoothie
Housemade Pumpkin Spice Latte Mix
Fall flavors of Scones, Muffins, Cookies, Cheesecakes, and Tartwells
Pumpkin Roll Shake

Allen's Orchar

d Loaded Caramel Apple Cider Float
Warm Apple Pie a la Mode Shake
Pumpkin Pancakes
Pumpkin Bars
Pumpkin Cheesecake Lattes
Caramel Apple Crisp Latte
Pumpkin Spice Latte
Pumpkin Spice Pancakes
(All will be available beginning next week)
Caramel Apple Tarts
Apple Blossoms
Salted Caramel Fudge Bars
Caramel & Candy Apples (beginning next week)
Apple Slushies
Fudge (beginning next week)
Customized Caramel Apples (beginning in October)
Pumpkin Spice Margarita
Sweater Weather Margarita
Fall Flight
(All will be available beginning next week)
Pumpkin Spice Flavored Drinks
Maple Brown Sugar Flavored Drinks
Autumn in India Flavored Drinks
(All will be available beginning Friday, September 2nd)
Pumpkin Caramelicious

Pumpkin Spice Latte

Pumpkin Cold Foam

Maple Vanilla Latte

Maple Spice Cold Foam

Pomegranate Peach Red Bull Infusion

Caramel Apple Mini Loaf

Pumpkin Caramelicious Muffin
Pumpkin Spice Latte
Pumpkin Cream Cold Brew

Apple Crisp Oatmilk Macchiato

Iced Apple Crisp Oatmilk Macchiato

Pumpkin Cream Cheese Muffin

Owl Cake Pop
Apple Crisp Cheesecake
Pumpkin Cheesecake
Fall Cheesecake Flights
Know of another place in the Corridor will special fall-flavored foods and beverages? Be sure to let us know in the comments!
Palisades-Kepler State Park in the Fall
I took a drive out to Palisades-Kepler State Park in Mount Vernon to capture some of the beautiful fall colors before winter takes over. I hope you enjoy the scenery as much as I did!
2021 Theisen's Dog-O-Ween
2021 Dog-O-Ween at the Cedar Rapids Theisen's store was a huge success! Here are some photos of the big event on October 24th, 2021.