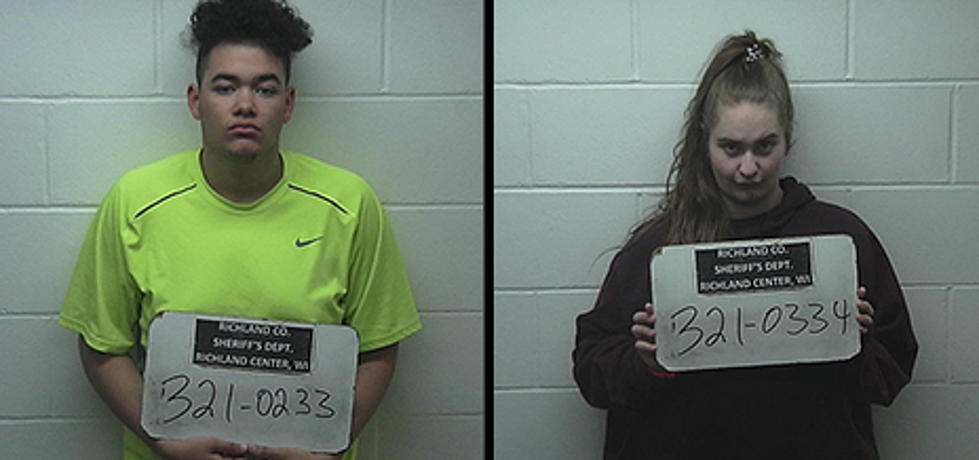 Woman Tased By Her Son on Mother's Day Over Missing Cell Phone
Richland County Sheriff's Office
One mom in Wisconsin was given a shocking Mother's Day gift this year, according to officials.
Police in Lone Rock, Wisconsin, were called to a disturbance Sunday in which 22-year-old Andrew Peterson got into an argument with his mom when he couldn't find his cellphone.
The argument escalated to the point where Peterson tased his mom in the neck, and left the property with his 20-year-old girlfriend and their child.
It didn't take long for officers to locate Peterson, who admitted to "using an electronic weapon...on his mother on Mother's Day," according to the report. Colleen Parker, Peterson's girlfriend, admitted to punching the victim in the face during a separate confrontation on Thursday.
Peterson and Parker had reportedly been living with the victim at the time of the attacks. They were booked into the Richland County Jail on Sunday.
Parker was charged with battery and disorderly conduct, and Peterson was charged with battery, disorderly conduct, possession of an electronic weapon, and bail jumping in a separate domestic battery case.
Peterson has a history with priors including DUI, possession of drug paraphernalia, and trespassing.
Read more at The Smoking Gun 
Craft Breweries in the Quad Cities Area
We're very lucky to live in an area with such an amazing, thriving "craft beer scene". You'll be able to find everything you could want.
Not sure what you want? That's ok. The bartenders at these establishments are very well versed and can guide you through a wonderland of Ales and Lagers.
From "coffee infused" to "riff infused".
From "pale ales" to "peanut butter porters".
Fruity, Sour, Hoppy, Malty, Crisp, Crushable beers in all shapes and sizes.
Crowlers, Growlers, Cans & Kegs...the Quad Cities Craft Beer scene has it all.
And of course...a great beer isn't complete unless it's paired with some amazing food. Whether it's made in the breweries kitchen or in the food truck in the parking lot...brewers know that people love food with their beer.
Take a look at the 19 Quad Cities Area craft breweries!