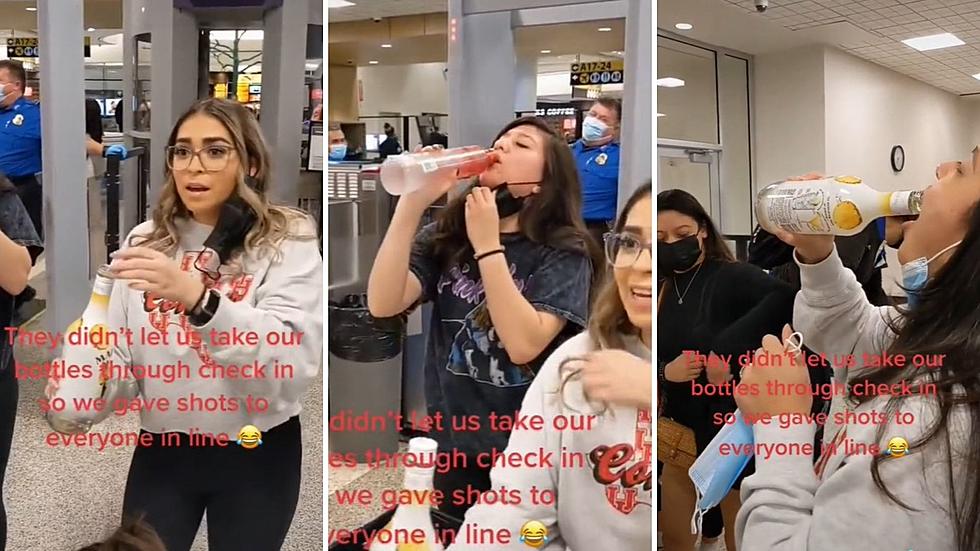 Woman Told By TSA She Can't Bring Vodka On Plane Offers Everyone Shots
@latinnbellaa via TikTok
A group of women travelling to Miami didn't know about the 100ml rule when it comes to flying and bringing alcohol in your carry on.
Obviously, once at security, you're a bit late to get 750ml bottles of vodka back to your bag that's probably halfway loaded onto the plane already.
This group of women found out they couldn't bring their bottles with them, so they decided to get their money's worth of their drinks, and started chugging the vodka.
When they realized, "I can't chug an entire bottle of vodka by myself," they started asking the other people in line if they wanted a shot. The other people, being human, weren't going to turn down free booze.
The person who posted the video, @latinnbellaa, wanted to clarify what happened after the video.
"Yes we got on our flight, nobody was kicked out. It was a shot, no one was drunk. The bottles were not in our carry bag. We missed our deadline to check in our bags to cargo so we had to bring them thru TSA."
The comments on the video were almost all people who thought it was hilarious.
"I can't believe they are allowing this type of behavior at the airport and I'm even more disappointed I wasn't there to participate," said A B.
King Shiba wrote "TSA really forced y'all to pregame or go home."
"The world is healing," wrote a guy named Joshua.
What's the wildest thing you've seen at an airport?
Read more at TikTok
LOOK: Here is the richest town in each state
Just saying the names of these towns immediately conjures up images of grand mansions, luxury cars, and ritzy restaurants. Read on to see which town in your home state took the title of the richest location and which place had the highest median income in the country. Who knows—your hometown might even be on this list.