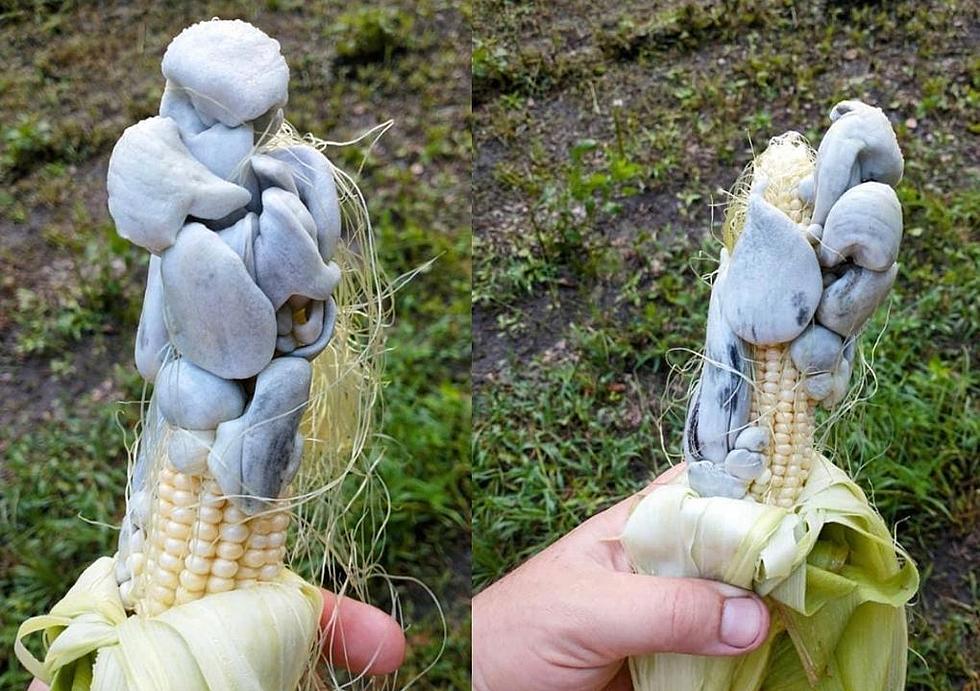 Apparently Corn Fungus In Waterloo Isn't THAT Bad
Courtesy of Organically Roland
It's the time of year when you start to see people selling sweet corn everywhere. I've already seen a few people selling the summer staple out of trucks on every street corner.
Something you don't see every day is a fungus growing right on your delicious sweet corn. It's called corn smut and is quite divisive.

Corn smut or as many U.S. farmers call it "devil's corn" is a fungus. The fungus is called Ustilago maydis and according to this article by NPR, turns each corn kernel "into a bulbous, bulging blue-grey gall."
I'll be honest, when I first saw a picture of this corn fungus I thought it looked absolutely disgusting. Many people love to go hunting for morels or mushrooms in general, but there seemed to be something kind of off about this grey fungus.
While some local farmers might agree with me, it turns out there is actually a growing market for this. Another name for it is huitlacoche which comes from the Aztecs. The culinary world also refers to this as the "Mexican caviar" because it is so highly sought after there.
Due to some farmers' aversion to the fungus, it is relatively difficult to find. You can purchase it in Mexican specialty stores where it comes frozen or jarred. If you come across it in the fields, make sure to pick the spores when they're light gray and have a sort of spongy texture, according to Food Republic. It is most commonly used as filling in tacos, quesadillas, and soups.
For farmers who come across this and might be interested in making some money off of it, you're in luck. A single infected cob with corn smut can bring in 16 to 20 times more money than regular corn. 
So maybe instead of calling it a fungus, we should call it gray gold.
Snake Alley in Burlington, IA
Burlington, IA is just one hundred and fifty miles away from Waterloo and a hundred miles away from Cedar Rapids is one of the most see attractions for tourists. Ripley's Believe It or Not! voted Snake Alley as the #1 Odd Spot in America.
Twister House Is In Eldora, IA
The 90s was an exciting time for Iowans. Multiple movies were filmed right here in the Hawkeye State; Field of Dreams, the Bridges of Madison County, and Twister. The latter is celebrating it's 25th anniversary since it was released in theaters. The majority of the final scenes in the movie were actually filmed in Iowa. The most haunting shot of the movie was the shot of