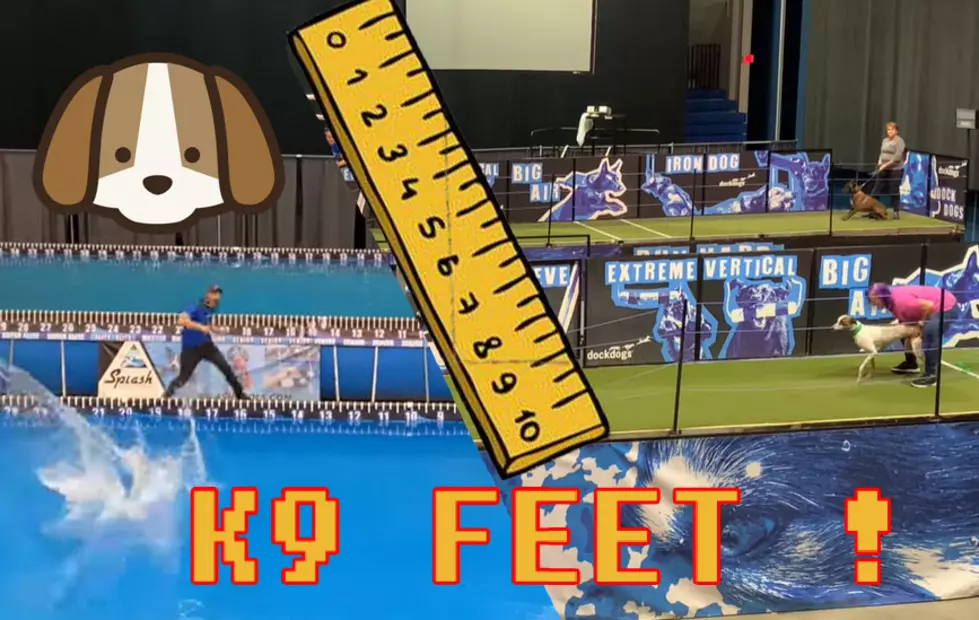 A Dog Jumped 9 Feet High and Set a New World Record in Eastern Iowa
Dock Dogs
I am no stranger to world-class animals. If you met my dogs, Sid & Sarge, you'd know what I mean.  Sarge, a huskie/pit mix that's sweet as can be, and Sid who could take on any competitor in a butt-scoot match.
Also, as a public service when I was in boy scouts, we worked at a dog show at the Kennel Club in Freeport, Il picking up doggy do.  Not just any doggy do... world-class doggy do.  What an absolute honor.
But we didn't have the kind of competition that is currently in Dubuque.  Dock Dogs is entertaining audiences as we speak.
What Exactly Is Dock Dogs?
DockDogs has been around since 2000. It's a competitive sport to show off how awesome dogs are.  They have open competitions that allow "anyone with a dog and toy to participate in the sport and have a chance at national recognition."
DockDogs is a competition consisting of 3 different sporting disciplines:
Big Air – the first sport of DockDogs and the most popular, this is the Long Jump of canine aquatics.
Extreme Vertical – introduced in 2005 it is considered the High Jump of canine aquatics.
Speed Retrieve – launched in 2008 this is a timed sport involving the combination of running, jumping, swimming, and retrieving.
A New World Record Has Been Set
A new WORLD RECORD was established Wednesday evening (Oct. 12) during the opening day of competition in this year's DockDogs World Championships, happening through Sunday, October 16th at Five Flags Center in Dubuque, Ia.
Laurel Behnke and her dog Sounders of Olympia, Washington set a mark of 9 feet in the Extreme Vertical competition.
Check Out This Jump!
Illinois Arcade House
If you want a place to entertain or be entertained...a short drive to Bloomington will put you right!
Barbecue, Pizza, & Beer-Illinois' Route 84 has Some Hidden Gems This Time of Year
Road trips aren't complete until you've stopped into some hidden gems along the way.