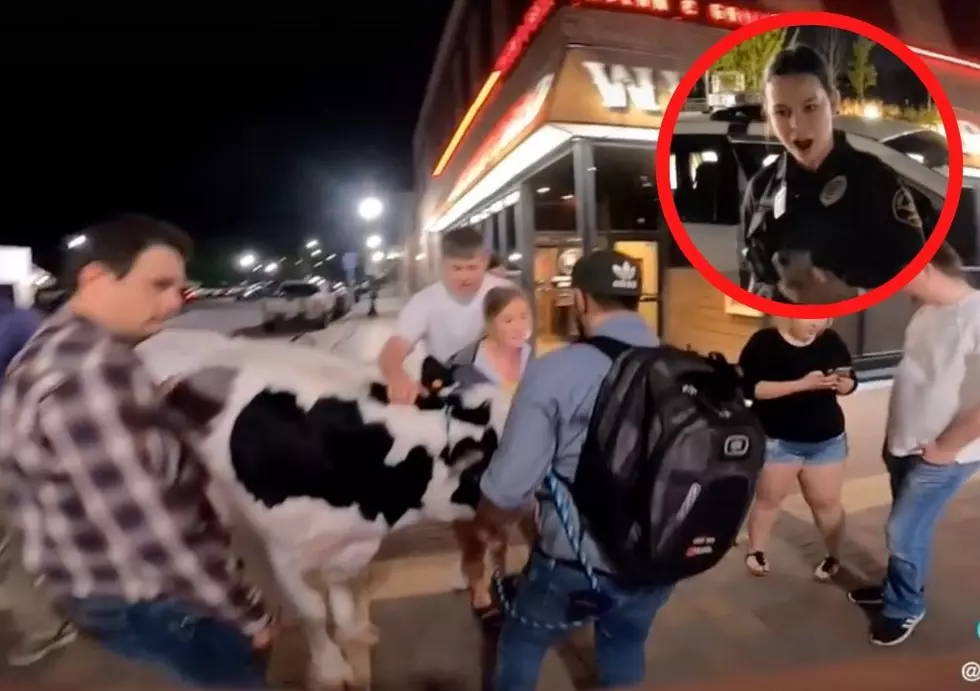 Cedar Falls Police Shocked To See Famous Cow On Main Street
Mason Corkery via Tik Tok/KM
The internet-famous duo is at it again!
After what seems like a slight hiatus, the infamous social media celebs marked their first return to the Cedar Valley over the weekend. Mason Corkery and Gucci the cow captured our hearts a little over a year ago.
Corkery and his bovine bud broke the internet with their hilarious adventures captured on the video sharing app Tik Tok.
The initial video showed Corkery loading up Gucci into his truck and taking him for a spin.
You can watch the video down below!
However, he really captured national interest when he started taking his steer to some of our favorite fast food places. The video of Corkery taking Gucci to Dairy Queen has been viewed almost 12 million times on Tik Tok.
Over the weekend, the duo decided to hit the town. The Jesup man made a Facebook post on Friday, May 13th saying he'd been on Main Street in Cedar Falls for an hour.
The mix of celebratory UNI graduates and the usual Friday night crowd made for a hilarious exchange between some...inebriated individuals and this steer.
Those that had already had a few drinks lost their minds at the sight of the adorable animal. However, the best reaction came from two Cedar Falls police officers who were out on patrol.
At first, you think that the officers are going to say something about how Corkery can't have Gucci out there. I mean, they weren't going to arrest a cow, were they?
Turns out that these officers just wanted to give a quick "hello!" and pet to the bovine before they continued on with their night.
You can watch the full video with all of these hilarious reactions down below!
Stay up to date with everything going on in the Cedar Valley by downloading the free station app. Don't miss a thing by following the station across all of our social media channels.
Bridegerton-Esque Cabin Mansion In Waterloo
You can live like you're living in your own English regency drama in this Waterloo Cabin Mansion. This is the diamond of the season in the real estate world.
Best Sports Bars in Eastern Iowa
Here are the best sports bars in all of Eastern Iowa