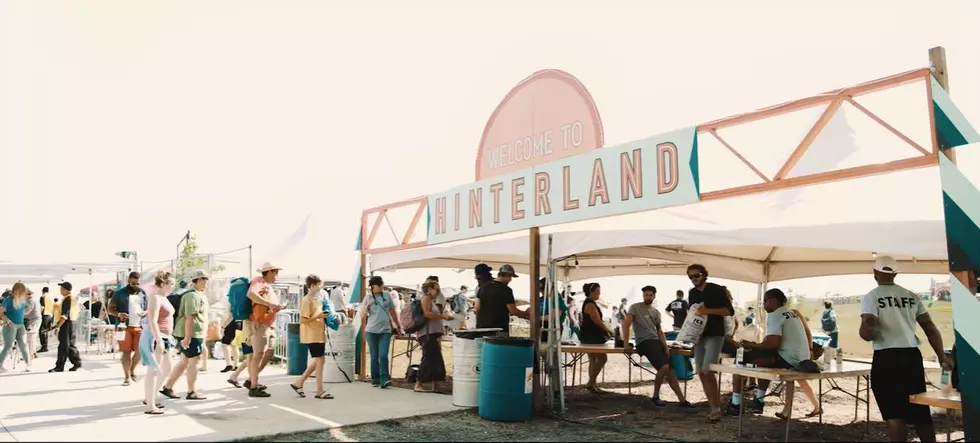 Everything You Need to Know About Hinterland
Hinterland Music Festival via YouTube
As we enter August, we are also entering prime music festival season here in the Hawkeye State. One of the most popular festivals here in Iowa is Hinterland.
This music festival is located in St. Charles, Iowa which is not too far from Des Moines.  Hinterland takes place at the Avenue of the Saints Ampitheatre and the organizers bring in a stellar lineup of indie-folk/pop artists to the festival every single year.
The upcoming three-day event will take place on Friday, August 4th through Sunday, August 6th.
Setlist/Performance Times
Friday, August 4th 2023
Gates Open @ 2:00 PM
3:30 PM ~ Skeggs
4:45 PM ~ The Regrettes
6:00 PM ~ Houndmouth
7:30 PM ~ Sylvan Esso
9:15 PM ~ Bon Iver
10:45 PM @ Campfire Stage (campers only event)
Saturday, August 5th 2023
9:00 AM ~ Brunch Stage (campers only event)
Gates Open @ 11:00 AM
12:00 PM ~ Pony Bradshaw
1:00 PM ~ Riley Downing
2:30 PM ~ Wilderado
3:15 PM ~ Koo Koo Kanga Roo (at Hinterkids area)
3:45 PM ~ Joy Oladokun
5:00 PM ~ The Teskey Brothers
6:30 PM ~ Angel Olsen
8:00 PM ~ Noah Kahan
9:30 PM ~ Zach Bryan
11:30 PM ~ Campfire Stage (campers only event)
Sunday, August 2023
9:00 AM ~ Brunch Stage (campers only event)
Gates Open @ 11:00 AM
12:00 PM ~ Yot Club
1:00 PM ~ spill tab
2:00 PM ~ Tomberlin
3:00 PM ~ Del Water Gap
4:15 PM ~ Faye Webster
5:45 PM ~ Alex G
7:15 PM ~ Wallows
9:15 PM ~ Maggie Rogers
10:45 PM ~ Campfire Stage (campers only event)
Drinks for General Admission attendees will be at the center of grounds closest to the stage and top of the hill by vendors, according to Hinterland officials. There will be beer, seltzers, liquor, wine, and cocktails.
Attendees over the age of 21 must get wristbands if they intend to enjoy an adult beverage or two. Also, bars at the festival will only be accepting cashless payment like card or registered festival cashless wristbands.
These cocktails include the following:
Hinter Mule: Bagger Vodka, Ginger Beer
Iowa Mule: Cedar Ridge Bourbon, Ginger Beer
Red Bull Vodka: Tito's Vodka, Red Bull
Red Bull Watermelon Margarita: Altos Tequila, Watermelon Red Bull
Spiked Arnold Palmer: Cedar Ridge Bourbon or Tito's Vodka, Sweet Tea, Lemonade
There will be a bar just for VIP pass holders that will include everything the GA attendees get plus additional liquor and cocktails.
The additional VIP cocktails include:
Hinter Highball: Cedar Ridge Bourbon, Club Soda, Lemon
Orange Peel, Orange Vodka, Watermelon Pucker, Orange Juice, Red Bull
Drink prices are as follows:
Canned Beer/Seltzer – $9-$10
Draft Beer – $10-$12
Liquor (GA) – $10
Liquor (VIP) – $10-$16
Cocktails – $11-$13
Wine – $10
There is a plethora of food options at the festival this year. You can check them all out here. Also, the majority of the food vendors have vegan and vegetarian options for hungry guests.
While you're exploring the festival grounds in between performers, you can make your way over to check out all of the different art and craft vendors that will be set up that weekend.
Maybe you forget a key part of your outfit at home or maybe you just want to grab yourself a little souvenir to remember the festival.
Baldwin Family Jewels
Baraka Jewelry
Bud & Mary's Cannabis
Chelsey Faye/Qween of the North
Greene Goods Market & Greenhouses
H Bar C
Hemp Hats!
Hinge
Iowahenna
KIN DSM
Larissa Loden
MIGDALIA
North Country Craft
Pepper Harrow Farms
Qween of the North
Shawn Lohse Art
The Permanent Collection
Then, Now, Always
TJ's Trove
To Write Love on Her Arms
Tree Hugger's Haven
Trixie's Salon & Spa
Wander & Co.:
Stay up to date with everything going on in Iowa by downloading the free station app from the app store. Also, make sure to follow the station across all social media platforms for the most up to date information about the happenings in our neck of the woods.
Strangest Rental Properties In Iowa
Here are just some of my favorite strange and cool rental properties that you can check out in Iowa!
Elkport: Iowa's Ghost Town