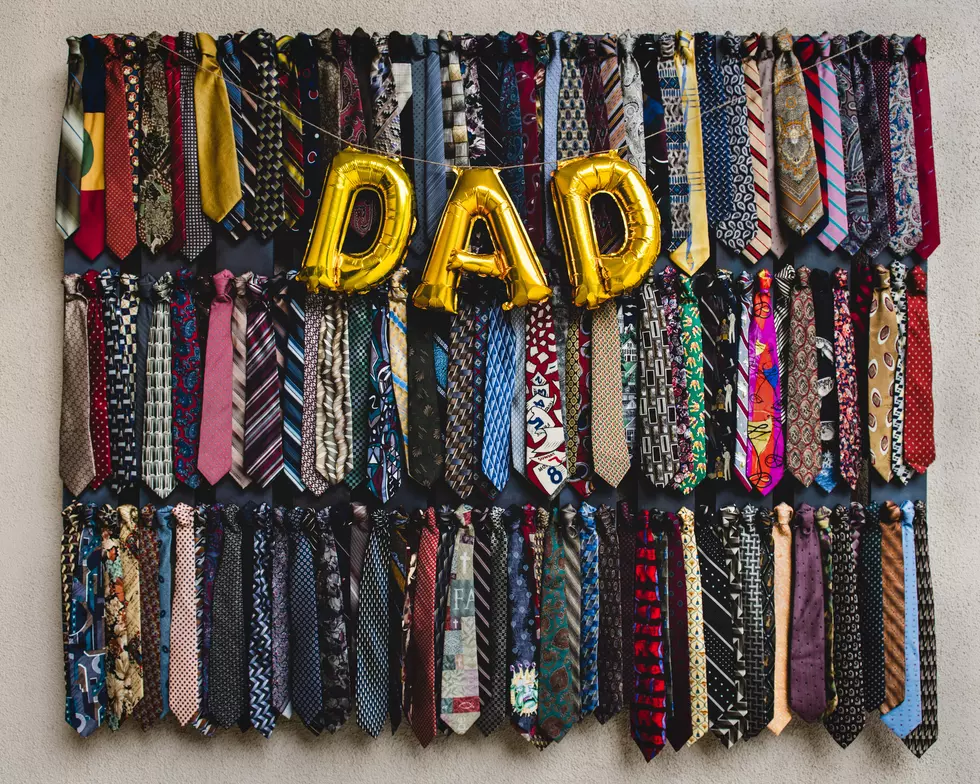 Iowans, Don't Get These Things for Dad This Father's Day
Unsplash - Tim Mossholder
As you may very well know father's day is coming up on June 19th. If you didn't know that already, you're welcome for the heads up. I want to start this off by letting you know that I am not a father. I do have pets, so maybe some would consider me a fur baby parent, but I currently do not have a human I need to take care of. Not that I know of anyway.
I am however a guy and I may have some solid insight on helping you find a gift for dad this father's day. I'm mostly using my own personal experience for this article but I want to remind you that everyone's family is different and every father is different. There are many things on this list that plenty of dads would love.
If your dad has hinted at wanting one of the items on this list all year, by all means, get it for him. I'm just having fun, while also trying to help you find a gift your dad will remember years after. I will also add, that my dad has never been big on wanting gifts. He's always like going golfing or just having my brother, sister, and I come and visit for the weekend.
NY Mag put together a list of 66 items you could get your dad for fathers day and I've found 10 you can ahead and ignore buying for dear old dad.
1. Bathroom-Surfaces Cleaning Kit - Yeah, just what dad wants. Something to help him clean the bathroom better. Any gift that helps with chores is something you get on a random day during the year. This is almost the exact same thing as buying mom a vacuum for mother's day.
2. Shaving Cream - While your dad may appreciate something new to shave with, you could probably save your money here. By now your dad has been shaving long enough to know what brand he likes and is perfectly fine to keep using what he's using for the rest of his life. He may use it once out of the kindness of his heart but he'll eventually switch back to his old faithful shaving cream.
3. Hands-Free Dog Leash - This is a lot like the shaving cream at number 2. I'd be willing to bet your dad couldn't care less what the dog leash looks like. If he's the one who walks the dog, they already have a routine and a setup they like. Don't mess with it. I will say, if your dad is tech-savvy and tries to get work done while walking the dog, this might not be terrible.
4. Steel Ballpoint Pens - These pens actually look pretty cool but your dad doesn't want pens for fathers day. All pens really do is remind him of the work he has to do or the stuff he needs to sign. Your dad has plenty of pens lying around, he doesn't need a special one. Get him special pens on a random Tuesday, not on fathers day.
5. Beauty Exfoliating Bath Gloves for Showering - If you think your dad would actually use this, it could be a cool idea. In my 31 years of life, I've never met a single father who's needed a special glove to "exfoliate" while in the shower. If he cares about exfoliating he might use a loofah but I doubt it. He probably uses 1 soap for his hair, body, and face, do you really think he needs an exfoliating glove?
6. Coffe Beans - Once again, if your dad is a coffee drinker, he might really like this. This feels like another gift you could buy for him on a random day in November. It's very likely you know what kind of coffee your dad drinks by now and you could potentially use this as a secondary gift. This is something you could use as a stocking stuffer around Christmas but I wouldn't have this be the main gift on father's day. He likes the same coffee he buys, every time he goes to the store, just the way it is.
7. Mason Jar Collection - Chances are if your dad uses mason jars, he has plenty of them to choose from by now. It might be cool to get him a collection that all match and look the same, but he doesn't care if any of them match. Save your money.
8.  Dog DNA Test - I'm mostly saying don't get your dad this because he probably doesn't care to know exactly what kind of dog your family has. If he really wants to know that bad, he'll buy this test for himself. I doubt your father wants you spending over $100 just so your family can say "Fido is part Husky and part golden retriever."
9. Signature Hammocks - Getting your dad a regular old hammock for him to lay out in the backyard might actually be kind of cool but I promise you he doesn't need a "signature one." If your dad is like my dad, chances are he wouldn't even know the difference. These signature hammocks go for almost $200. If your dad needs a nap that bad, he'll find his favorite chair, spot on the couch, or his bed.
10. An Umbrella - I've always thought umbrellas were more of a fashion statement than used for actual function. Either way, the umbrella on the website I'm referencing is called a Davek Duet Umbrella, and it costs $159. For $159 it better come with a rain jacket, a space heater, and a pair of rain boots because no umbrella is worth that much.
What your dad really wants for father's day is a day with the family. Whether you head out on the boat, play a round of golf, grab concert tickets, or simply go out to a nice dinner, most dads don't want or need any kind of gadget. He just wants to spend time with his favorite people.
Ashton Kutcher's Childhood Home in Homestead, Iowa
The well-known actor hails from Iowa. Ashton Kutcher was born in Cedar Rapids and spent his formative years in Homestead. The later is where he helped his step-dad build this space nearly 30 years ago. In 2015, Ashton decided to give his mom the surprise of her life when he redid their basement space.
Supervillain Home
This may be the most beautiful and most evil-looking home I have ever seen. What do you think? Would you live in this 39 million dollar home?