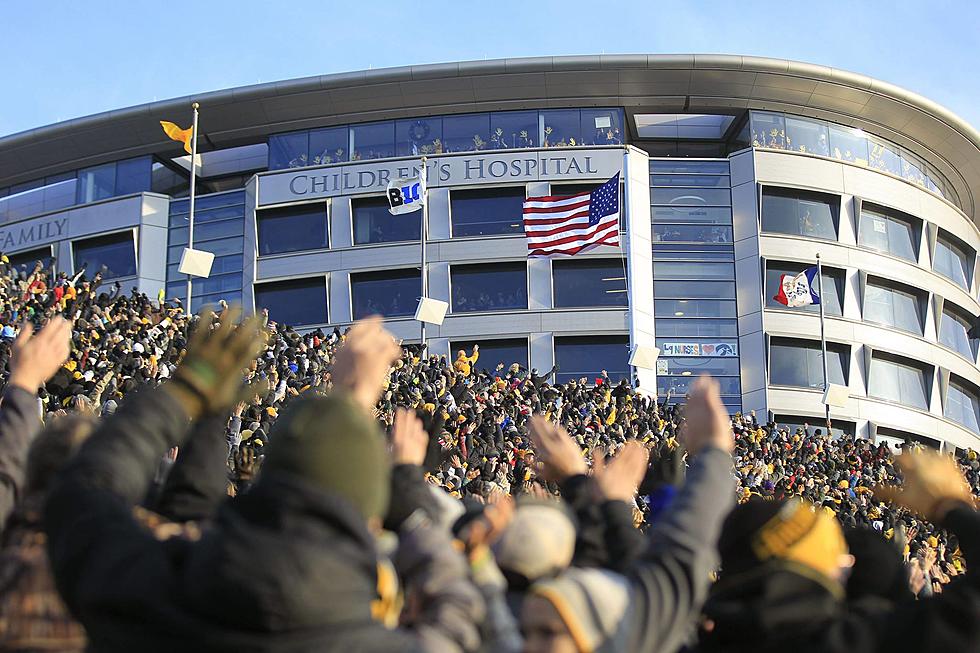 Few Fans Saturday at Kinnick Stadium, But Iowa Wave Will Continue
Art Your Look via Facebook
An important tradition that started four seasons ago at Kinnick Stadium in Iowa City will continue Saturday on what will be a very different 2020 home opener for the Iowa Hawkeyes.
It was Saturday, September 2, 2017, that 70,000+ Iowa fans first turned and waved at the children and families at the University of Iowa Stead Family Children's Hospital at the end of the first quarter. I was there and still get chills when I watch the video Julie and I recorded that day:
The Big Ten Conference is only allowing family members of players and coaches into games this season due to the COVID-19 pandemic, so Saturday afternoon's wave will feature a whole lot fewer hands in the air.
Things will be different inside the Children's Hospital, as well, since group gatherings aren't allowed. Typically, patients and their families get together in the "press box," where we also hold the KHAK Radiothon each year. There's a photo from inside that area below. Even though families and patients won't be in that room, you can bet they'll all still be watching and will appreciate it just as much.
When the first quarter of the Iowa-Northwestern game concludes Saturday afternoon, the fans that are in the stadium will be joined by players and coaches from both teams to turn and wave to the fans across Hawkins Drive.
The Children's Hospital is making sure the kids still have a special experience with the Iowa Wave. Each child will receive a bag of goodies, including a "We Waved Together" window cling. They'll also get a commemorative ticket that bears a strong resemblance to the ones a fan attending the game would receive.
Jack Koerner, an Iowa defensive back, will be one of the people waving Saturday afternoon. KCCI reports he said,
Those kids up there, they're going through things in their daily lives that make our problems, like losing a football game, seem pretty small. The wave is something we've been lucky enough to participate in and really something I always look forward to... We love that we can put a smile on their faces.
The Hawkeyes and Wildcats kick off Saturday afternoon at 2:30 p.m. The Iowa Wave should happen between 3:00 and 3:15 p.m. The game will be televised by ESPN.
10 Things You've Probably Said If You're From Iowa